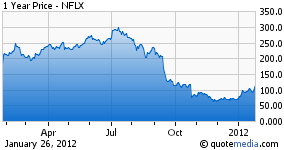 Investors of the video service Netflix (NASDAQ:NFLX) received a 3D dose of highly sought after pain relief this week with last quarter's earnings release. After five months of watching wealth vanishing and reading articles about the coming demise of the company, the stock has finally, albeit slowly started to move toward higher ground. The red envelope company beat mean estimates on both top and bottom lines. For the fourth quarter Netflix had revenue of $876 million and bottom line earnings were $0.73 per share. This compares to mean estimates of $858 million in revenue and $0.55 per share profit.
Kicked, knocked senseless and down, but not out. The surprise beat Netflix delivered may be a surprise to some, but not investors who understand Netflix under $100 was a value buy. The stock moved up over $15 in after-hours trading and the best may be yet to come. Adding to the positive news, Netflix didn't lose as many customers as feared from the price changes and other attempted changes in structure. Subscriptions for streaming moved higher by 220,000 subscriptions to about 21.7 million. As far as I know, there is simply no other service that offers as much value for the price as Netflix does. Granted you are not going to be able to watch a new release blockbuster movie three weeks after it hits the theater, but at the same time one ticket to get in a theater costs more, and don't even get my started about the cost of popcorn (which my wife and kids require or the earth will stop rotating).
There is thick fog on the horizon. To be clear Netflix does have tough challenges facing the company. DVD subscriptions, a virtual money printing press with 50% margins continues to be somewhat like a wedding ice sculpture, beautiful now, but melting away right before our eyes. Fellow contributor Rocco Pendola has and currently continues to be the voice warning of the impending arrival of the grim reaper (read Pendola's highly bearish and largely correct so far Netflix articles by clicking here).
While I did share his view earlier in 2011 (click here to read my NFLX articles), by October I moved away from my bearish bias. To be clear, I have maintained positions should be based in part on collection of option premium to lower risk and volatility, as well as profit from the daily time decay of a wasting asset.
With such a large swing in share price somewhat foreboding for investors, one effective method of gaining exposure to Netflix is by selling put options. An investor can lower the effective price paid per share as well as increasing the odds of success compared to buying the stock. Granted, selling put options limits the profit capacity compared to an outright buy, but if you are like me and are happy hitting doubles instead of swinging for a home run options can make a lot of sense.
While the current model of streaming vs. DVDs may appear to point toward a loss in the ability of Netflix to monetize its customer base, the company and ability to monitize the customer base is not static. Netflix can evolve with many clear choices. Netflix has about 21.7 million streaming customers and about half as many (11.2 million) DVD customers. The profit of the customers is flipped over from the numbers of customers. While streaming produced $52 million, DVD shipments brought in almost four times at much with nearly $200 million. Surprisingly to me, Netflix doesn't move into video game rentals and even after saying as much, now the company is backing down. While I can see the hesitation if video game delivery is moving toward downloads from physical media, one would have to guess the window to profit is still at least 10 years wide. Perhaps it is seen as a possible distraction to their long term vision, but letting go ~10 years of profits and all the customers that would go with the service seems to be a let down from an investor point of view.
Pay per view should already be here by now. I have to believe Reed Hastings and team are willing, able, and ready to pull the trigger in adding value added services like pay per view when the time is right. Are they holding off because they want to totally lock down as many customers with the low cost offering first? It would appear to be more than short sighted and an almost intentional attempt to commoditize their business model.
Why doesn't Netflix sell movies online? Shouldn't Netflix sell movies, either physically or as a streaming "storage locker" of sorts? What about letting customers buy and sell used DVDs. My ideas on adding greater service to Netflix may not be the best ideas, but that is not the point. Netflix should have and should be monetizing the streaming customers much more than they are, or they are going to face a real margin problem as the ice melts away with the DVD business.
Amazon (NASDAQ:AMZN) started out as a book seller and now sells everything including the kitchen sink. When you have almost 22 million streaming customers (plus the DVD customers who obviously are online as well) you have built in critical mass to do just about anything you want. If you want to sell tablets, TVs, stereos, surround sounds systems so your Netflix movies sound better, it does not matter. You can sell anything because of the sheer size of your customer base. Netflix doesn't even need to put in the capital or infrastructure to do this. Like Amazon does brilliantly, Netflix could allow others to sell on the Netflix website and take a cut of the sale. While allowing retailers to race each other to the bottom of the profit pile, Netflix could be adding to the bottom of the line for investors. I am not sure why they let all that money just sit on the table without picking it up. With a look at how well Amazon has done we don't have to stretch our imagination very far to see it working for an Internet company with over 22 million customers.
If Netflix traded for a similar earnings multiple as Amazon (almost a triple digit trailing PE), Netflix would be trading for over $400 a share. Maybe instead of expanding the international division which is expected to lose money, resources could be focused on markets that would diversify the exposure from others entering into the space as well as the studios providing the content all at the same time. Even if my ideas of expansion don't appear to be all that great, the market clearly loves Amazon and is pricing in a lot of growth.
Given all the possibilities available to Netflix it may be short sighted to focus too closely on video streaming alone. If Netflix moves to capture a greater amount of cash from each customer's purse/wallet, Netflix is bound to have a Hollywood ending. It will be a movie investors will enjoy watching over and over.
I use a proprietary blend of technical analysis, financial crowd behavior and fundamentals in my short-term trades, and while not totally the same in longer swing trades to investments, the concepts used are similar. You may want to use this article as a starting point of your own research with your financial planner. I use Seeking Alpha, Edgar Online and Yahoo Finance for most of my data. I use the confirmed symbols from earnings.com that I believe to be of the most interest.
Disclosure: I have no positions in any stocks mentioned, but may initiate a long position in NFLX over the next 72 hours.