As the IPO market begins to reheat for 2012 there are a number of companies looking to the capital markets, including some in the biotech space. One of them looking to price next week is Merrimack Pharmaceuticals (NASDAQ:MACK).
Merrimack is an oncologic focused company with its research based on network biology; an interdisciplinary study of the interactions within cellular signaling pathways. The company is looking to raise about $150 million dollars by selling 16.7 million shares between $8-$10 per share. At this price the company would have a market cap of just under $1 billion.
The most advanced drug in its pipeline is MM-398 also known as PEP02. The drug, currently being tested in gastric and pancreatic cancer, is a new formulation of an old drug. It takes Irenotecan [marketed as Camptosar by Pfizer (NYSE:PFE)], which is currently used for the treatment of colon and rectal cancers, and encases it in a liposome to allow for greater efficacy and reduced side effects. In phase 2 trials the drug met its primary endpoint with median survival of 22.4 weeks and 20% of patients surviving more than one year. The chart below shows the overall survival (OS) of each patient in this trial. Each bar represents a different patient, and the height of the bar represents how long that patient survived. The black bars represent patients who have died, while the gray bars represent those who are still alive as of May 31, 2011.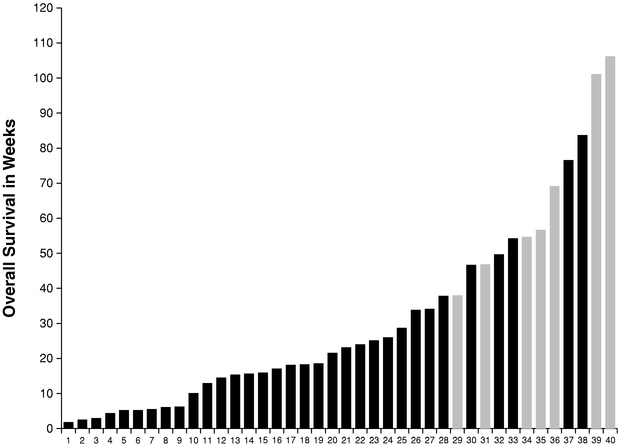 In August of 2011, Merrimack was granted an orphan drug designation for the use of MM-398 in the treatment of pancreatic cancer. The company is now enrolling a phase 3 study targeted at patients who have metastatic pancreatic cancer that has not responded to Gemcitabine [marketed as Gemzar by Eli Lilly (NYSE:LLY)], a current standard of care for pancreatic cancer. A large portion of the IPO proceeds will go to funding this study. Merrimack owns the rights to the drug worldwide, except in Taiwan where PharmaEngine has commercialization rights. PharmaEngine is also eligible to receive up to $210 million in payments plus royalties from MM-398 sales in Asia and Europe.
A second important drug for Merrimack is MM-121. The drug works as a monoclonal antibody, latching on to cancerous cells and blocking specific cellular signaling mechanisms called epidermal growth factor receptors (ErbB proteins) that are generally overexpressed in cancers. Blocking these mechanisms is believed to prevent the growth of the cancer, as well as reduce and/or delay resistance of cancer cells to chemotherapy. MM-121 specifically targets the ERBb3 receptor. The drug was licensed to Sanofi (NYSE:SNY), which holds all development costs but, according to its S1 filing, Merrimack could be due up to $470 million in additional milestone payments and would be entitled to royalties "starting in the low double digits."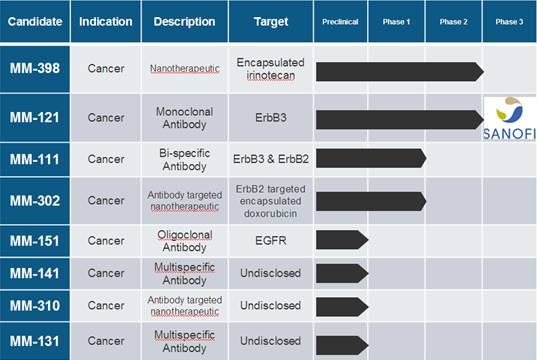 It is these ErbB signaling mechanisms that the rest of Merrimack's pipeline targets. Three other drugs in its pipeline all target the same ErbB protein family either in whole or part. All of these drugs are in the early stages of development, either Phase 1 or preclinical for various types of cancers.
One bonus piece of Merrimack is its subsidiary Silver Creek Pharmaceuticals. A 74% owned subsidiary of Merrimack, Silver Creek was spun out to utilize Merrimack's network biology technology in regenerative medicine. Still in the very early stages, it will likely be several years before Silver Creek produces anything marketable, but it provides a little hidden bonus to the Merrimack pipeline.
Overall, Merrimack, like so many other biotech companies, is looking to create the next generation of oncology drugs, producing better results with fewer side effects. It has a strong clinical pipeline, but based mainly on one underlying technology. This can be beneficial, but also means that most of the eggs are in one basket.
Current investors in Merrimack include Fidelity Investments and Credit Suisse First Boston, which each own over 5% of the company and the 15 officers and directors who will own about 13% of the company post IPO. These holders are not selling any shares in the IPO and are subject to a 180-day lockup period.
As with any biotech, the risks are high but so are the potential rewards. It could be the next Amgen (NASDAQ:AMGN) or, if its technology flops, fade away like so many others.
The full S1filing can be found here.