Canadian Prime Minister Stephen Harper isn't too pleased that Obama rejected the Keystone XL pipeline, a vessel that would have shipped crude from Alberta's oil sands to the Gulf of Mexico. However, on Thursday, Harper described the exporting of Canadian energy as a "national priority" and pledged to fast-track regulatory approval.
In contrast, U.S. natural gas producers are still hoping to get the "thumbs up" on natural gas exporting. Perhaps producers like ConocoPhillips (NYSE:COP) will make it through the government red tape, but U.S. regulators aren't quite as keen as Canadian officials about the importance of exporting commodities.
There are dramatic differences between the energy policies for each of the border nations. Whereas Harper has a majority in Parliament for his Conservative Party to reduce the burdensome effects of regulatory snafus, Obama must satisfy environmental advocates on the "Left." Ergo, the administration deep-sixed the Keystone project (for now).
Canada's prime minister clearly recognizes the problems associated with exporting virtually all of its oil to the U.S. In fact, speaking in Davos, Harper expressed the importance of increasing its capacity to sell its natural resources to Asia. Along those lines, Enbridge Inc. (NYSE:ENB) has proposed a route from Alberta to the Pacific coast of Canada, where oil would be tanker-bound for Asia.
What might this all mean for ETF enthusiasts? If you believe that European leaders will eventually manage the sovereign debt crisis and that China's leaders will effectively engineer a soft economic landing, Canadian ETFs would be a tremendous opportunity. For that matter, even a bit of Middle East discontent tends to benefit the world's second largest non-OPEC oil producer.
If you want to go a slightly safer route, consider the iShares MSCI Canada Fund (NYSEARCA:EWC). It would need to pop roughly 20% in price just to reclaim its 52-week highs of April 2011 (circa the "Arab Spring"). In other words, it has room to run. What's more, the 104 large-sized companies tracked by EWC are reasonably well-established. (Energy sector exposure is roughly 28%.)
If you are willing to foray deeper into the energy pits, you can get 100% energy exposure via Guggenheim Canadian Energy Income (ENY). This ETF tracks 30-plus companies in the oil and gas sector, and may include oil sands producers or higher-yielding "oil royalty trusts." The current 30-Day SEC yield approximates 3.1%.
Finally, a bold explorer might take a shot at IQ Canada Small Cap (NYSEARCA:CNDA). Its limited liquidity remains a challenge for those who intend to trade more frequently. That said, you're getting roughly 75% exposure to smaller-sized materials and energy corporations with CNDA. Fundamentally, the P/B of 7 and P/E of 14 are attractive. Technically, if the current price of CNDA can put its November highs in the rear-view mirror, a vibrant breakout to the upside may await.
Click to enlarge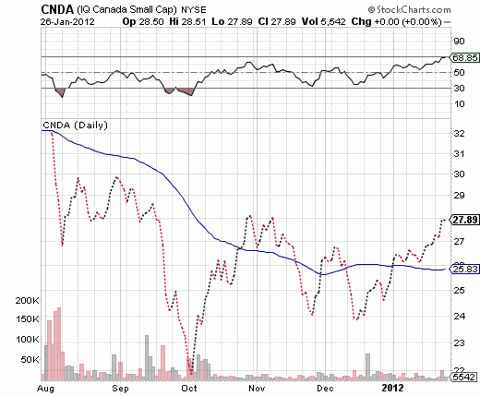 Disclosure: Gary Gordon, MS, CFP is the president of Pacific Park Financial, Inc., a Registered Investment Adviser with the SEC. Gary Gordon, Pacific Park Financial, Inc, and/or its clients may hold positions in the ETFs, mutual funds, and/or any investment asset mentioned above. The commentary does not constitute individualized investment advice. The opinions offered herein are not personalized recommendations to buy, sell or hold securities. At times, issuers of exchange-traded products compensate Pacific Park Financial, Inc. or its subsidiaries for advertising at the ETF Expert web site. ETF Expert content is created independently of any advertising relationships.