Intelsat (NYSE:I) is a satellite operator headquartered in Luxembourg. By revenue and fleet size (50 satellites at Dec 2014), they are the largest satellite operator in the world, with the largest market share in most of their geographical and divisional segments.
I have followed the trio of Eutelsat (OTCPK:EUTLF), SES and Intelsat for a long time. The business model of satellite operators in a nutshell is buying up spectrum for certain geographical areas, shooting up satellites and leasing out the transponders, the units that receive and transmit data.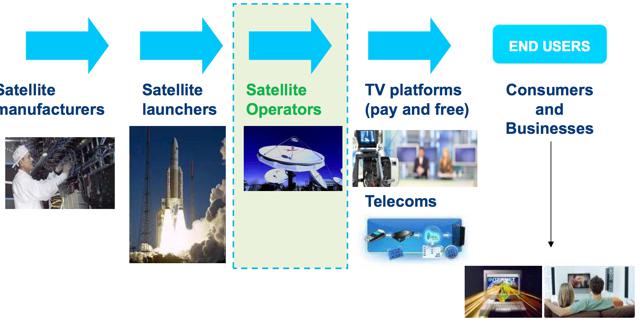 Source: Eutelsat
A number of factors make this utility-like model a very attractive one. The near-monopoly status in specific geographical locations lets the operators command huge margins, with EBITDA margins and operating margins in the area of 70-80% and 40-50% respectively. High barriers to entry in the form of large upfront CapEx requirements and technical expertise required, has led to the number of operators continually shrinking over the last few decades. Additionally the typical contract length ranges from 5-15 years and coupled with huge backlog provides great forward revenue visibility.
However, up until recently I have yet to identify one of these companies as a good investment opportunity, as the market has, justifiably, commanded a high multiple for these stocks, due to the aforementioned factors.
That is until February of this year, when Intelsat posted their year-end results and guided for a 3% decline in y-o-y revenue. The market has punished this news by sending the stock to a new all-time low, which is down over 40% YTD.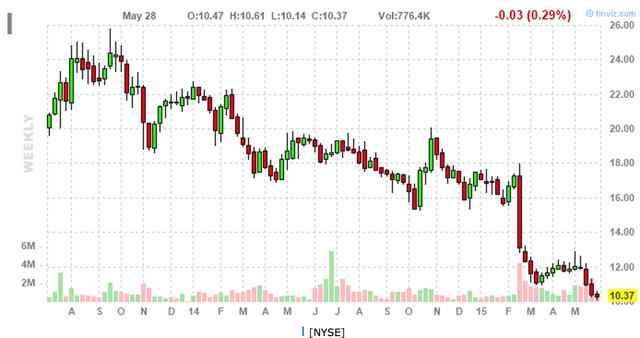 I believe the market overreacted to this trivial revenue shrinkage, as the overall case for satellite operators, and Intelsat specifically, remains a solid one.
Intelsat's revenue mix, relative to their peers, is more geared towards network services, which are perceived to be under threat of disruption and/or cannibalization by the new HTS technology. However the company is not in fact pursuing the satellite broadband market, which will most likely experience intense competition and margin pressure, instead focusing on the increasingly growing VSAT and mobile backhaul space.
This subsector has seen modest shrinkage in the past few years, due to terrestrial networks and fiber optic cable becoming more broadly available.
Slightly lower revenue and earnings are to be expected in the next two years, due to the current pause in their launch cycle in addition to some of their legacy trunking business winding off. The tide will turn come 2017, when their upcoming HTS EPIC constellation goes online, which will hugely improve their competitive situation and will enable the company to return to growth.
The FSS industry
The fixed satellite service industry (FSS) is composed of companies operating geostationary satellites. A satellite is referred to as geostationary, or station-kept, when it is operated within an assigned orbital control, which is defined by a specific range of latitudes and longitudes. Geostationary satellites revolve around the earth with a speed that corresponds to that of the earth's rotation and appear to remain above a fixed point on the earth's surface at all times. This fixedness, relative to a certain point on earth, makes these satellites favorable for applications, where the receiving point on earth is static, such as a satellite dish on a rooftop. This is in contrast to operators in the mobile satellite service industry (MSS), which orbit the earth at lower altitudes and are better suited to serve the mobile cellular and wireless market.
The FSS sector, which was as large as $12B in 2013 according to Euroconsult, is highly concentrated, with the largest three operators, being SES, Eutelsat and Intelsat, accounting for about half of the market. The industry grew from ~$10B in 2008 to ~$12B in 2013, for a CAGR of 3.7%. Projections for the coming 5 years are of similar size.

Source: SIA presentation, State of the Satellite industry
There are multiple drivers as well as headwinds that the industry faces, all of them directly or indirectly influencing the demand for bit throughput
The perceived drivers are:
Continuing growth in connectivity and broadband access as essential elements of infrastructure supporting the rapid growth of developing nations.
The emergence of new content consumers resulting from economic growth in developing regions results in increased demand for free-to-air and pay-TV content, including cable and Direct-To-Home.
Proliferation of formats and new sources of entertainment content results in increased bandwidth requirements as content owners seek to maximize distribution to multiple viewing audiences across multiple technologies. HDTV, and the introduction of Ultra HD television require higher throughput, and therefore more transponders.
Mobility applications, such as wireless infrastructure, maritime communications, and aeronautical services for commercial and government applications are fueling demand for mobile bandwidth.
Connected Devices, such as those contemplated by machine to machine communications, the IoT and other technology trends, will require ubiquitous coverage that might be best provided by satellite technology for certain applications in certain regions.
Bottom line, the bull arguments rest on higher connectivity and generally higher data throughput. Using satellites for these services is however often the last resort as competing technologies, when available, are often cheaper. For point-to-point services, fiber optic cable is usually the cheaper option and satellite services are used either for back-up or in remote regions, where the former isn't an option.
These competing technologies however don't directly compete with most of the FSS industry's point-to-multipoint legacy business, such as media and network control. They are rather seen as headwinds to the sector's attempts to capture some of the broadband market through High-Throughput Satellites (HTS), which we will get to later.
Segment Analysis
To gain a better understanding of the different FSS segments, a closer look the different frequency bands is needed. Satellite operators utilize different frequency intervals to cater to different segments. The chosen frequency dictates how much area the "beam", that gets projected back to earth, covers. In order of declining coverage, the most frequently used frequency intervals are the C-Band, Ku-Band and Ka-Band frequency bands. The tradeoff to coverage is data-throughput, with Ka-Band enabling far higher transmission rates than C- and Ku-Band.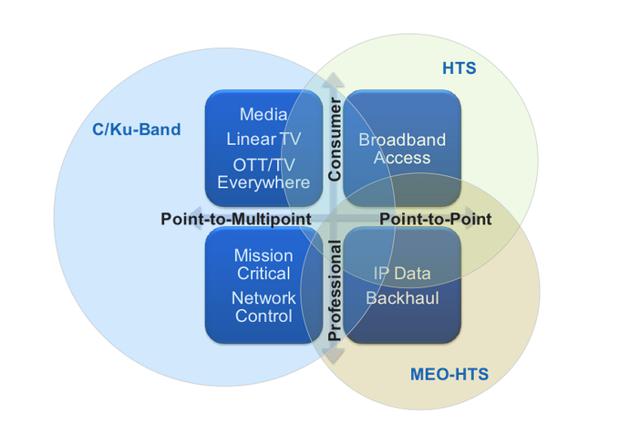 Source: Northern Sky Research
C- and Ku-band, being able to cover larger areas, are better suited for Point-To-Multipoint applications, while Ka-Band with its more focused beam, is better suited for Broadband and backhaul applications.
Intelsat categorizes its revenues into three segments, being media, network services and government. Technically speaking the "government" segment utilizes the same technology and products as the network services, although the drivers of the former are more geopolitical in nature. The underlying drivers for the media and network segments are quite distinct and are currently undergoing a bit of a divergence.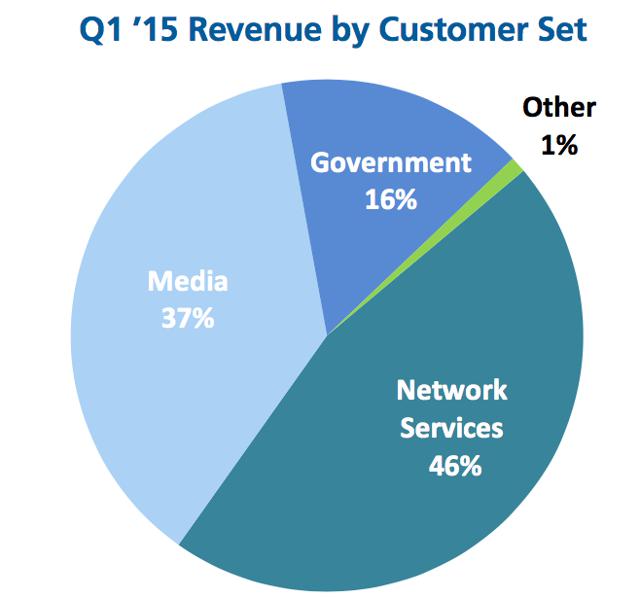 Source: Intelsat Q1 Factsheet
Most of the main FSS operators' legacy business is in network applications and media/video, with C- and Ku-Band still being the predominantly used frequencies. For the aforementioned reasons, the media/video segments should be under little threat to competing technologies, as using satellites for these applications is still perceived as the most reliable option and cheapest option.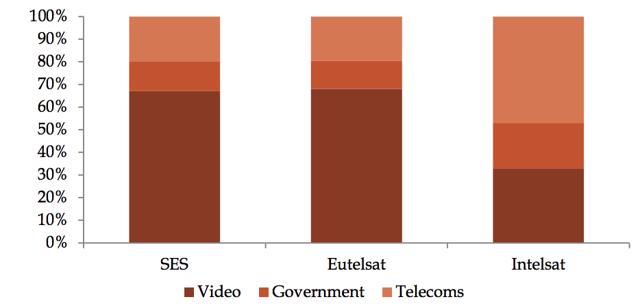 Source: Company data
This market is largely saturated in the western world, with incremental growth stemming largely from the developing continents. Nevertheless, this part of their business enjoys stable pricing and recurring revenues and should be categorized as their cash-cow. In addition, Intelsat has relatively large exposure to the fastest growing markets in this segment, as seen below.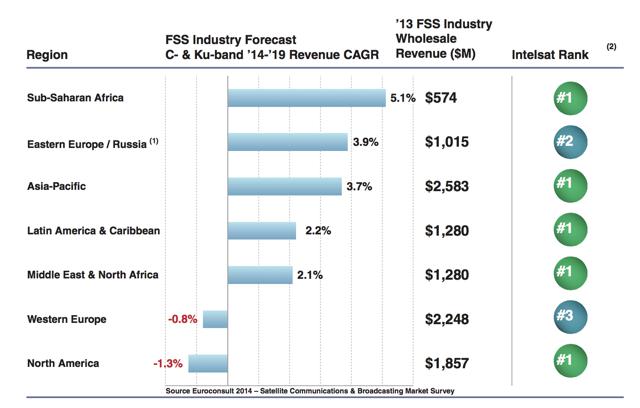 Source: Euroconsult
For government and military applications, Northern Sky Research, the leading sector research firm, sees military and government revenue from C- and Ku-band services grow at a 5.3% CAGR from 2014 to 2019.
The perceived growth opportunity (or not) for these companies lies with the new HTS technology, which utilizes the Ku-Band frequency to enable higher data-throughput and so called spectrum-reuse technology, to "shoot" down multiple beams from a single satellite.
For the industry in general, and for Intelsat in particular, as it has the least exposure to the stable video segment and most exposure to the telecoms/network segment, the consequences and potential disruption of this new technology will have a very tangible effect on their business and should be scrutinized accordingly.
What are HTS?
Northern Sky Research (NSR) defines HTS as any satellite or satellite payload that has at least twice (though usually many times more) the throughput of a traditional Ku-band or C-band satellite for the same amount of allocated frequency. These satellites generally use spot beams to cover much smaller coverage areas than the wide beams of traditional satellites, thus increasing the power on the ground. Spot-beam technology also allows spectrum re-use, to increase the amount of bandwidth delivered per MHz of spectrum. While most HTS are Ka-band, given the low availability of Ku-band spectrum, they can utilize other frequency bands: Intelsat's Epic satellites will use C-band, Ku-band and Ka-band, making them backward-compatible.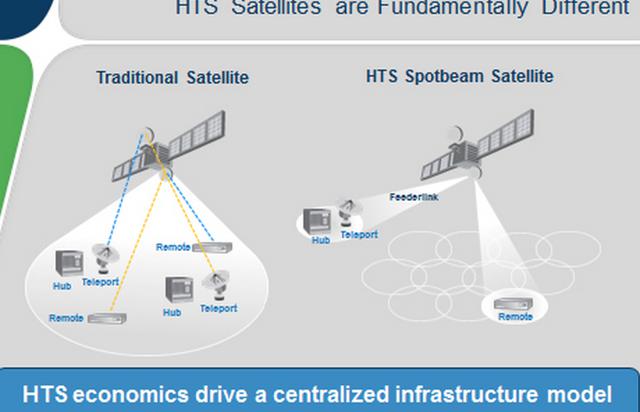 Source: Idirect
The companies' expectations are that this new technology will enable them to capture share in markets, were their legacy frequency bands were not viable before, due to throughput requirements.
With video remaining dependent on C-band (cable distribution) and Ku-band (broadcast DTH), the target market of the HTS spacecraft is oriented towards telecoms services, where demand is exploding. Traditionally satellite capacity was seen as a last-resort option, being expensive, and was therefore only used sparingly - hence video being the dominant source of revenues for many commercial satellite operators. HTS, however, while more expensive in absolute terms, have made it possible to reduce the cost per byte to the extent that what was once too expensive has now become a viable solution. As a result, the reduction in the cost to serve is opening entirely new markets, rather than cannibalizing existing business; this is largely in geographic areas not being targeted by the new HTS.
"The paradigm shift in the industry mindset over the last year has brought into clear focus the potential the satellite sector has to fundamentally challenge the classic dynamic of satellite being seen solely as the "high cost" and "last resort" solution for most data services. These recent trends for HTS capacity show that satellite is ever more competitive with, and on occasion superior to, terrestrial data services and has the potential to not only grow many existing satellite markets, but to also create new services, some of which today we probably can't even imagine what they will be."
Who is launching HTS and what are they being used for?
Fuelled by the growth in internet applications and usage, and the explosion in data requirements, operators such as Eutelsat, SES, Intelsat, Inmarsat and Viasat have launched/are launching new satellites. Most of the incremental capacity is being targeted at consumer broadband. Others, such as Intelsat's Epic and Inmarsat's Global Xpress (GX) are targeting various different chunks of the mobility, enterprise and government communications markets, including mobile backhaul, very small aperture terminal (VSAT) and trunking. The mobile backhaul market, in particular, is showing exponential growth due to the increased penetration of smartphones globally.
While the market has tended to assume that these frequency-"smart" HTS are, de facto, Ka-band satellites, in reality, the high throughput - which is a function of the design, rather than the spectrum - can be achieved using bands other than the Ka-band. EPIC, for example, uses Ku-band, Ka-band and C-band frequencies.
Regardless of how HTS are defined, however, the point is that, with a number of these high-capacity satellites either launched recently or due to enter orbit in the next few years, there has been, of late, increased concern that the satellite industry is set to face the overcapacity issues that blighted it in the early part of the last decade in Asia, and to a lesser extent in Latin America. Indeed NSR, as shown in the below figure predicts that global HTS supply will outstrip demand in the medium term.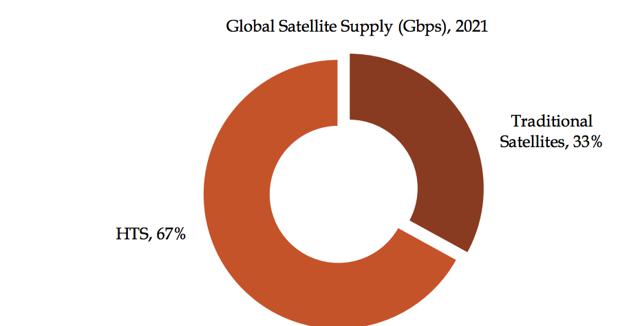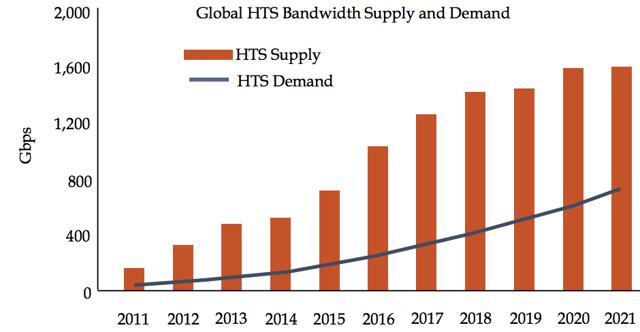 Source: NSR
However, while this large HTS supply would seem to leave a problem of overcapacity, it is not one that will affect all satellite operators in the same way. To understand what this overcapacity issue means for the individual operators it is necessary to look at supply both from the perspective of geography and in terms of service. For the impact on individual satellite operators will vary considerably, given that they do not all operate in the same markets; indeed they do not offer the same services. When considering this issue, I believe that the following points are important.
Satellites are not fungible: When configured for a particular service, they cannot easily be used to provide capacity for another use, in the same or in another orbital position. So a satellite like Viasat-1 in the US poses no threat to SES' video or telecoms business in Europe, while Jabiru-1, which targets the Australian market, will have no impact on Eutelsat's activities in Africa. This is why adding up the total amount of capacity being introduced is meaningless - what is important is to look at capacity on a market-by-market, and application-by-application, basis.
By far the majority of the capacity coming onstream is dedicated towards consumer broadband: This particular segment, while being threatened the most by competing technology, has only a limited interest for Intelsat, having no plans to enter this market.
These points are key to understand for Intelsat, as their strategy going forward diverges from their legacy peers SES and Eutelsat. While the latter are focusing on broadband serviced by satellites, a market that is most likely to experience intense competition and pricing pressure, Intelsat intention with EPIC is to build on their legacy network business of trunking, mobile backhaul and VSAT, while at the same time entering the MSS VSAT market. A more appropriate peer comparison for this part of Intelsat's business would be Inmarsat, the largest MSS player.
What is trunking, mobile backhaul and VSAT?
Trunking is the business of connecting one point to another point, generally in long-haul communications. It is generally used to connect local access networks to the internet from a remote access point to the backbone. Mobile backhaul is the transporting of signals from the mobile cell tower or base station back into a point in the network, where service provisioning and quality of service are applied. The traffic is then hauled back to the cell tower. VSAT is a two-way satellite ground station used to transmit narrowband data (eg. credit card transactions) or broadband in remote locations, including mobile locations such as ships.
Mobile backhaul is set for huge growth, which would not otherwise be possible without HTS. Existing mobile backhaul contracts (using Ku-band) may come under pressure over time, although this is not without complication or, in some cases, cost (Intelsat's EPIC will be backward compatible with existing ground equipment, but many other solutions do not offer this facility), which may slow down the pace of switching. Nonetheless, with traditional capacity in short supply in most markets, telecoms companies requiring mobile backhaul are likely, ultimately, to have to switch to HTS, simply to be able to secure sufficient bandwidth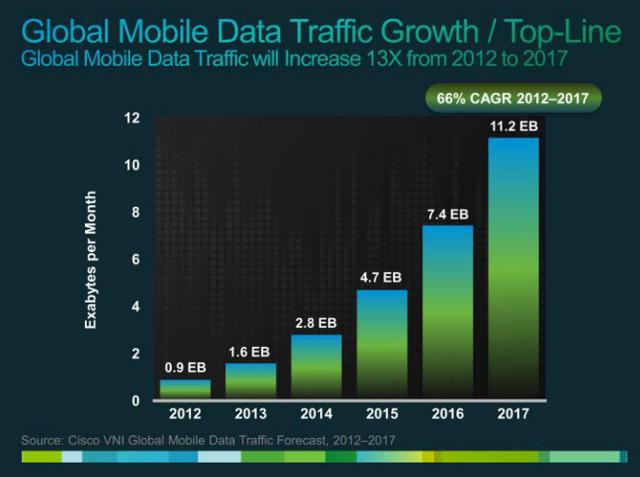 Source: Cisco
At the same time as the explosion in usage on a per customer basis, there is also growth in the number of customers - not in mature markets, of course, but in emerging territories that represent the last bastion of growth for the mobile operators.
In response, operators are turning to rural areas to either increase customer numbers or introduce new services that might boost ARPU. A further reason for growth has been, and continues to be, the imposition of universal service obligations (USO) mandating cellular operators to expand their networks to rural and semi-urban areas. Thus, while the economics of the western urban customer may be more attractive - higher ARPU and cheaper to serve in terms of overall capex and Opex - mobile operators must push out into rural and emerging areas. Hence Cisco's expectation that the Middle East, Africa, and Asia-Pacific will be the regions that will demonstrate the highest compound annual growth rates in data traffic usage. Even in mature markets, however, compound annual growth is expected to be in excess of 50%.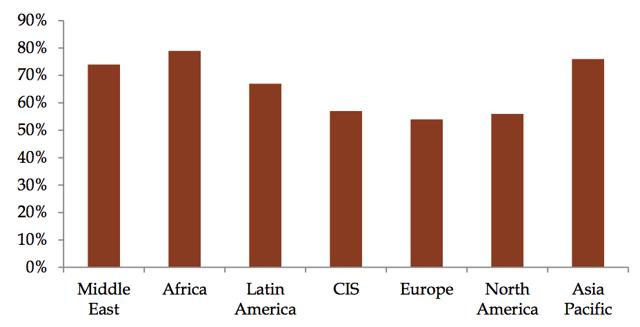 Mobile data traffic growth, Source: Cisco
However, providing services in rural areas comes with substantial challenges, not least the high network-deployment costs (lower subscriber density makes for a higher cost to serve). At the same time, particularly in emerging markets, ARPU is generally lower than in urban areas, compounding the economic problems associated with rolling out services to rural and economically deprived areas. Hence the digital divide. Moreover, while traditional satellites have been used to provide backhaul in some markets, satellites have generally been regarded as too expensive a solution, added to which there is the problem of latency.
The arrival of HTS, therefore, which should reduce the cost of backhaul on a per Gbps basis, is being welcomed by the mobile operators rolling out into these less developed mobile markets, which would not otherwise be economically viable. What HTS do not do, however, is address the latency issue (although a number of Ka-band operators argue that this problem can be alleviated, if not fully mitigated).
In terms of exposure to mobile backhaul, the below figure shows the estimated percentage of revenues represented by mobile backhaul for each of the three large operators. Intelsat is the most exposed here, from the perspective of its existing business. With the advent of its Epic platform and satellites, it is also in a strong position to retain much of the business as it switches.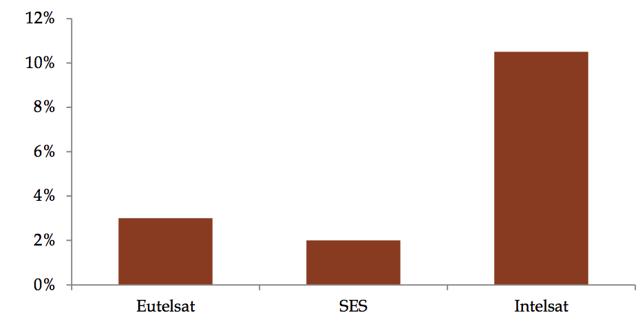 Source: Company data
The VSAT segment is a good one quarter of Intelsat's business, and the area about which management is also most excited about.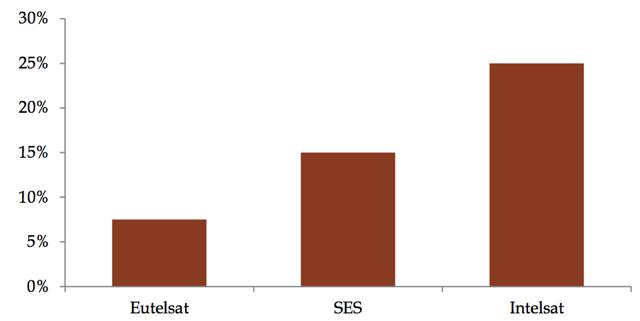 Source: Company Data
In essence, the VSAT segment provides private networks to enterprises, for whom data transmission is mission-critical. The satellite option has been the go-to option for such companies, due to the reliability of VSAT networks. The segment is characterized by high switching costs, due to the high costs of the necessary ground equipment. These networks typically use lower frequency bands, as the required data throughput usually isn't that large (think credit card transactions), and because these lower bands are less susceptible to weather-induced fade.
Inmarsat is the market leader in this segment with a marketshare of 32%. Historically the company did most of its business in the enterprise subsector, although they have most recently started to enter the maritime and aviation VSAT space, which are characterized by large growth rates. In fact the company already claims that it holds the leading share of aeronautical broadband services powering in-flight connectivity. While this market is still a young one at $70M, it is expected to grow the fastest, by a large margin, at a CAGR of 37% out to 2023 according to NSR. While their legacy trunking and VSAT business has experienced slight shrinkage in recent history, these new markets will offset this trend as soon as their EPIC constellation will come online in 2016, greatly reducing cost per bit and therefore improve their competitiveness in this space.
Of the EPIC contracts signed so far, management estimates that around 70% is new business, highlighting their already effective entry into the mobility space. Note the backward compatibility of the service, which should ensure that it enjoys strong retention rates with existing communications business.
Bottom line, I believe the company made the right choices as to which markets to enter with their new HTS platform, foregoing the much hyped but uncertain satellite broadband market in favor of building on their strong legacy business.
Financials & Valuation
While top line historically looked very stable, it dropped off slightly starting in 2012, which coincided with the announced launches of the all the new HTS platforms. Note however, that they managed to significantly cut their cost base, with direct costs and SG&A figures in a downward, enabling to grow their EBIT by 25% over the period, while their revenue shrunk slightly.

Source: Company 20-F
For 2015 the company is guiding for $2.33-2.38B in revenue and $1.81-1.86B in EBITDA, constituting a drop of 4% compared to 2014. The company cited no launches in 2015 and a degree of wind-off in the government business, as the US continually withdraws from Iraq.
This news triggered the massive drop-off in the stock, although for the reasons described above, this will be a temporary phenomenon until the EPIC platform launches and the company returns to growth in 2016.
On an EBIT level, their margins have steadily improved and are best-in-class: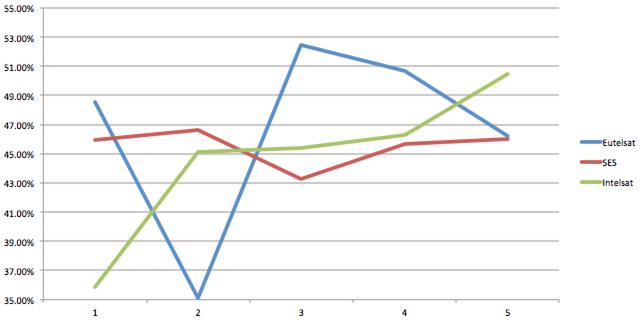 Source: Author, company filings
Note that Intelsat is a highly levered company, having been bought out in an LBO in 2008, before going public in 2013. Though this shouldn't worry the potential investor too much, as this is the norm for utility companies, and their high revenue visibility and cash generation profile will easily service their debt obligations. Their debt stood at $14.8B at the end of 2014. At a market cap of $1.1B, this yields an EV of $15.9B.
Their maturity profile is set out below. In the interim, Intelsat won't have to service any significant obligations until the end of 2018.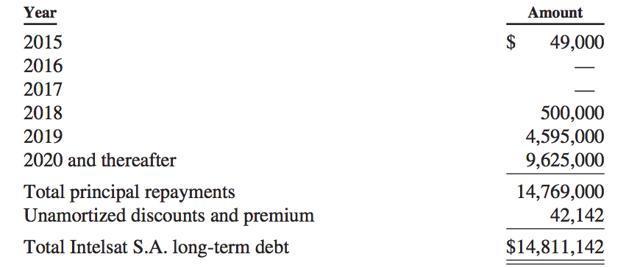 Source: Company 20-F
Average interest on their debt burden has been in the area of 6-7% in the past five years, and the company is guiding for roughly $1B in annual interest payments in the mid-term.
Strong contracted Backlog
Intelsat benefits from strong visibility of their future revenues. Their contracted backlog is their expected future revenue under existing customer contracts, and includes both cancellable and non-cancellable contracts. Contracted backlog was approximately $10.0 billion as of December 31, 2014, approximately 88% of which related to contracts that were non-cancellable and approximately 11% related to contracts that were cancellable subject to substantial termination fees. As of December 31, 2014, the weighted average remaining customer contract life was approximately 5 years, according to their latest 20F. This sum constitutes 4x their annual revenue.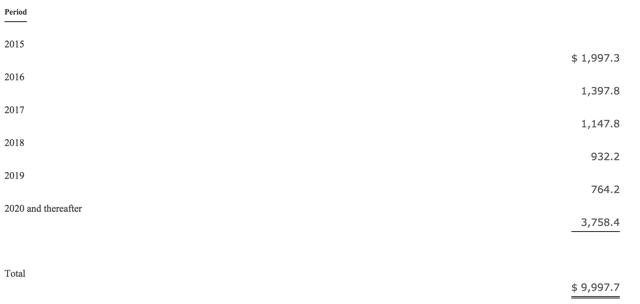 Source: Company 20F-filing
CapEx and the satellite replacement cycle
The design life of a satellite is the length of time that the satellite's hardware is designed by the manufacturer to remain operational under normal operating conditions. In contrast, a satellite's orbital maneuver life is the length of time the satellite has enough fuel to remain operational. A satellite's service life is based upon fuel levels and other considerations, including power. Satellites launched in the recent past are generally expected to remain in service for the lesser of maneuver life and 16 years. Satellites typically have enough fuel to maintain between 16 and 18 years of station-kept operations. The average remaining service life of their satellites was approximately 8.3 years as of December 31, 2014, weighted on the basis of nominally available capacity for the station-kept satellites they own.
A major contributor to the lull in revenue growth in recent years, was plainly the fact, that there weren't significant net adds to their overall transponder capacity.
Their capital expenditure guidance for the periods 2015 through 2017 forecasts capital expenditures during those periods for nine satellites.

Source: 2015 Q1 update
The company plans to launch seven satellites during the Guidance period, one of which is expected to be launched in the second half of 2015, as described below.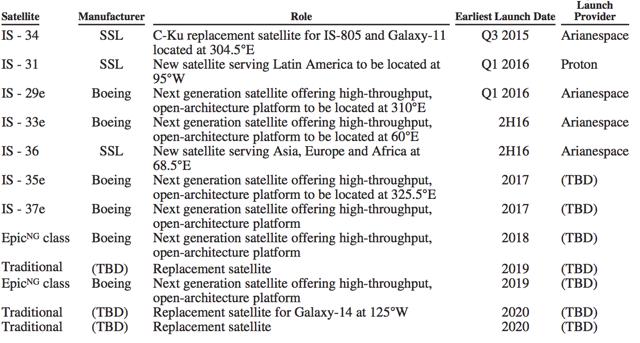 Source: Company 20-F filing
Since only one of these seven is a replacement satellite, total transmission capacity will increase significantly from levels at year-end 2015, as the number of active satellites should increase from 50 to 56 in the period. From 2017 onward, they anticipate capital expenditures to range from $725 million to $825 million as they begin investing in replacement satellites that will be launched beyond the Guidance Period.
The upcoming catalyst will be the launch of Intelsat's own HTS satellites, 2 of which will launch in 2016. The high throughput technology will up capacity drastically when compared to newly launched legacy satellites.
Relative Valuation
The two other major FSS players are Eutelsat and SES. As all three of these compete with each other in most of their legacy markets and all of them have a similar margin profile, making them a good choice for a peer-comparison.
All of the companies gave 2015 revenue and EBITDA guidance. SES is guiding for about a 1% increase over 2014, while Eutelsat is guiding for a 3% increase at constant FX.
To estimate their 2015 EBIT figure, I used their 2014 EBIT-margin. The results are below.
| | | | | | | |
| --- | --- | --- | --- | --- | --- | --- |
| | EV | 2015 sales | 2015 EBITDA | 2015 EBIT | 2015 EV/EBITDA | 2015 EV/EBIT |
| Eutelsat | 12 | 1.42 | 1.13 | 0.66 | 10.6 | 18.3 |
| SES | 21 | 1.92 | 1.5 | 0.88 | 14.0 | 23.8 |
| Intelsat | 15.8 | 2.33 | 1.83 | 1.18 | 8.6 | 13.4 |
While the divergence is apparent, the difference between SES and Eutelsat is also striking. This is due to the fact that SES and Intelsat are incorporated in Luxembourg and pay a way lower tax rate, compared to Eutelsat, which is incorporated in France. The 3-year average historical tax rates for ETL, SES and I stood at 36%, 12% and 10% respectively. For a more comparable metric, I will use net operating profit after taxes or NOPAT, to account for the different tax rates. To calculate this metric, I used my estimated 2015 EBIT figures, subtracted their 2014 interest payments, applied the historical tax rate and added back the interest payments. The results are shown below:
| | | | |
| --- | --- | --- | --- |
| | EV | 2015 NOPAT | 2015 EV/NOPAT |
| Eutelsat | 12 | 0.47 | 25.53 |
| SES | 21 | 0.76 | 27.63 |
| Intelsat | 15.8 | 1.16 | 13.62 |
Source: Author estimates
While Eutelsat and SES appear to be more in line after accounting for the different tax rates, the divergence to Intelsat has become even more apparent. Also note that due to Intelsat's gearing, a multiple expansion of 1x NOPAT would double their market value.
However, in the past the market has put a premium on Intelsat's two competitors due to their lower gearing, which is in the range of 3x-4x EBITDA compared to a value of 8X for Intelsat. While I don't see multiple expansion up to the range of ETL or SES, at a forward P/E multiple of 6.25, based on my estimates, the stock is bound to readjust to its historical trading range of $20, which would yield a still relatively low 2015 EV/NOPAT value of 14.7 and a projected upside of 80%.
Current Stockholders
Intelsat was acquired by private Equity firms BC partners and Silver Lake capital in 2008. Instead of selling out at the IPO in 2013, they kept their majority stake in the company and are well represented on the board of directors, with 4 of the 7 board members being partners at these firms, ensuring that management aligns itself with the shareholders. In addition the CEO himself owns 3.5% of the outstanding shares with the remaining C-suite and board members owning an additional 4.4% of the company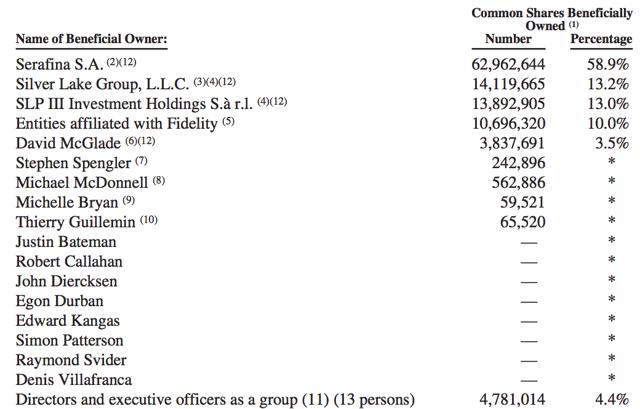 Source: Company 20-F filing
Summary
The sentiment has turned bad for this company since they gave 2015 guidance, with the sell-side downgrading heavily from ~$20 targets to ~$10 targets in recent months. I feel that the symptomatic extrapolation of short-term results to some sort of "larger picture" has driven this stock downward unjustifiably. While a certain degree of uncertainty, in regard to the new HTS technology and how it will affect pricing and the competitive landscape, exists, I have shown that Intelsat's strategy in particular is a solid one, foregoing the consumer broadband market in favor of building on their VSAT business.
More long-term we could see incremental replacement of their debt burden with shareholder equity as they target a gearing level more in line with their peers, which c.p. should lead to further market cap expansion. In the meantime I see the stock rebounding to historical ranges quickly, which still leaves a large multiple-spread between Intelsat and its peers, after you have pocketed an 80% return.
I have used various sources for this article, most notable the research articles by Northern Sky Research and Intelsat's 20-F filing. Other data is from investor presentations of its peers Eutelsat and SES. Financial data was taken from Morningstar.
Disclosure: The author has no positions in any stocks mentioned, and no plans to initiate any positions within the next 72 hours.
The author wrote this article themselves, and it expresses their own opinions. The author is not receiving compensation for it (other than from Seeking Alpha). The author has no business relationship with any company whose stock is mentioned in this article.
Editor's Note: This article discusses one or more securities that do not trade on a major U.S. exchange. Please be aware of the risks associated with these stocks.