The Canadian dollar is weakening as economic growth slows due to falling business investment and consumer spending. The Canadian currency is represented by CurrencyShares Canadian Dollar Trust (NYSEARCA:FXC).
In the first quarter, the economic growth figure came in at an annual pace of -0.6% contraction, down from the previous quarter's revised reading of 2.2%, while also missing estimates for 0.3%. After trending sideways the past few years, Canada's economy finally fell into contraction, seen below. The drastic slowdown in economic activity is partially due to a slowing national income.
"The Canadian economy shrank in the first quarter, posting its worst three-month performance in the post-crisis era, as business investment plunged in response to the decline in crude prices.

Household spending, which has helped drive Canadian growth in previous quarters, advanced at its slowest pace in almost three years as national income posted a sizable decline," according to MarketWatch.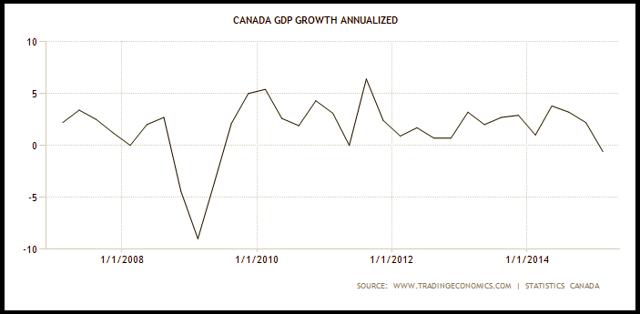 As was stated below, falling incomes have weighed on consumer spending. In March, the retail sales figure came in at an annual pace of 3.1%, above the previous month's reading of 2.5%, while missing estimates for 3.44%. Since 2010, however, retail sales are well off of its highs of nearly 10%, seen below. Consumers purchased less cars and homes in recent months, contributing to the slowdown in household spending.
"Crude oil is Canada's top export, and lower prices triggered a deterioration in housing markets in Alberta, site of major oil sands deposits.

Consumer spending growth slowed to an annualized 0.4 percent rate, the slowest since the start of 2009, from 2.1 percent in the fourth quarter. Transportation fell for the first time in 10 quarters, as vehicle purchases declined," according to Bloomberg.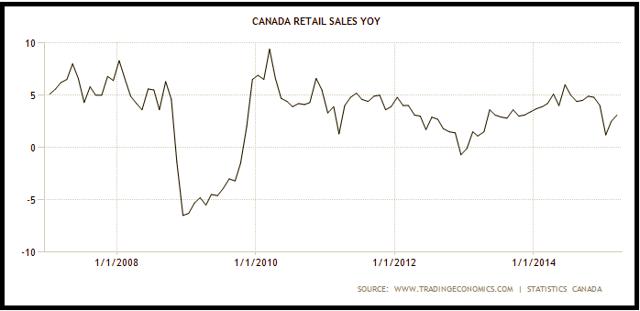 Finally, business investment is also declining in the country. In the first quarter, the fixed capital formation figure came in at an annual pace of 0.31%, below the previous quarter's reading of 3.33%. Since peaking at over 11% in late 2010, business investment has steadily fallen, seen below. Low commodity prices have weighed on spending in the oil and gas extraction industry in recent months.
"Business gross fixed capital formation -- or business investment -- fell in the first quarter, the most since the first three months of 2009.

Support activities for mining and oil and gas extraction fell by 30%. Exports fell 1.1%, the second straight quarterly decline," according to Bloomberg.
Canada's economy remains weak as commodity prices weigh on growth. As energy prices declines, both business investment and consumer spending fell. Weakening consumer spending is largely a product of lower employment across the country. As economic activity in Canada remains weak, expect its currency to stay at suppressed levels in coming months.
Disclosure: The author has no positions in any stocks mentioned, and no plans to initiate any positions within the next 72 hours. The author wrote this article themselves, and it expresses their own opinions. The author is not receiving compensation for it (other than from Seeking Alpha). The author has no business relationship with any company whose stock is mentioned in this article.