To find out which will be the top dividend stocks in 2012 for cash payouts, we looked back to see which dividend paying stocks paid out the most cash in dividends in 2011. This year's group are all large cap Dow dividend stocks, which is logical, since market cap is an important part of this equation.
These 5 stocks paid out from over $6 billion to $10 billion-plus in 2011, and appear likely to increase those amounts in 2012, given their historic and recent dividend growth rates. (Even though GE lowered its dividends in 2009, it began increasing them again in 2010):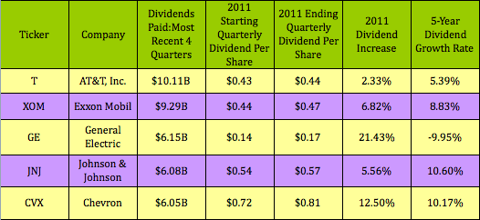 Upcoming Dividends: All of these stocks pay quarterly dividends, and 3 of them are listed in our High Dividend Stocks By Sectors Tables. The projected dividends listed below are based upon the most recent quarterly payout: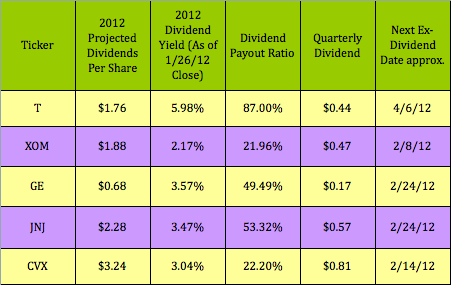 Except for GE, these stocks were rewarded by investors for their dividend payouts in 2011, with share performance that beat the S&P. Investors are favoring small caps thus far in 2012, but that will probably change when volatility returns to the market in coming months: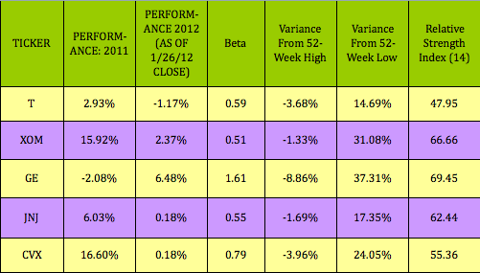 Covered Calls: Although these stocks don't have the high options yields that we often write about, you can still increase your dividend yields quite a bit, via selling covered call options. We've listed just T, XOM, and GE options, since JNJ and CVX currently have lower options yields.
In the XOM trade below, you'd receive nearly 4 times the amount of XOM's next 2 dividends, by selling a covered call option. The trade-off is that your shares will potentially be sold/assigned if they rise above the $87.50 Sept. strike price for XOM. However, you'd also receive a capital gain of $.73/share, the difference between the price/share of $86.77 and the $87.50 strike price.
The call options listed below expire in Oct., July, and Sept. for T, XOM, and GE, respectively.
(You can see more detail for these and 30 other trades in our Covered Calls Table.)

Selling Cash Secured Puts: Since T, XOM, and GE are all fairly close to their 52-week highs, some investors might choose to sell cash secured puts below the current stock price, in order to achieve a lower break-even entry price.
Selling cash secured put options is a strategy which pays you to wait: as with selling call options, you get paid now for selling put options. If the stock goes below the put strike price at or near expiration, you'll have it assigned/sold to you for a cost equal to the strike price. However, your break-even will be lower than the strike price, due to the put premium you receive when you sell puts.
For example, the Jan. 2013 $30.00 strike price pays you $3.25, making a break-even of $26.75, a bit below T's 52-week low. (The puts in the table below expire in Jan. 2013, July 2012, and June 2012 for T, XOM, and GE respectively.)
(Note: You can find more info on these and over 30 other Cash Secured Puts trades in our Cash Secured Puts Table.)

Valuations: Although these certainly aren't growth stocks, GE's PEG ratio is very close to the 1.00 undervalued threshold. XOM's negative PEG stems from the current negative growth forecasts for the next fiscal year. However, as we've seen before, oil could rise, or even spike higher, in reaction to world events, particularly in the Middle East.
One of the other issues for XOM is its new increased exposure to natural gas via its 2010 purchase of natgas giant XTO. With supplies coming on, natgas prices are forecast to decline until US infrastructure can be built up enough to support increased demand. With the current US administration now pushing for trucking tax incentives for natgas truck purchases, and other firms building a chain of US natgas fueling stations and liquid natural gas export treminals, demand may catch up with supply again sooner than later.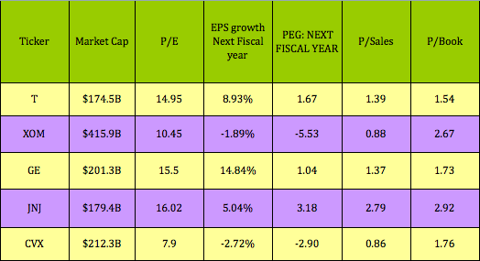 Financials: GE's debt/equity ratio is much higher than the rest of the group, but it does have an interest coverage of 2.3.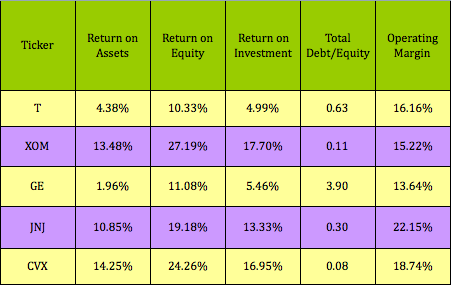 Disclosure: I am long T, XOM, GE, CVX.
Additional disclosure: I'm also short GE call options.