Seagate Technology PLC (NASDAQ:STX) is anticipated to report earnings after the closing bell on January 31, 2012. Seagate Technology Public Limited Company designs, manufactures, markets, and sells hard disk drives for enterprise, client computer, and client non-computer market applications worldwide. The company was founded in 1979 and is headquartered in Dublin, Ireland.
52 Week High: $20.09
52 Week Low: $9.05
Book Value: $5.78
Float Short: 3.18%
Analysts are expecting an improvement of $0.75 in earnings per share compared to last quarter's results of $0.34. The estimated mean earnings are $1.09 per share. Analyst estimates range between $1.05 and $1.16 per share.
The P/E ratio has dropped, as the current trailing twelve months P/E ratio is 16.5, while the forward P/E ratio is now 3.91.
From a month ago, the stock has increased in price 24.84%, and moving in price 46.08% from one year ago.
The stock has done very well as compared to the overall market. When comparing to the S&P 500, the year to date difference is 15.20%.
Just in case you missed it above let me repeat it, the PE RATIO IS ABOUT FOUR. YES - 4! Ok, by the time you read this it will likely be higher, but for a very good reason (beyond the fact this could be a better buy than AAPL). The company just announced the dividend is rising to $1 per share per year. That makes the yield about 5% (or in other words, 5% higher than Apple). While I am not a big fan of stock repurchases, as I believe it represents managments inability to find better uses of captial, this company headquartered in Dublin also announced an increase in its stock repurchase program.
If Seagate is announcing a dividend increase ahead of earnings, how do YOU believe the guidance and conference call is going to be received? I will let you draw your own conclusions on the prospects of 2012 with Seagate.
From my seat the chart looks great with the 90 day moving average breaking above the 200 day and the price "gap and go" from the start of the year. As you will read below, 2011 was a tough year and one investors will likely want to forget about quickly. 2011 is so yesterday though, and I expect good things to come out of the earnings report on Tuesday. Short interest is low, but the shorts that are still around are going to feel a burning squeeze around their necks for the near term.
Revenue growth appears to be problematic for management. Comparing year-over-year fiscal years, revenue has declined to $10.97 billion for 2011 vs. $11.40 billion for 2010. The bottom line has falling earnings year-over-year of $511.00 million for 2011 vs. $1.61 billion for 2010.The company's earnings before interest and taxes are falling with an EBIT year-over-year of $806.00 million for 2011 vs. $1.74 billion for 2010. Lower revenue along with a drop in earnings is often one of the last signs to get out of the way of a falling stock price.
Here is a look at the fiscal year revenue.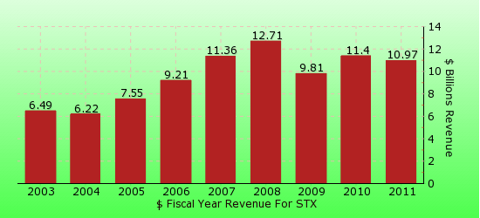 Here is the last few quarters to get an idea how well they perform compared to estimates: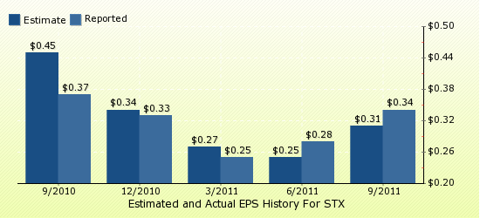 Reported earnings per share compared to the mean estimate. Differences are rounded.
The total short interest number of shares for STX:
The number of days to cover short interest based on average daily trading volume for STX:

Thank you for reading my article. Please also feel free to share your thoughts and comments.
I use a proprietary blend of technical analysis, financial crowd behavior, and fundamentals in my short-term trades, and while not totally the same in longer swing trades to investments, the concepts used are similar. You may want to use this article as a starting point of your own research with your financial planner. I use Seeking Alpha, Edgar Online, and Yahoo Finance for most of my data. I use the "confirmed" symbols from earnings.com that I believe to be of the most interest.
Disclosure: I have no positions in any stocks mentioned, but may initiate a long position in STX over the next 72 hours.