Dell (DELL) is a leading integrated technology solutions provider in the IT industry. The company is focused on providing long-term value creation through the delivery of customized solutions that makes technology more efficient, more accessible, and easier to use.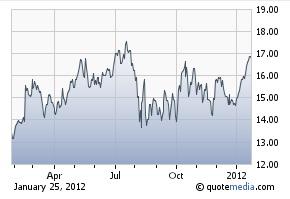 The four global business segments are Large Enterprise, Public, Small and Medium Business ("SMB"), and Consumer. Large Enterprise segment provides 29% of revenue, Public segment provides 28% of revenue, Small & Medium Business segment provides 24% of revenue and the Consumer segment provides 18% of revenue.
Dell focuses its solutions on three key domains:
Next generation computing solutions and intelligent data management
Services, security and cloud computing, and
End user computing
Dell hasn't been much of a growth story lately. Revenue hasn't increased in the last years. It was $61 billion in 2008 and will come in around that same number for 2011. Not a reason to consider the stock for your portfolio. The lack of growth is also reflected in the stock price - around $16 - with a P/E of 8.
A review of the latest 10-Q filing indicates that although revenue hasn't grown much, the company overall is very healthy and performs impressive against a list of key metrics:
A healthy balance sheet with more than $13 billion in cash, $8.6 billion in equity and $8 billion in debt.
Free cash flow generation of $3 to $ 4 billion a year.
Owner earnings / Enterprise value is yielding around 16%.
Average return on tangible capital of 33% over the last 5 years.
Return on equity of more than 40%.
The company repurchased 30% of the outstanding shares in the last 10 years.
Operating margin between 5 to 7%, while it is able to turn over its inventory more than 40 times a year.
Do the above metrics justify the low valuation? A discounted cash flow analysis will be used to determine intrinsic value. Following assumptions are used for the calculation: average owner earnings over the last 5 years, 10% discount rate, and a growth rate of 1%. This gives an intrinsic value of around $20.
There is more to the story. Dell is working on changing the product mix and moving to higher margin areas. Next generation computing solutions, intelligent data management, services, security and cloud computing solutions contributed to improvements in operating margins. The profitability of client products improved in recent quarters through a focus on creating a flexible value chain to improve execution and a focus on simplifying product offerings. The majority of products are now produced by contract manufacturers. The company indicates that developing flexible and efficient IT solutions will provide higher recurring revenue streams and improved profitability over time. The list of recent acquisitions like Compellent Technologies and Force10 Networks is another indication the company is moving into higher margin segments focused on cloud computing and data center services.
The above actions have resulted in an operating margin increase of 2 percentage points from 5.2% in 2009 to more than 7% in 2011. If we take the improved margins as an assumption for the discounted cash flow analysis (versus the average margin over the last 5 years), then it gives an intrinsic value of $24. This is 50% upside versus the recent stock price.
My conclusion is that Dell might be undervalued, even if revenue growth remains limited in the coming years. If Dell is successful to sustainable move into a higher margin area, in combination with its aggressive stock repurchase plan, then the stock should over time move towards $24 to reflect the underlying earning power.
Disclosure: I have no positions in any stocks mentioned, but may initiate a long position in DELL over the next 72 hours.