Illumina, Inc. (NASDAQ:ILMN) is scheduled to release last fiscal quarter's results after the closing bell on January 31, 2012. Illumina, Inc. develops, manufactures, and markets integrated systems for the analysis of genetic variation and biological function. The company was founded in 1998 and is headquartered in San Diego, California.
52 Week High: $79.40
52 Week Low: $25.57
Book Value: $7.38
Float Short: 21.12%
Analysts are expecting an improvement of $0.07 in earnings per share compared to last quarter's results of $0.22. Investors will be looking to see a number north of $0.29 per share, based on the earnings estimates. Analyst estimates range between $0.24 and $0.34 per share.
The current trailing twelve months P/E ratio is 30.4. The forward P/E ratio is 26.82.
From a month ago, the stock has increased in price 87.39%, with a change from a year ago of -20.95%.
The stock has done very well as compared to the overall market. When comparing to the S&P 500, the year to date difference is 71.60%.
If you're not already watching this one take a look at the chart. Even though Illumina has massive short interest (if you listen carefully you likely can hear them screaming in pain right now) that likely wishes they exited the position a few days ago, the stock is booming. It's not because of expected earnings, but rather the take over battle going on right now. Roche recently went public with their takeover attempt. Based on all the press releases of investigations, the lawyers are busier than a one legged man in an ass kicking contest lining up to sue someone over the take over bid. I have to wonder if they even know who they plan to sue, but I don't wonder if they hope they find someone.
So you can pretty much focus on the what illumina's board and Roche do with each other for guidance in direction of the company. If the efforts by illumina to stop the takeover and not simply playing hard to get, then the numbers in the earnings report will count for something.
For the same fiscal period year-over-year, revenue has improved to $902.74 million for 2010 vs. $666.32 million for 2009. The bottom line has rising earnings year-over-year of $124.89 million for 2010 vs. $72.28 million for 2009.The company's earnings before interest and taxes are rising with an EBIT year-over-year of $211.65 million for 2010 vs. $125.60 million for 2009. Rising revenue along with rising earnings is a very good sign and what we want to see with our companies. Be sure to check the margins in the earnings release to make sure that the bottom line is keeping up with the top line.
Here is a look at the fiscal year revenue: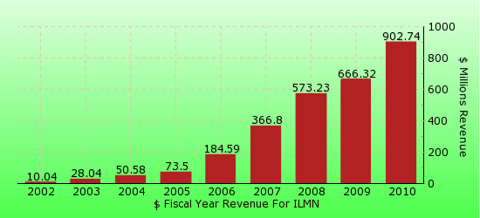 Here is the last few quarters to get an idea how well they perform compared to estimates: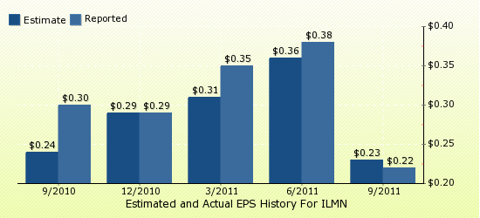 Reported earnings per share compared to the mean estimate. Differences are rounded.
The total short interest number of shares for ILMN:


The number of days to cover short interest based on average daily trading volume for ILMN:


Thank you for reading my article. Please also feel free to share your thoughts and comments.
I use a proprietary blend of technical analysis, financial crowd behavior, and fundamentals in my short-term trades, and while not totally the same in longer swing trades to investments, the concepts used are similar. You may want to use this article as a starting point of your own research with your financial planner. I use Seeking Alpha, Edgar Online, and Yahoo Finance for most of my data. I use the "confirmed" symbols from earnings.com that I believe to be of the most interest.
Disclosure: I have no positions in any stocks mentioned, and no plans to initiate any positions within the next 72 hours.