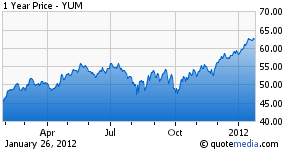 KFC, Taco Bell and Pizza Hut seem to be on every street corner across America. Some of the longest lines in downtown Shanghai on any given night are for the above mentioned restaurants. Yum! Brands Inc. (NYSE:YUM) is a holding company for some of the world's most recognizable and fastest growing restaurant chains in the world, with a presence in over 110 countries internationally. Its restaurants are easily accessible and largely appealing to the majority of the general public. They concentrate on a quick turnaround of customers, offering a fast food service with a restaurant setting. Yum! Brands Inc. has been noticed by investors such as Steve Cohen, who see the stock as a good value. In my analysis I find this stock fits well in a value investor's portfolio.
Yum! Brands is currently trading around $62, with a median current target of $65. This stock is trading near its 52 week range of $46.27 - $63.44. Earnings per share for the last year were $2.55, and these are expected to increase to $3.20 in its next fiscal year (ending Dec 2012). These numbers place the shares on a trailing price-to-earnings ratio of 24.34 at the time of writing.
Current operating margin is 15.87%, with a return on assets of 14.40% and a return on equity of 67.36%. The current revenue from its income statement is $12.08 billion, and last quarter's revenue showed year-on-year growth of 14.40%. Yum! Brands has cash of $1.25 billion, and a total of $3.23 billion in debt. A downside is the company's debt/ equity ratio, which causes some concern at 154.92. Yum! Brands has performed better than the S&P 500 (NYSEARCA:SPY) during the last twelve months, though the share price has been volatile since August and the shares have under-performed those of McDonald's. I expect this relative under-performance to reverse heading into the coming months, as cash strapped diners move toward the middle market, lower cost brands of Yum! Brands' restaurants.
For investors looking at dividend paying stocks, Yum! Brands' payment of a dividend of $1.14 last year gives the stock a yield of 2.20%, and is covered more than 2 times by its earnings. Although offering a lower yield than competitor McDonald's Corporation's (NYSE:MCD) 2.84%, McDonald's dividend has a lower cover of 1.76 times. A similar story comes through from Darden Restaurants (NYSE:DRI), where the yield is 3.73%, but cover is also less than 2 times. The lower dividend is reflected in Yum! Brands higher price-to-earnings ratio, as the company seeks to reward shareholders with a greater capital growth than payment in dividends. Price-to-earnings ratios at McDonald's and Darden are 18.73 and 14.36 respectively.
My aggressive stance on the shares is reinforced by the news of the agreed sales of two of its lesser chains, Long John Silver's and A&W All American Restaurants. While the company says it does not expect a material impact on its ongoing earnings by these sales, they should help the balance sheet.
YUM! Brands Inc. also signaled its plans in China when it announced its intention to buy the Little Sheep chain, which operates 300 chain restaurants. China's commerce ministry has recently announced its approval of this acquisition.
Looking deeper into 2012, the struggling global economy, fundamentals, share price performance, and the appeal of lower cost, fast service restaurants, I believe YUM! Brand shares represent excellent value for investors at this time. I believe the shares are worthy of a higher price-to-earnings ratio than McDonald's or Darden. I expect the shares to perform better than its competitors in the short to medium term, and would buy to take advantage of a forward thinking management that is likely to produce significant growth both nationally and globally throughout 2012.
Disclosure: I have no positions in any stocks mentioned, and no plans to initiate any positions within the next 72 hours.