Don't look now but the new exchange traded fund for Greece is up 23% so far this year.
Of course, the bounce follows a brutal prolonged decline for the Greek market and certainly doesn't signal the country's debt problems are gone.
"Greece will try to revive a debt relief deal needed to avoid a potentially disastrous default when it resumes talks on Thursday with its private creditors in Athens," the Associated Press reports.
Still, the jump in the Global X FTSE Greece 20 ETF (NYSEARCA:GREK) reflects the risk-on sentiment in global stocks to kick off 2012. In currency markets, the euro has also rebounded somewhat.
The ETF is brand new, having listed in early December. It's small with less than $3 million in assets and trading volume is still very thin. For example, trading volume has exceeded 10,000 shares only three times so far. It remains to be seen whether the fund will gain more traction.
"A lot of investors have an opinion on Greece," said Global X Funds chief executive Bruno del Ama in a phone interview Thursday.
"It's a difficult market to access, but the ETF makes it easier," the CEO said.
He noted the Greek stock market was down by about 90% when Global X launched the ETF in late 2011.
"That's a massive correction and the outlook for Greece remains grim," del Ama said. "But it begs the question if there could be an opportunity to buy at these valuations."
Morningstar analyst Robert Goldsborough expects a bumpy ride for the Greece ETF, saying it is more suitable as a trading vehicle than a long-term investment. The country has required several financial bailouts, and is trying to implement austerity measures and stop tax evasion.
"With Greece's equity markets down some 90% from their peak, investors may find the share prices of this ETF's underlying holdings to be overdone," Goldsborough wrote in a profile of Global X FTSE Greece 20 ETF.
"There may be more pain ahead, if the Eurozone collapses or if Greece's leaders are not able to get their financial house in order," he added. "Continued strife and demonstrations may scare away tourists who are an important part of Greece's economy."
Global X FTSE Greece 20 ETF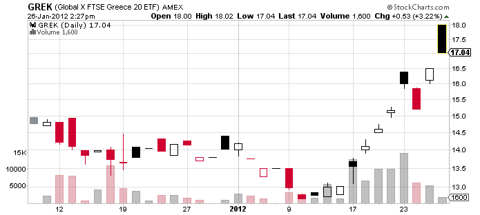 Greece General Share Index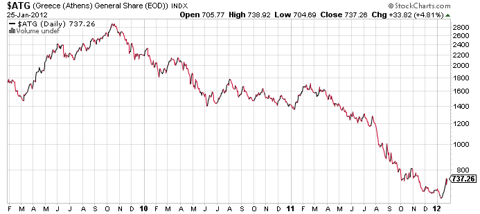 Disclosure: None