Introduction
Alaska has long been seen as the most significant oil producer in the United States. Before the United States started increasing shale production, whenever you were asked to think of the most significant oil state in the United States, Alaska always came to mind.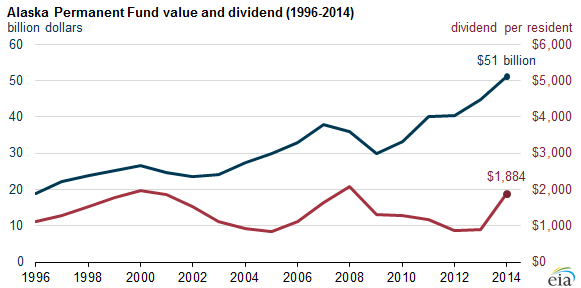 Alaska Permanent Fund Value and Dividend - EIA
In fact, Alaska's dividends are so significant that the state pays out over a thousand dollars to each resident on a yearly basis. Alaska is the only state in the United States that you get paid to live in. Even the different Middle Eastern countries that generate significant oil income do not pay their residents to live there (though a few
However, Alaska is running into a problem. The state's declining reserves and production mean that the state's oil power is fading into oblivion.
Alaska Production
Before we can talk about the future situation in Alaska, we must first talk about Alaska's current situation more specifically its current production situation.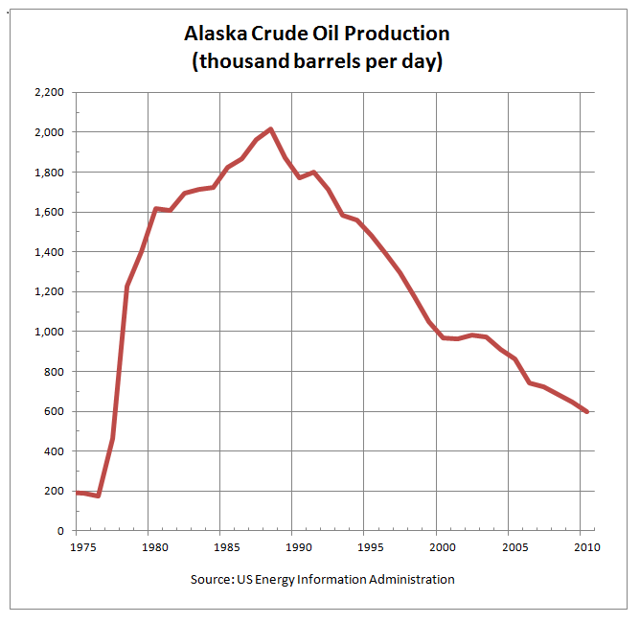 Alaska Crude Production - Wikimedia
Here you can see a map of Alaska's long-term crude oil production. After a significant rise in the late 1970s early 1980s, a time of significant rise in U.S. production everywhere, Alaska's production has been slowly trending down.
In fact, Alaska's production from 1988 until 2011 has been decreasing at roughly sixty-one thousand barrels per day on a yearly basis. Assuming crude prices of a hundred dollars a barrel, this represents a $2.228 billion dollar decrease in yearly income.
At the state's present rate of decline, that means the state will stop producing in roughly the year 2021.
1970s Oil Production
Before, I go on, let me first talk about what happened during the 1970s that resulted in the jump in production. The 1979 oil crisis represented one of the most trying periods in American oil supplies.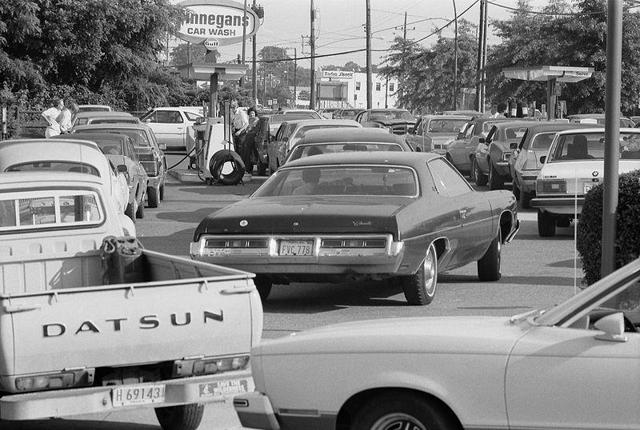 The above image shows just one of the many lines at gas stations as a result of the crisis. In fact, the lack of supply was so bad that there were restrictions on when people could buy gas.
The result of this oil crisis was due to decreased oil output in the wake of the Iranian revolution in 1979. Worldwide oil production decreased just 4% after the crisis, but oil prices were driven unreasonably high (just like a minimal oversupply caused the current crisis).
This significant increase in prices had a negative effect. However, it also led to something else. A significant increase in U.S. oil production.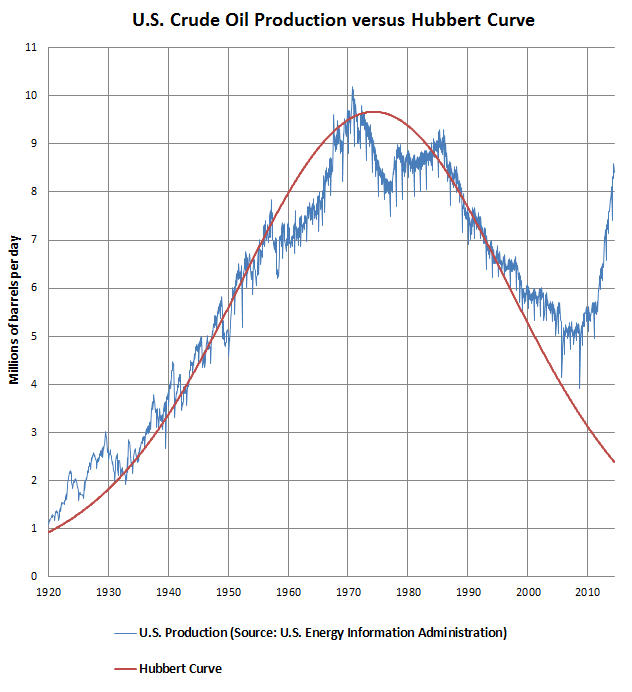 U.S. Historic Oil Production - Wikimedia
Above you can see a graph of historic U.S. production. The crisis along with that of 1973 resulted in a rapid uptick in U.S. production having a significant effect.
At that time, when shale fields were not as popular, much of this production came from Alaska which is the result of the increase in production. However, since then, Alaskan production has been decreasing.
Alaska Reserves
So far, we have talked some about Alaska's current production. Now we will talk about Alaska's current reserves situation.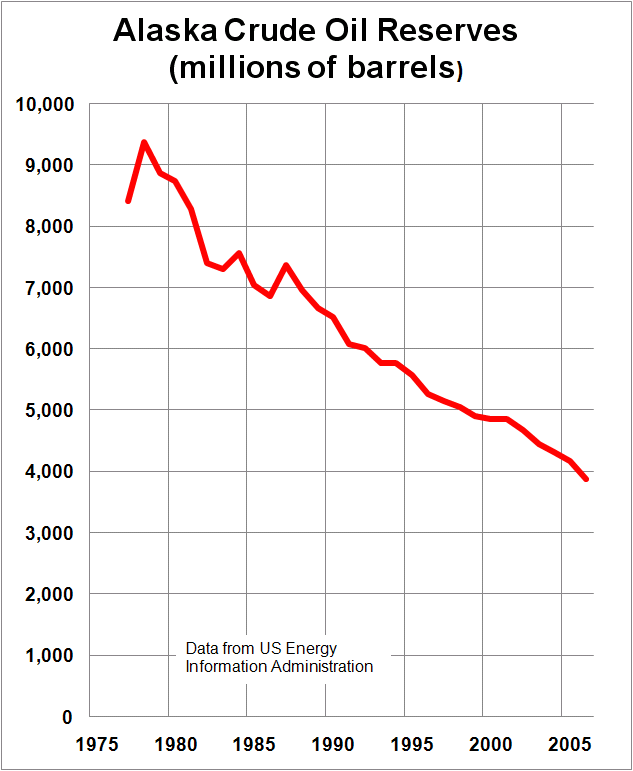 Alaska's Crude Reserves - Wikimedia
This picture paints it all. Just as Alaska's production has been declining over the years, so too has Alaska's reserves. In fact, just like the production rate has been declining by 61,000 barrels per day every year, so too has the reserve rate been declining by 200 million barrels every year.
Multiplying 61,000 barrels per day to get the yearly production we see that this represents 22.3 million less barrels in production per year. Taking the current reserves and dividing that by the current production, we see that Alaska's production should last thirteen more years.
Seeing the reserves will last until 2024 at the current rate through reserves or 2021 through decreasing production means that we have a pretty sound date of when Alaska's production will end.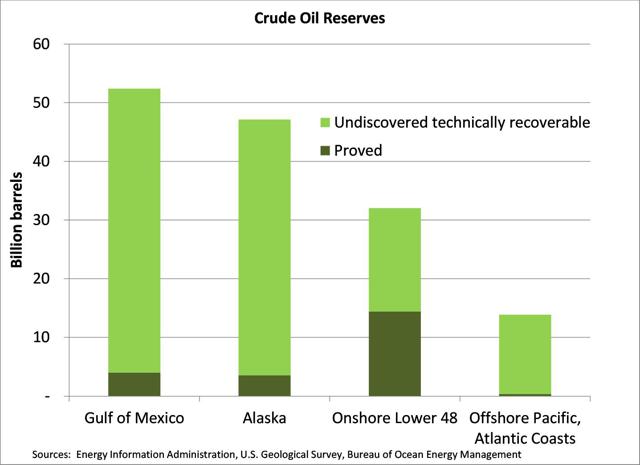 U.S. Reserves by Region - Oil Independents
Here you can see a map of the different crude reserves by region. On a best case scenario, Alaska has roughly 47 billion barrels of crude left to produce.
Assuming Alaska's production continues, the state will produce roughly 1 billion barrels per day for the foreseeable future. That means as a best case scenario Alaska's crude production will last until 2062.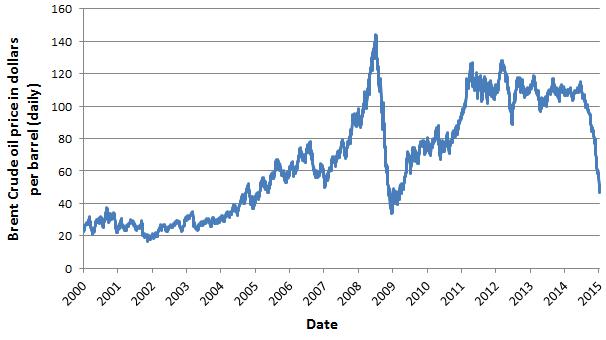 However, there is another thing to pay attention to. In the last few months, oil prices have experienced a significant decline on the order of 50%.
A big part of the above list of Alaska's reserves was the 'technically recoverable reserves'. Alaska's proven reserves are on the order of 3-4 billion barrels which is just a few more years of production at the current rate.
The rest is all theoretical. And a synonym for producing theoretical reserves is higher oil prices. You need these higher oil prices to recover this higher priced oil. That means if oil prices remain low, Alaskan production will continue to fall.
Future
So far, we have talked some about Alaska's current situation with both production and reserves and made some simple predictions of the future. Now, I am going to talk about Alaska's future situation more specifically.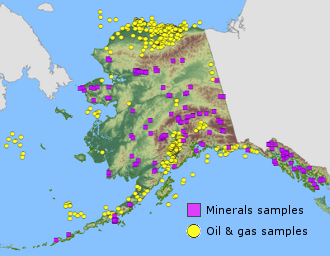 Map of Alaska Mineral along with Oil and Gas Samples - Alaska.Gov
This map shows Alaska's mineral samples along with oil and gas samples. The important thing to notice here is that the majority of Alaska's oil and gas samples are in the north portion of the state.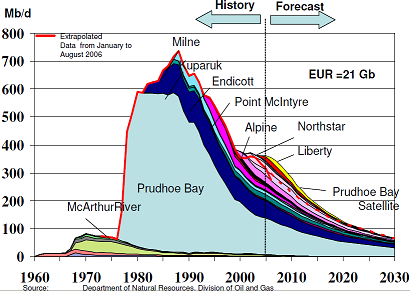 Alaska Historical and Forecast Production - The Standard
Here you can see a longer term picture of Alaska's oil production. As you can see in the late 1970s with the oil crisis that occurred at that time, significant oil was found and production started.
Yet despite higher average prices for most of the 2000s, Alaska still expects to see its forecast production fall. The 1970s had artificially high oil prices, but oil prices remained high for most of the 2000s.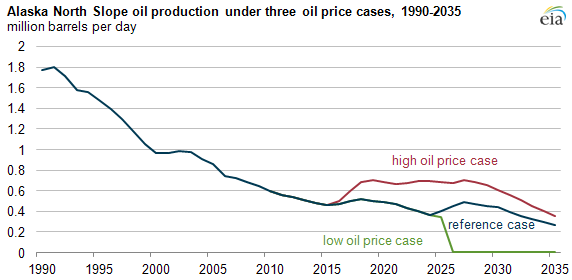 Alaska North Slope Production - EIA
Looking specifically at Alaska's North Slope oil production, which generates a significant portion of Alaska's production, we see that production is forecast to continue falling in future decades.
More significantly, you can see the predicted price change under several different scenarios. One important thing to pay attention to is that under a low price scenario, production is expected to fall significantly.
With the current low price scenario we are in, this means that Alaska's production might fall even quicker. A rapid decline in production as a result of current lower prices could result in Alaska fading into oblivion even quicker.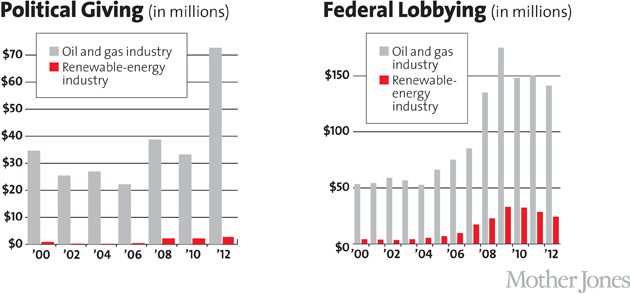 Alaska Oil and Renewable Giving and Lobbying - Mother Jones
The last thing I want to talk about is the political giving and federal lobbying from the oil and gas industry, a big part of which belongs to Alaska. One important thing to pay attention to is with the exception of a small decline in giving after the 2008 oil crash, overall spending has been increasing.
This increase in spending points to an industry in Alaska that is getting more and more desperate. This increased desperation show the fear companies have in Alaska's decreasing production.
Invest
Now, we have talked in detail about the Alaskan oil situation. The time has come to discuss how you will reward from this. The obvious answer here is shorting Alaskan oil.
Alaska has a variety of different major oil producers. However, the downside here is most of the investors in Alaska are the oil majors. There are not many independent Alaska only producers to invest in.
There are a variety of different companies involved. Trans Canada (NYSE:TRP) operates significant pipelines in the region.

ConocoPhillips Alaska - Sign Up
ConocoPhillips (NYSE:COP) represents one of the most significant oil producers in the state. The company has significant operations in the state.
However, the company's stock price has also experienced a significant decline in recent months. As a result, if you are interested in investing it would be best to wait for a recovery in oil prices and a subsequent uptick in the stock price.
Still, with such spread out operations it is hard to bet on a company's decline based on a decline in a single sector of operation.
Conclusion
Traditionally, Alaska has been seen as the oil state. The state generates so much money from the oil and gas industries that it actually pays it citizens to live there.
At the current rate of Alaska's decline in production and reserves, I expect Alaska's crude oil production to hit zero over the next decade barring any significant new discoveries.
The increased lobbying money spent by different companies shows the desperation that these companies are going into as Alaska's production fades away.
Disclosure: The author has no positions in any stocks mentioned, and no plans to initiate any positions within the next 72 hours. The author wrote this article themselves, and it expresses their own opinions. The author is not receiving compensation for it (other than from Seeking Alpha). The author has no business relationship with any company whose stock is mentioned in this article.