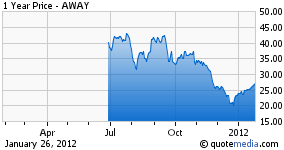 Homeaway (NASDAQ:AWAY) is a decent business with positive network effects and historically strong revenue growth. However, internal growth has recently slowed significantly, past growth is partially obscured by acquisitions, and the stock is selling at about 60x 2011 expected earnings and 8x revenue. Given the limited potential market size and nosebleed valuation, we think shares have significant downside, and upside risk is limited.
Homeaway's primary business is the VRBO site which allows residential property owners to rent their properties on a short-term basis to vacationers or others. Homeaway charges an annual listing fee to the property owner, which starts at base levels of a few hundred dollars and increases for extra photos, features and prominence in searches. VRBO requires a minimum one year commitment and receives the cash up front. They then amortize the revenue over a one year period through the income statement. This is an important point and thus deferred revenue provides a window on more recent revenue trends and renewals, whereas their reported revenue is a staler measure as it encompasses customer sign ups over the prior 12 months.
Unfortunately we don't have full historical data on deferred revenue, as AWAY just went public on 6/29/11 and prior data is thin. But deferred revenue declined in 3Q11, possibly for the first time ever, and 4Q results are expected to show the first ever quarter over quarter decline in reported revenue. While bookings are seasonal, with most renewals happening prior to the busy summer travel season, it is clear top line growth is slowing.
Like many new IPOs, most analyst coverage comes from firms who underwrote the deal. In these situations the due diligence they conduct is often thin or misleading. One analyst in particular recently rated AWAY a buy with a $43 price target "based on a 28x multiple to 2013 FCF/EBITDA". We wondered how free cash flow could be as high as EBITDA, particularly on a sustainable basis. Digging through the numbers, the analyst had modeled in a huge benefit to working capital which would augment free cash flow (and thus justify his model). It's impossible for an analyst to know over two years in advance what will happen to a firm's working capital.
AWAY is also seeing competition from airbnb, which provides a competing although somewhat differentiated product. We think pricing power is limited, and there has been a lot of pushback from AWAY's recent tiered pricing structure.
The insider lockup will expire next month (last slide), releasing 67% of outstanding shares to be potentially sold. Given slowing revenue growth, potential insider selling pressure, and the nosebleed valuation, we think shares have 60% downside from current levels.
Disclosure: I am short AWAY.