Pizza Hut, KFC, Taco Bell, and now ... Little Sheep. Yes, Little Sheep hot pot restaurants, Yum! Brands' (NYSE:YUM) latest planned acquisition, will join the existing 4,000-plus KFC and Pizza Hut outlets in mainland China. The appetite of the world's most populous nation for fast food, Yum-style, shows no signs of diminishing, and sites displaying the cute woolly animal logo will become part of the Chinese manifestation of Yum! Brands. They will join more than 36,000 Yum units in over 110 countries, the world's largest restaurant company based on outlet numbers.
Chairman and CEO David Novak naturally focused on China and emerging markets during the Q3 2011 earnings conference call on October 5, as well as commenting on the tough quarter in the US. Total new units in China will be 600 for the year, but Chinese revenue growth is not dependent on new units alone. Breakfast, lunch and afternoon snack initiatives are being introduced there, to drive same-store revenue upwards as well. Other international business is not being neglected, and Yum! Brands is developing plans to challenge McDonalds' supremacy in France, Germany and Russia. Meanwhile, for the US market, what Mr Novak referred to as 'category-leading innovation' is in the pipeline with the aim of lifting sales and profits in 2012. He also drew attention to the fact that 2011 will be the 10th consecutive year of earnings per share growth in excess of 10%, confirming guidance of a 12% increase for the full year.
The global brand split is: KFC 15,000 (105 countries), Pizza Hut 12,800 (90 countries), Taco Bell 5,600 (currently mostly US locations), plus other localized brands such as China's East Dawning. Yum's long-term aim for China is 20,000 units, and India and Africa are being nurtured as emerging markets.
The company has a stated commitment to deliver at least 10% earnings per share growth annually. It has a relatively short history, created in 1997 as a PepsiCo (NYSE:PEP) spin-off, and is currently divesting itself of the Long John Silver's and A&W All-American Food chains. This latest move is a part of Yum's strategy to focus on international growth now that the US market is effectively saturated.
Its competitors are contributing to that market saturation. The bigger players include privately-held Subway, McDonalds (NYSE:MCD), Starbucks (NASDAQ:SBUX), Burger King (NYSEARCA:BKC), Wendy's (NYSE:WEN) and Domino's (NYSE:DPZ). Like all of its major competitors, Yum faces a number of business challenges peculiar to the chain restaurant business. Diet-related health concerns, particularly those connected with weight gain and childhood obesity, have been much in the news, and the fast-food chains are often singled out as the bad guys. Food-borne illnesses and food safety issues, whether a fact or merely a rumor, can also impact on sales and cause brand damage. Fortunately, contraction in consumer discretionary expenditure in recent years appears to have had a less than expected impact on spending at fast-food restaurants (Yum's U.S. dine out to dine in revenue ratio is 3:1 across all its brands.) As far as the surge into China is concerned Yum is not alone, but must hope that the Chinese economy continues to grow at its present rate and that if there is any adverse change in political relations between the U.S. and China it does not impact on patronage of U.S.-owned restaurants.
Of Yum! Brands' $11.3 billion revenue in 2010, 86% was derived from company sales and 14% from franchise and license fees. Total revenue was 5% higher than in 2009. Although operating profit of $1.8 billion delivered slightly more than the sought-after annual earnings increase, net income of $1.2 billion fell just short at +8% on 2009. By far the most interesting statistic is the 5-year comparison of average U.S. annual sales per system unit. KFC is in a slight decline ($933,000 per unit in 2010), while Pizza Hut ($855,000) and Taco Bell ($1.3 billion) show only modest 5-year compound growth of 1% and 2% respectively. By contrast, company sales in China grew by an annual average of 32% in the same period, and other international (mostly franchised) sales increased by 8% annually. (Franchisees pay Yum franchise and license fees of between 4% and 6% of their sales.) So there is no doubt that the current strategy is the right one
This is confirmed by year-to-date figures for the nine months ended September 3 2011 (the fiscal year ends late December). China division sales increased by 27%, excluding foreign currency exchange effects. Other international sales grew by 8% overall, and by 13% in emerging markets. In the US, same-store sales declined by 2%. Total company sales grew by 9% over the comparable 2010 period, while franchise and license fees increased by 10%. Total revenue was $8.5 billion, but operating profit declined by $21 million, mainly as a result of store closure and impairment expense. Non-operating items, mainly tax and interest expense, declined sufficiently to allow Yum to deliver on its promise of 10% growth in earnings per share.
In 2012 the story will not be solely about China. There will be no revenue from Long John Silver's and A&W, for the first time in the company's history, but neither will there be their drag on the bottom line. U.S. company sales and franchisee fees are still a significant part of Yum's total revenue, so the planned initiatives there, whatever they may be, will have great significance. Yet there is no doubt that China is where Yum's future will be played out.
Yum's stock price has doubled over the last two years as shown below:
With Yum's upcoming earnings release on February 6, 2012, an investor might consider entering a collar position for Yum, in case the company reports negative news. A collar position can be entered by selling a call option against the stock and using some of the proceeds to purchase a protective put option.
Using PowerOptions tools, a collar position was found for Yum with a potential return of 2.7% (5.6% annualized return) and a maximum potential loss of 5.9% (even if the stock price falls to zero). The potential return of 2.7% and the maximum potential loss of 5.9% include consideration for payment of dividends with an aggregate of $0.57 (undeclared). The time frame for realizing the potential return is 177 days. The specific call option to sell is the 2012 Jul 60 at $5.10 and the put option to purchase is the 2012 Jul 55 at $1.81. A profit/loss graph for one contract of the collar position is shown below: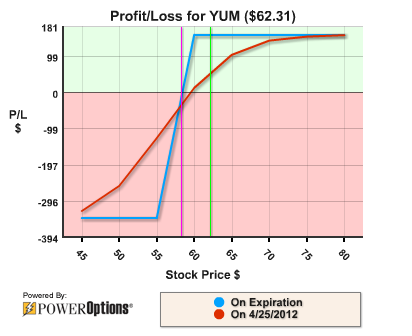 As long as the stock price is greater than or equal to the $60 strike price of the call option at expiration in July, the position will return 2.7%. And, if the price of the stock drops significantly, the maximum potential loss is 5.9%, even if the price of the stock drops to zero. For stock prices below the $55 strike price of the put option, the value of the collar position remains unchanged.
Disclosure: I have no positions in any stocks mentioned, and no plans to initiate any positions within the next 72 hours.