After listening to the AT&T (NYSE:T) and Crown Castle (NYSE:CCI) conference calls today, I have the following observations. These are in addition to my other recent notes on American Tower (NYSE:AMT).
DAS (Distributed Antenna Systems) - The Panacea for Spectrum issues?
ATT did not mince words this morning to convey their disdain of what Randall Stephenson called of the "Current FCC." With the current non-business friendly decisions and seemingly arbitrary requirements the FCC has recently demonstrated, it seemed quite clear to me that ATT had lost any hope of securing any meaningful spectrum with the current approval process.
Distributed Antenna systems are currently available and are vastly easier to deploy than traditional cell towers. All that is required is power and an internet connection. They are cheap and unobtrusive. Crown Castle provided some pictures of recent installations. American Tower has chosen not to focus on DAS, in my opinion to their peril.
Yes there is a cellular antenna in there somewhere...
ATT was very clear of the direction it is heading. The important point he makes is that this is not theoretical, or dependant on some new techological development. This is here right now and is being deployed. This makes traditional towers less valuable. Randall Stephenson, ATT CEO, stated on Jan. 26:
We continue to go very, very aggressively on distributed antenna system solutions and so going inside of buildings and lighting up buildings from the inside,WiFi solutions, all of these we just continue and there's no new science here per se. Obviously additional spectrum where we can pick it up is another part of the equation. And so you will continue to see us be aggressive there.
Also during the same comment he was very clear about the trends underway by wireless companies to decrease their use of traditional cell towers with their base stations and backhaul issues:
Wireless companies are buying Ethernet to the cell site aggressively, as we told you.


We now have 80% of our mobile broadband traffic on native Ethernet. All mobile companies are trying to get there as fast as they can. We think we're way ahead of the game in this regard. The benefits from it are dramatic in terms of the throughput increases you see by getting that backhaul infrastructure in place on Ethernet. So we are seeing big opportunities there.
The point that Mr. Stephenson is making is that once a wireless company has Ethernet to the cell site, it is no longer dependent upon the tower owner to locate large base station equipment at the tower site. This is horrible news for American Tower.
Unfortunately the bad news does not end with AT&T. American Tower's other cornerstone customer Sprint (NYSE:S) is accelerating its deployment of "Network Vision," which embodies much of this movement away from traditional towers. This is what Sprint has to say about towers going forward( from the Sprint Network Vision Information Center):
On Oct. 7, 2011, Sprint announced its plans to accelerate deployment of Network Vision and its plans to roll out 4G LTE on its 1.9 GHz licensed spectrum. Sprint expects the rapid deployment to reach 250 million people by the end of 2013.

Sprint estimates the total net financial benefit over a seven-year period will be between $10 billion and $11 billion.

Cost savings are expected to come from capital efficiencies, reducing energy costs, lowering roaming expenses, backhaul savings and the eventual reduction in the total number of cell sites.
I estimate that the amount of intangible assets that AMT currently attributes to "Customer Relationships" is over a billion dollars. Overall AMT has intangible assets in excess of its equity. With customers like Sprint and ATT outlining thier future plans so clearly, AMT's management is not listening.
How is this good for AMT?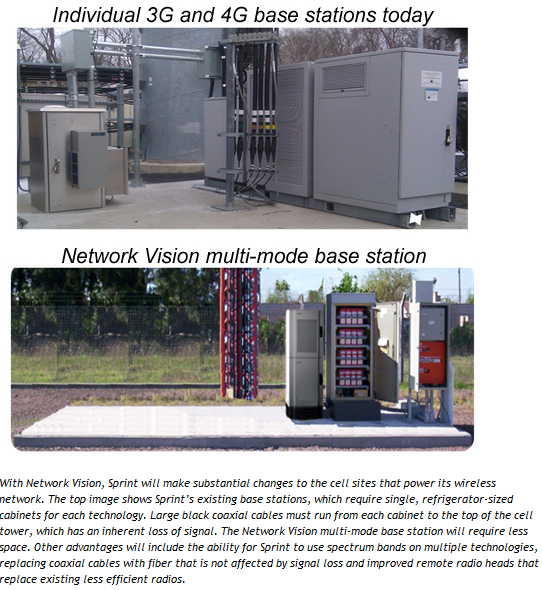 Images from Sprint.
AMT has gone to great lengths to portray itself as a real estate-oriented company, culminating in its recent transformation into a Real Estate Investment Trust. The value of real estate is completely dependant on what you can charge a tenant to use it. DAS/Network Vision, or any other form of technology which reduces the reliance upon a cell tower, is necessairly a problem for a company like AMT.
Disclosure: I am short AMT. I have negative net delta options positions in AMT.