China's economic growth has been a cause of worry for the global economy with the economy once touted as the global growth driver. China's growth in 2015 is likely to be lower than 2014 according to estimates and recent economic data also confirms that China's slowdown continues. This article discusses the recently released manufacturing and non-manufacturing data to provide insights on growth and the possible policy action coupled with likely asset class movement.
The first data released for May 2015 is China's manufacturing PMI, which increased to 50.2 in May 2015 from 50.1 in April 2015.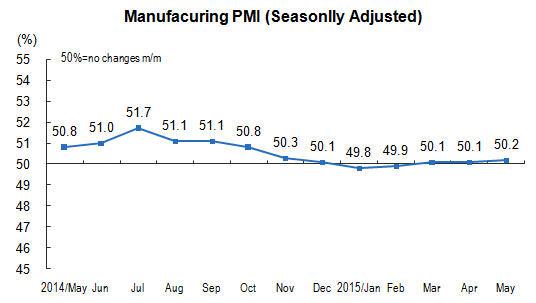 While there is marginal improvement in manufacturing PMI, it does not necessarily reflect sustained improving economic activity. It is clear from the chart above that the manufacturing PMI data has been hovering around these levels in the last 5-6 months. In my view, China's manufacturing data will remain depressed and manufacturing excesses is one of the reasons for this view. According to this February 2015 article -
Industry experts estimate more than one hundred large factories were shut down before Chinese New Year in the city of Dongguan, one of the country's main manufacturing hubs.
China's manufacturing sector has been hit by internal slowdown, slowdown in the developed market and weakness in emerging markets as well. Even if economic activity improves, it is unlikely that the manufacturing sector will see a strong bounce back with the sector also hit by labor crisis.
The second data that was released for May 2015 is China's non-manufacturing PMI. The chart below provides one year non-manufacturing PMI data.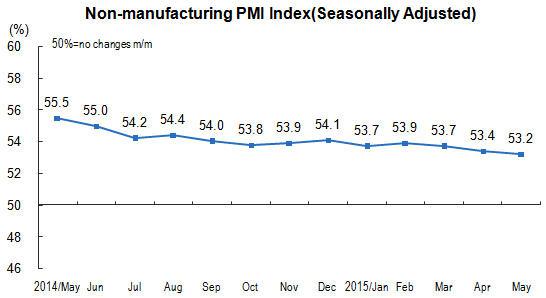 The reading for May 2015 is the lowest in one year and China's non-manufacturing PMI has been on a steady decline in the last 4-5 months. This is a big cause of concern for policymakers as the non-manufacturing sector is the likely growth driver for the economy in the coming years. However, the sector has remained depressed and is an indication of meaningful weakness in the real economy. The second reason for this data being a big concern for policymakers is the fact that interest rate cuts in 2015 have been futile in boosting economic growth as suggested by the data.
I have earlier opined that interest rate cuts will do little to boost real economic growth and I maintain that opinion. I would also like to point out that Chinese equities have surged by 137% in the last one year and the upside has been largely fueled by liquidity. In the recent past, Chinese markets have seen steep intraday declines or surges and I expect the markets to become more volatile on higher speculation. From a stock market perspective, it also remains to be seen how increasing geopolitical tensions related to South China Sea impact investment activity in China.
I also believe that Chinese policymakers will go for further rate cuts, but rate cuts in the future are likely to be as ineffective as it has been in the recent past. In my view, until there is strong traction in consumer driven growth, the economy is likely to remain depressed and the services sector is certainly not giving positive signals.
In conclusion, I would recommend investors to stay away from China equities (NASDAQ:MCHI). With the markets having surged 137% in one year, fresh exposure at these levels is likely to be risky. The upside has been driven by liquidity and is the slowdown sustains, a sharp correction is on the cards. Among specific sectors, I am negative on China's financial ETF (NYSEARCA:CHIX) and China real estate ETF (NYSEARCA:TAO). I believe that both these sectors will struggle due to the slowdown. Further, the real estate ETF can be avoided for the housing glut.
Disclosure: The author has no positions in any stocks mentioned, and no plans to initiate any positions within the next 72 hours. The author wrote this article themselves, and it expresses their own opinions. The author is not receiving compensation for it (other than from Seeking Alpha). The author has no business relationship with any company whose stock is mentioned in this article.