by Brendan Gilmartin
Pfizer (PFE) is scheduled to report 4Q 2011 earnings before the opening bell on Tuesday, January 31. The shares recently climbed to a multi-year high above $22, despite the recent patent expiration of top-selling cholesterol drug, Lipitor on November 30. The numbers are typically released at 7:00 a.m. EST and could influence the broader market indexes, including the Dow and S&P Index Futures, given Pfizer's size and influence.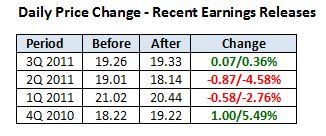 Outliers & Strategy
Key measures:
Adjusted Earnings Per Share: The value for this measure compares with consensus estimates. The consensus is $0.47, the midway point of analyst forecasts ($0.43 to $0.50). (Source: Yahoo! Finance)
Revenues: Revenues are seen falling 5.4% to $16.61 bln.
Adjusted Earnings Per Share Guidance (FY2012): Look for ay updates to the previously issued outlook for $2.25 to $2.35.
Revenues Guidance (FY2012) : Pfizer previously indicated it expects revenues in the range of $62.2 bln to $64.7 bln.
Pfizer is trading at just 9.36x forward earnings 1.85x book value with a dividend of just 4.07%, limiting the potential downside at these levels.
Recent News
01/17: Deutsche Bank raised its price target on Pfizer from $23 to $25, according to a post on Benzinga.com. The firm reportedly believes that an attractive dividend yield, attractive earnings multiple, and strong balance sheet limits the downside.
01/09: According to StreetInsider.com, Goldman Sachs raised its price target on Pfizer from $23 to $25, based on room for more upside. The shares are on the firm's Conviction Buy List.
12/12: Pfizer raised its quarterly dividend from $0.20 to $0.22, an increase of 10%. The company also authorized a new share buyback program for up to $10 billion in addition to the amount under the current repurchase program.
11/30: Pfizer officially lost its patent exclusivity on top-selling cholesterol drug, Lipitor. The drug accounted for approximately 20% of the company's annual sales. Pfizer is hoping to offset the revenue loss with an expanding pipeline, an aggressive marketing campaign for Lipitor to retain customers, and generic pricing of the drug to sustain market share.
Technical Review
Pfizer shares are up more than 25% from the October lows, recently topping out at a 52-week high of $22.17. If earnings for the 4Q 2011 period top expectations, look for initial resistance at that level, with room to run to the $25-area. Conversely, there is initial support near $21.00, with potential downside risk to the 50-day SMA near $20.75, followed by $20.00. (Chart courtesy of StockCharts.com)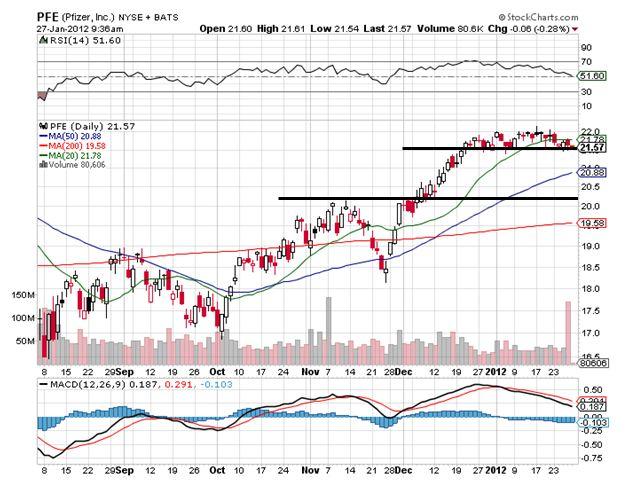 Summary
Despite losing patent exclusivity to top-selling cholesterol drug Lipitor back in November, Pfizer shares recently spiked to a 52-week high, thanks to a strong balance sheet, hefty 4% dividend yield, attractive valuation, and strong product pipeline. Pfizer has also implemented solid steps to mitigate the potential revenue and market share losses form Lipitor through extensive marketing and generic pricing. Given the positive backdrop, Pfizer shares are susceptible to a pullback on even the slightest disappointment. Much of the focus will center on the outlook for the balance for 2012 now that the year is officially underway and Pfizer has had two months to absorb the Lipitor situation.
Disclosure: I have no positions in any stocks mentioned, and no plans to initiate any positions within the next 72 hours.
DISCLAIMER: By using this report, you acknowledge that Selerity, Inc. is in no way liable for losses or gains arising out of commentary, analysis, and or data in this report. Your investment decisions and recommendations are made entirely at your discretion. Selerity does not own securities in companies that they write about, is not an investment adviser, and the content contained herein is not an endorsement to buy or sell any securities. No content published as part of this report constitutes a recommendation that any particular investment, security, portfolio of securities, transaction or investment strategy is suitable for any specific person.