From the understanding that silver often leads a rally in small cap resources stocks as depicted in this previous article, the author set out to survey the silver companies exhibiting at the recent Vancouver Resource Investment Conference running January 22 and 23, 2012. One point that I noticed from the show was the focus on production; the reduction of risk with having a cash flow incoming. Another factor was that a new number for comparison of silver companies was found and this was utilized for possible stock selection in this writing.
Silver Buyout Benchmark Increases
On January 23, 2012 morning, Pan American Silver Corp (NASDAQ:PAAS) offered $1.5 billion to take over Minefinders (MFN) in a stock and cash deal. Surprisingly, investors disapproved of the deal driving Pan American shares down 10% for the day. The deal was worth about $15.60 per share or a 36% premium for Minefinders. Minefinders produced over 3.6 million silver ounces (plus 74,000 gold ounces) last year for a cash flow of $241 million.
From discussions about this deal with other silver companies' executives, the number that emerged and was bandied about as the benchmark per silver resource ounce for a takeover was $4 per ounce. Looking at the Minefinders website, one finds that the total silver resources and reserves reported by the company was 120 million ounces in reserves and 160 million ounces in resources. Taking the $1.5 billion buy-out price and dividing by the approximately 300 million in total resources gives a new $5 per ounce benchmark, a full 25% premium to the previous benchmark. Perhaps this high valuation is why the Pan American shares dropped on this buyout announcement.
Readers, please understand that reserves and resources are strictly defined under NI 43-101 which is a very complex subject; but suffice to say that for this article's purposes, the author has used a broad brush, reserves (defined as mineable ore) and resources (just ore in the ground not supported with any means for extraction) are combined and mingled just to keep things simple . In real life, there is a world of difference between proven reserves and inferred resources. The reader is advised to study this subject here.
14 Silver Suspects
I was happy to come upon such a benchmark price for comparison and was eager to apply the $5 per resource ounce to other silver companies of interest. Following is an alphabetical listing of the dozen or so silver companies exhibiting at the Vancouver Resource Investment Conference, that I took interest in. Each company's stock price is charted with some commentary following. The charts show the stock prices since summer of 2010, when silver started the previous bull run moving upwards.
Aurcana Corp. (OTCQB:AUNFF)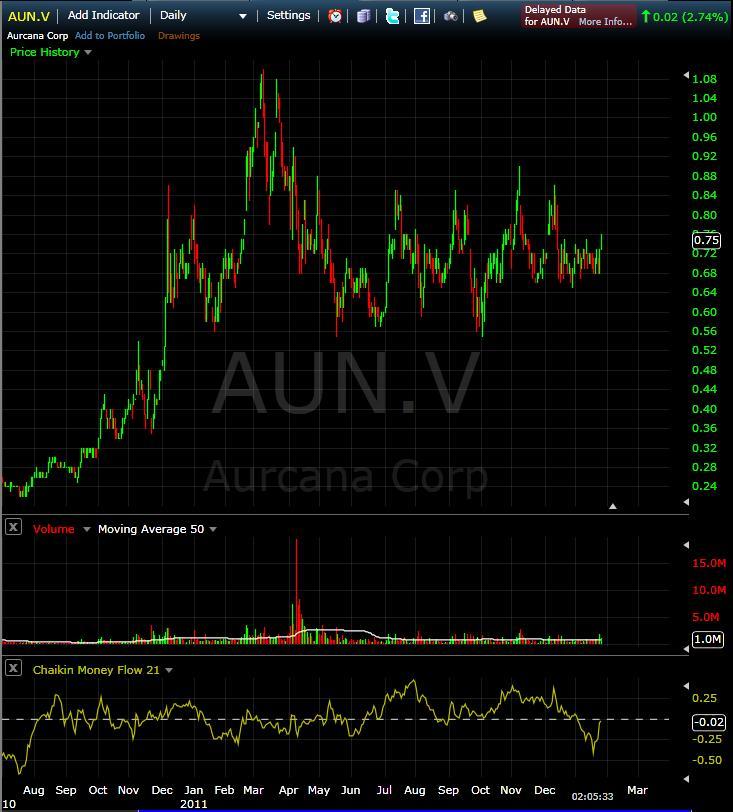 Aurcana is a relatively new operating silver miner having produced over 1 million ounces of silver for 2011 at La Negra in Mexico. The company is planning to start production at their Shafter project in Texas in 2012. Note the increase in value of the company following the increase in the price of silver as well as the company's move into silver mining production.
Avino Silver & Gold Mines Ltd. (ASGMF.OB)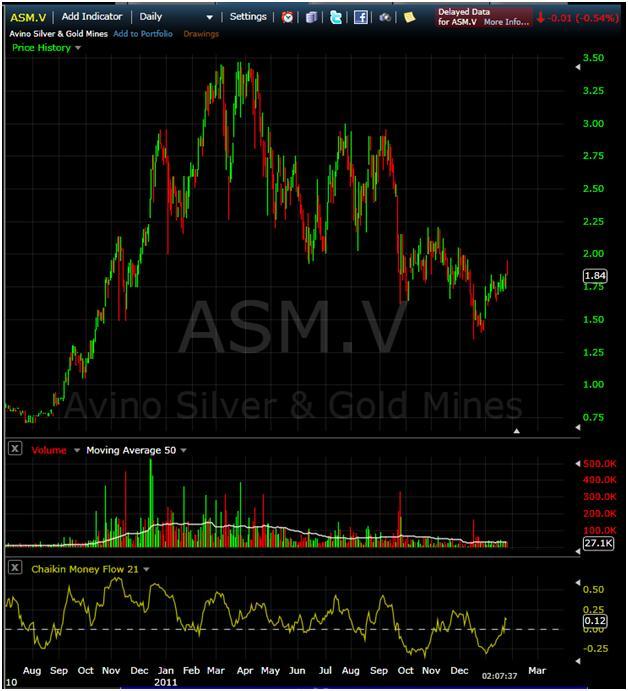 Avino has restarted production in 2011 on the previously shuttered Avino Mexican mine. The resource is a rich vein of about 10 ounces of silver per ton. Avino'ds objective is to bring the mine to full production targeting 1 million silver ounces per year.
Cream Minerals (OTC:CRMXF)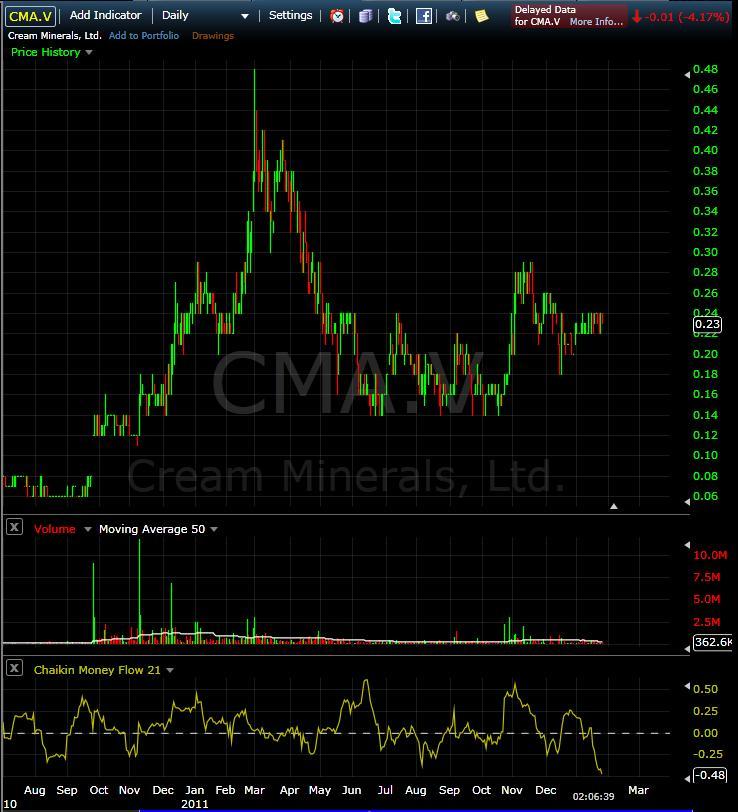 Cream Minerals is noted for having fought off an acquisition in 2010 from Endeavour Silver, as related by Michael O'Connor, CEO. The cream of their properties is the Nuevo Milenio project in Mexico, which Endeavour coveted. Cream is now trading 50% higher than that previous buyout offer.
Defiance Silver Corp.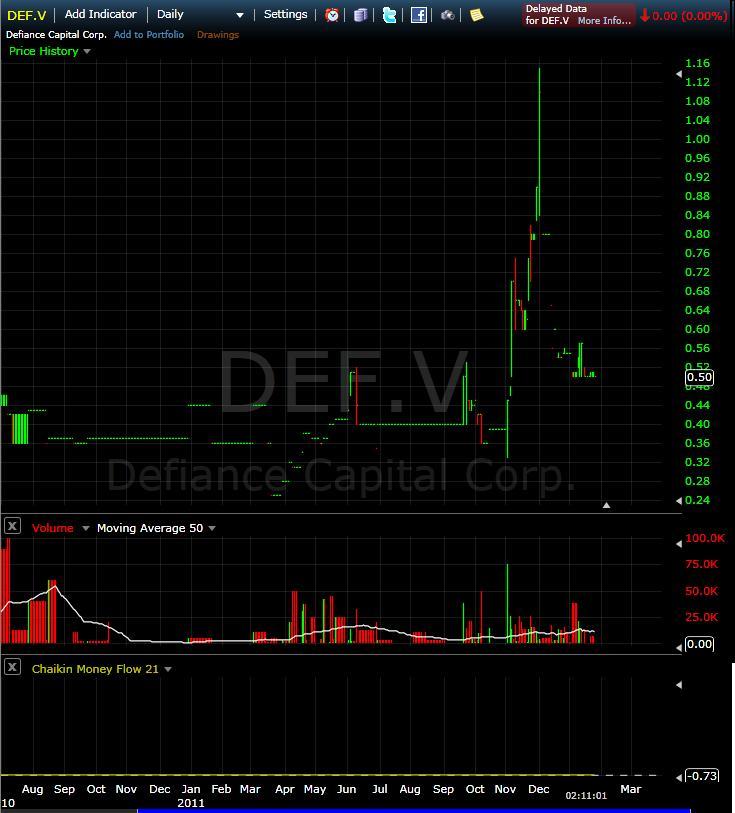 Defiance is a newer company that has a surprisingly small float of about 14 million shares. Bruce Winfield, CEO relates that they aim to bring their San Gabriela and San Acacio Mexican facilities back into production.
Excellon Resources Inc. (OTCPK:EXLLF)
John Sullivan, VP Exploration talks about Excellon's search for the manto source of the rich silver mineralization (upto 30 ounces/ton) on their Platosa Mexican property. Excellon is in production having produced 350,000 ounces silver in 4th quarter of 2011.
Fortuna Silver Mines (NYSE:FSM)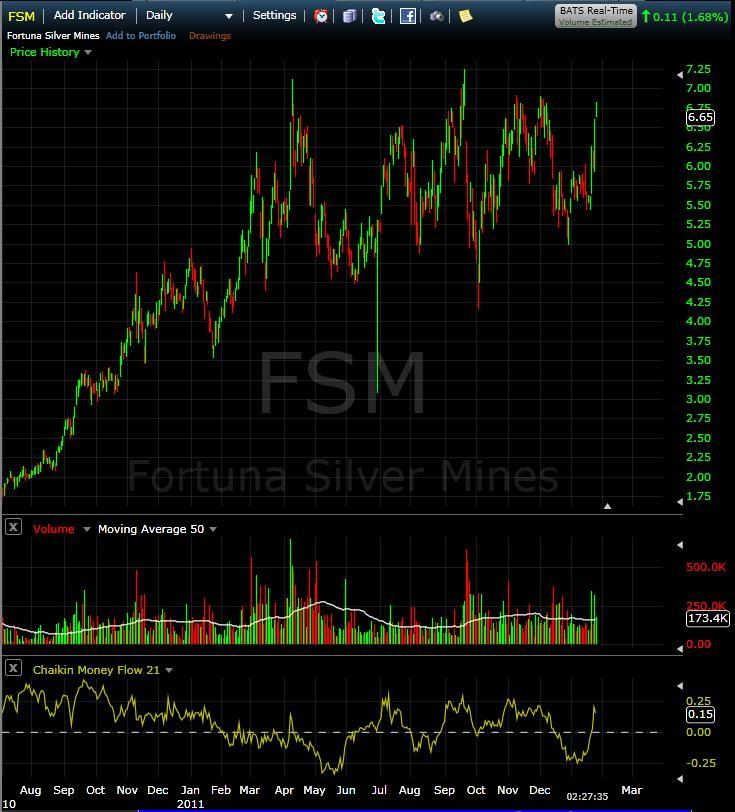 Fortuna is in production at San Jose in Mexico and Caylloma in Peru. 2011 production was 2.5 million ounces of silver, announced Jan 26, 2012. In 2012, Fortuna is targeting 4.6 million silver equivalent ounces. Fortuna shares have moved notably higher since the Minefinders bid. Fortuna is a prime example of a well managed company executing on production plans and creating value for shareholders.
Hecla Mining (NYSE:HL)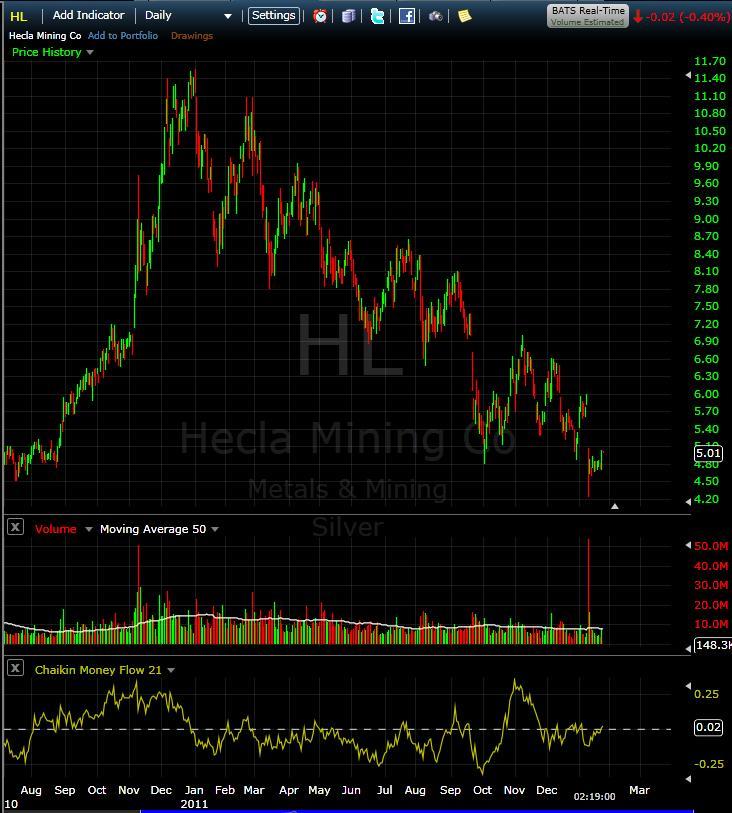 Hecla is the largest silver producer in the US with the Luck Friday mine in Idaho and the Greens Creek mine in Alaska. Unfortunately, their Lucky Friday mine production has been halted for one year for shaft maintenance due to a recent rock burst, and the share price has cratered. Hecla is estimating 7 million ounces of silver production for 2012 without their Lucky Friday mine production.
Note to mineral resources exhibitors: It would be very helpful to have staffers that can talk meat about rocks at these conferences.
Impact Silver Corp. (OTCPK:ISVLF)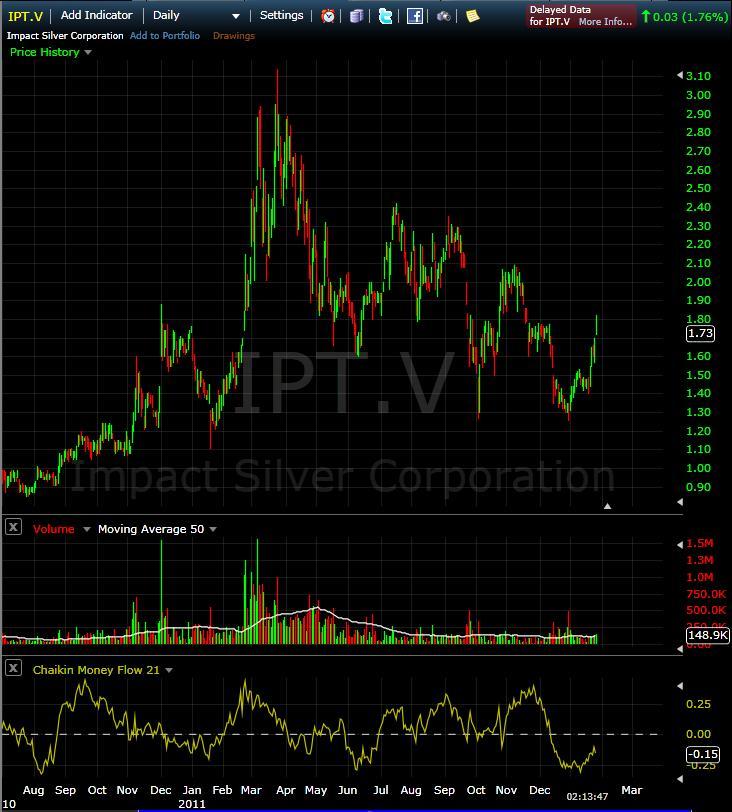 Impact Silver has production from 3 mines, in Mexico and will produce close to .9 million ounces in 2011. Impact is piloting production at a 4th silver project of Capire in 2012.
Mag Silver Corp. (MVG)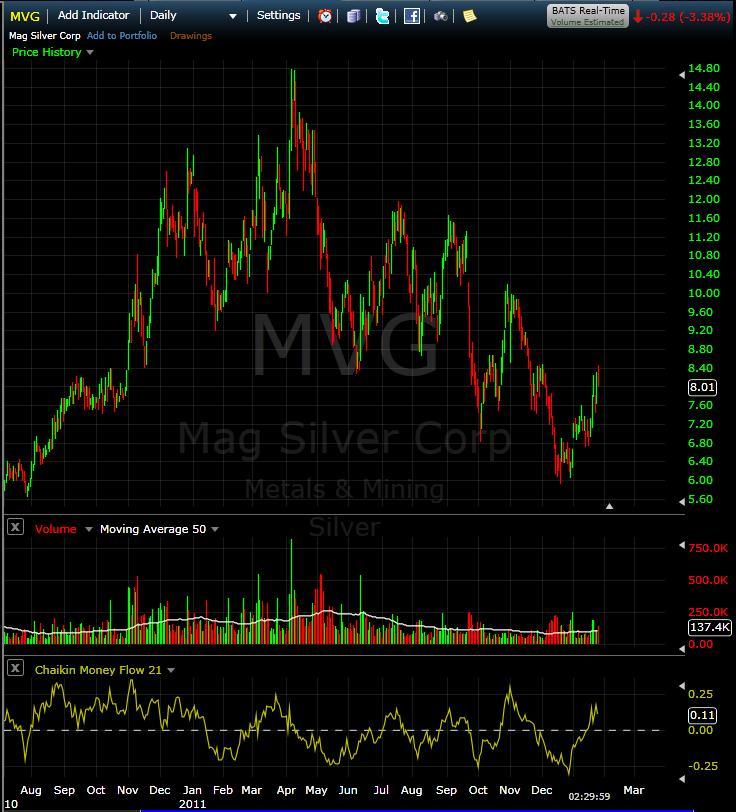 Mag Silver's prime project is their Juanicipio JV Mexican property that is 56% owned by Fresnillo (OTCPK:FNLPF), the world's largest silver miner. This project has 146 million ounces of indicated silver and 85 million ounces of inferred silver, and an updated feasibility is expected within the next month.
Revett Minerals (NYSEMKT:RVM)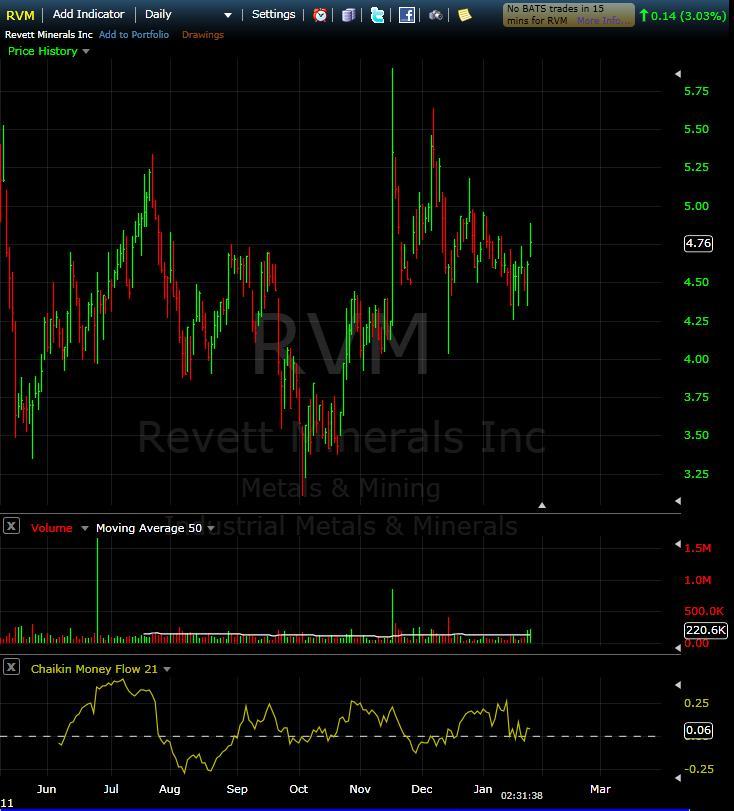 Revett is in production at their Troy mine in Montana with 1.3 million ounces of silver (also 10 million pounds of copper) produced for 2011. Their Rock Creek property which has large resources is presently under environmental litigation.
Silvermex (GGCRF.PK)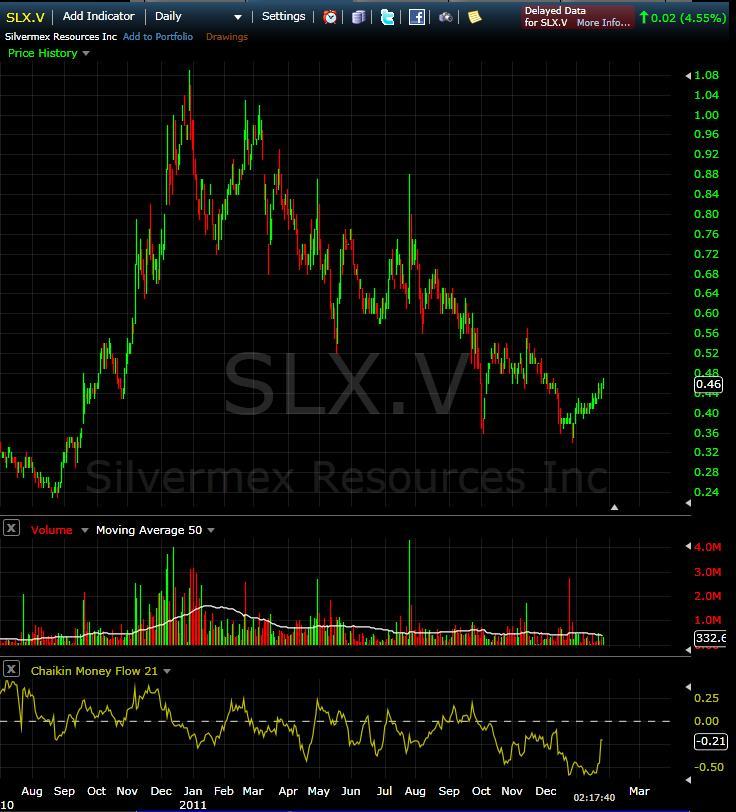 Silvermex is an old favourite (see interview with previous CEO) that is a combined Silvermex and Genco Resources. Duane Nelson, CEO relates that Silvermex is targeting increasing production at their La Guitarra Mexican mine to 3 million ounces per year from the 130k ounces silver production in 3rd quarter 2011.
Silver Standard Resources (NASDAQ:SSRI)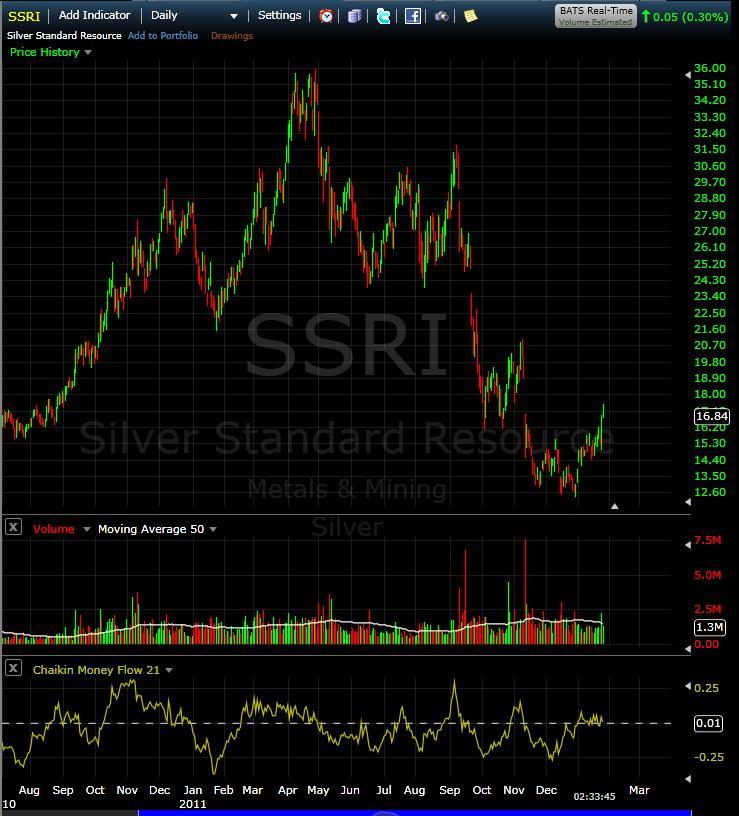 Silver Standard is a large silver developer with 15 major projects worldwide. In 2011, they spun off Pretium to develop the large joint Snowfield and Brucejack projects in Canada. SSRI is focused on bringing their large Pirquitas mine in Argentina into consistent production in 2012 with guidance of 8.x million ounces of silver.
Soltoro Ltd. (OTCPK:SLTOF)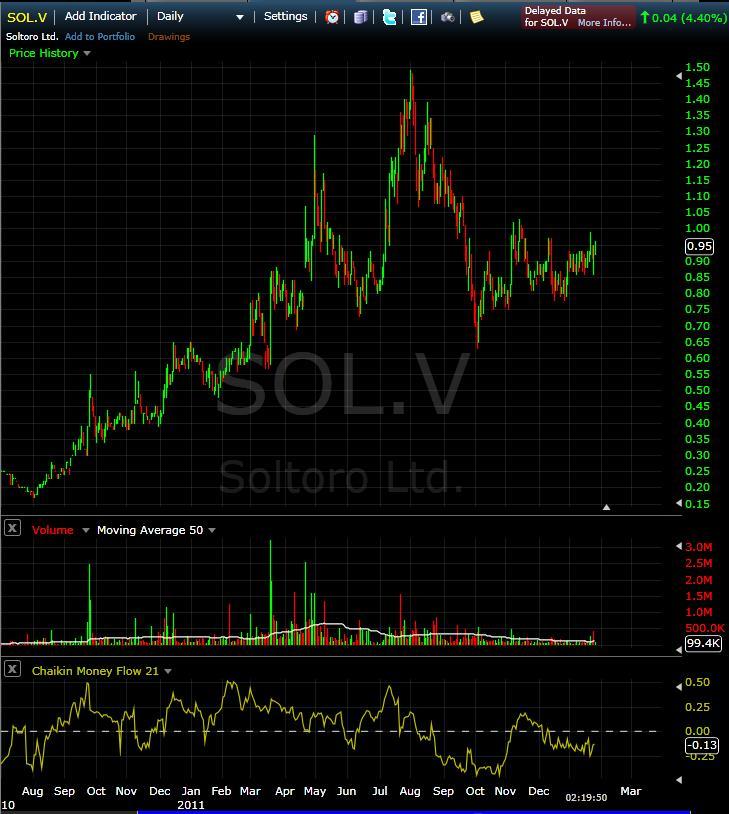 Soltoro is an exploration company with a flagship El Rayo property in Mexico. Steve Priesmeyer, VP Exploration relates that this property has 16 previous workings and mining areas and that they have just released a NI 43-101 resource estimate.
US Silver Corp. (OTC:USSIF)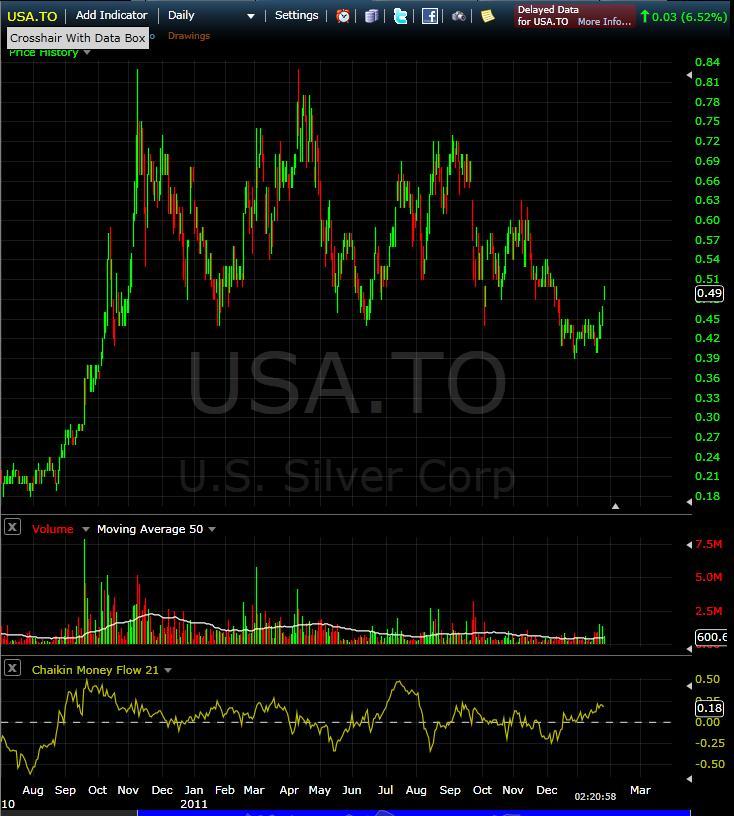 US Silver in the second largest silver miner in America with annual production of 2.5 million silver ounces. They previously only drilled ahead to manage their production but are now drilling to increase their reserves. Tom Parker, CEO states that value growth will be with increased production and the price of silver increasing.
Calculations of Value Using $5 Per Silver Ounce
| | | | | | | | | | |
| --- | --- | --- | --- | --- | --- | --- | --- | --- | --- |
| Name | US Symbol | TSX | Price Jan 23 | Shares (NYSE:M) | Mkt Cap $M | Rsrc. M oz | Value $M | % Diff | Notes |
| Aurcana Corp | AUNFF | AUN | $0.71 | 431 | $ 306 | 52 | $ 260 | -15% | 1 |
| Avino Silver & Gold Mines | ASGMF | ASM | $1.83 | 27 | $ 49 | 21 | $ 105 | 113% | 2 |
| Cream Minerals | CRMXF | CMA | $0.23 | 152 | $ 35 | 41 | $ 205 | 486% | 3 |
| Defiance Silver Corp | DNCVF | DEF | $0.50 | 14 | $ 7 | 18 | $ 90 | 1186% | 4 |
| Excellon Resources Inc. | EXLLF | EXN | $0.59 | 279 | $ 165 | 20 | $ 100 | -39% | 5 |
| Fortuna Silver Mines | FSM | FVI | $6.28 | 124 | $ 779 | 90 | $ 450 | -42% | 6 |
| Impact Silver Corp | ISVLF | IPT | $1.62 | 68 | $ 110 | 10 | $ 50 | -55% | 7 |
| Mag Silver Corp | MVG | MAG | $ 7.91 | 56 | $ 443 | 100 | $ 500 | 13% | 8 |
| Revett Minerals | RVM | RVM | $4.62 | 34 | $ 157 | 300 | $1,500 | 855% | 9 |
| Silvermex | GGCRF | SLX | $0.46 | 238 | $ 109 | 180 | $ 900 | 722% | 10 |
| Soltoro Ltd | SLTOF | SOL | $0.92 | 59 | $ 54 | 79 | $ 395 | 628% | 11 |
| US Silver | USSIF | USA | $ 0.44 | 309 | $ 136 | 41 | $ 205 | 51% | 12 |
Notes to table:
1. La Negra is in production.
2. Avino is in production.
3. Cream had a previous buy-out offer @ .14 cents
4. Defiance is moving slowly to production
5. Excellon is in small producer.
6. Fortuna is in production at San Jose Mexico.
7. Impact also has significant Pb, Zn and Cu resources.
8. Only 44% of the Silver from Juanicipio JV is considered.
9. Troy Mine in Montana is in production; Rock Creek is under environmental litigation.
10. In production at La Guitarra, Mexico with a 320 tpd mill.
11. In exploration presently.
12. USA has rich grades (10 -17 oz/ton) but previously only drilled ahead to replace mined ore.
Magic Number Comparison
My very simple modus operandi in the table above was to take the $5 per silver resource ounce derived from the buy-out offer for Minefinders and apply that to some up and coming silver producers to see what the results were. Please understand reader, that this is in no way definitive, and that there are various other components to a company that creates value. This is only a very simple indicator that points the way to further due diligence on the investment prospects.
The calculation process in this table is to take the company's estimated silver resources and multiply by the $5 per silver ounce number to give an estimated $Value in the millions of dollars column. Then this column was compared with the present market capitalization to give a % Difference column.
The results of the table calculations were quite surprising. The numbers in this column varied from a low of -55% to a high of +1186%. This number is an estimate of how the market may be mispricing the company's prospects and the exact particulars may be explained by many other factors. For example US Silver is in prime production with richer grades the deeper they go in the mine. However, they previously had only drilled ahead to manage their production but they are now drilling to increase their reserves number through the silver resources all around them in the Silver Valley.
Production is a major focus of the majority of these silver developers in this table. Of the positive percentage numbers shown in the % Difference column, Avino is just starting production and the market may re-rate the stock higher soon as production is realized. Cream has a 500% number, but it is not yet in production. Defiance has the highest 1100% number, but is still over a year away from any production and would need further capital. Revett has a 800% number, but their Rock Creek project has an environmental overhang. Silvermex has a 700% number and a rich property and are slowly executing on developing the La Guitarra projects. Soltoro has a 600% number and is presently exploring to increase their El Rayo project value.
Summary
Silver has increased in value in investor's eyes since the Fed has declared interest rates to stay low. The smaller silver developers listed here are mostly trying to increase value with increasing resources and developing production. Mineral companies that have production are less risky than pure exploration companies. Miners that are well managed and can execute on their mining production plans create value for their shareholders. The author believes in an investment thesis which I detail here in a graph showing the valuation increases of Juniors as they develop their properties into a full production mine. Of the companies listed above, the author holds shares in Silvermex Resources, as I am familiar with their properties and I have confidence in their management.
Disclosure: I am long GGCRF.PK. I do not have positions in the other equities mentioned, but I may initiate a position in the near future
Disclaimer: The information and opinions contained within this document reflect the personal views of the author and should be viewed as food for thought and amusement only. The author may from time to time have a position in any of the securities mentioned. There are no guarantees of the accuracy, reliability or completeness of the information contained herein. Independent due diligence and discussions with one's own investment and business advisor is strongly recommended. These writings are not to be construed as an offer or solicitation with respect to the purchase or sale of any security or as an endorsement of any product or service. We do not request or receive compensation in any form in order to feature companies in this publication. It is prohibited to copy or redistribute this document to any type of third party without the express permission of the author. This document may be quoted, in context, provided proper credit is given.