By Bert Wilkison
With gold up well over 9% on the year, I am left with some fun decisions to make: Is it time to increase my exposure and, if so, do I put my money to work in gold, gold ETFs, miners, mining ETFs, etc.?
I've put some focus on Newmont Mining Corp. (NYSE:NEM) during recent research, as it is an industry leader in mining the shiny metal, and miners are perhaps the greatest indicator of where the price of gold is headed.
Newmont's stock currently trades around $61.00, with 494.82M shares out, giving it a market cap of $30.22B. It has a forward P/E of about 11. Insider and institutional ownership, combined, stands at a healthy 80% and the total short interest as of 01/13/12 was 13.9M shares. The consensus analyst 12-month price target is $78.50, with the highest estimate being $88. The stock also pays a respectable dividend.
(Click to enlarge images)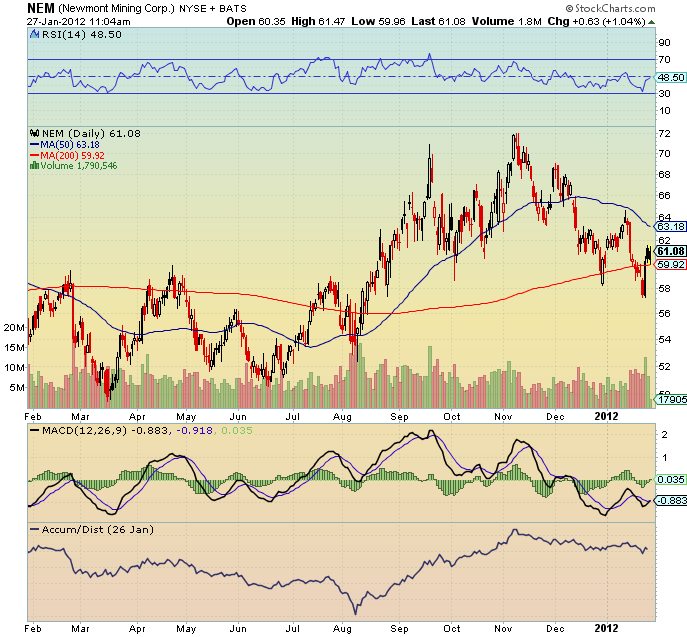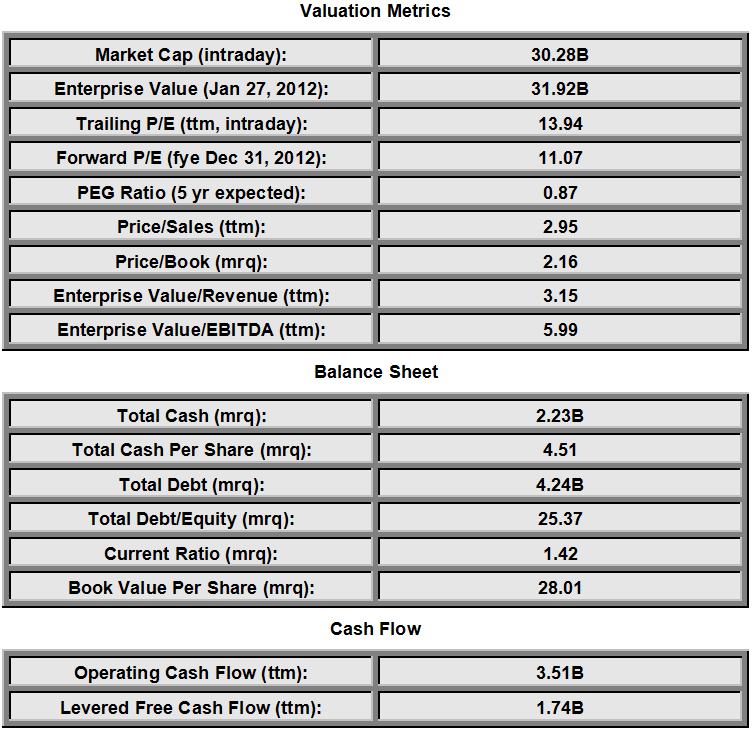 In recent years, gold production has been down about 3%, when compounded annually. Mixed global and domestic economic data has investors somewhat confused.
For example, analysts like Bank of America have pointed out recently that gold production for Newmont is modestly lower year-over-year and have made mention of its declining net asset value. Couple that with the GDP data today coming in lighter than expected, and combine those two items with the fact that companies like Caterpillar, Inc. (NYSE:CAT), who sell and lease equipment to gold miners, have been reporting outstanding numbers, as of recently, and you have some investors left scratching theirs heads as they sit on the sideline trying to sort it all out.
With interest rates near all time lows, and being that they are likely to stay that way for some time to come (at least two more years), and given that inflation is likely, for the most part, built into current gold pricing, the low interest rates will allow miners like Newmont to take advantage of low rates by putting it to work in developing nations by increasing capacity by developing local infrastructure in those nations that are improperly equipped and undermanned (or just completely lacking skilled workers altogether) to the point of being incapable of becoming more involved in many aspects of the industry.
Such efforts, coupled with the fact that concerns of substantial rate hikes are non-existent for the foreseeable future, should lead to a sharp increase in production for quality miners like Newmont over the next several years.
Richard O'Brien, CEO Newmont Mining, seems to believe things are improving.
In an interview earlier today, O'Brien had this to say on the question of gold prices increasing faster than the cost of production:
On the operating side, our margins are expanding as quick or quicker than gold price when you just look operating costs (cash cost today), but when you look at the capital cost of the business in addition to that, we're probably barely tracking gold. A good indicator: The gold high in 1980 was $800 - escalated until today, $2,300. Our costs have been compounding at about 15% a year, so while gold price has accelerated through over $1,700, our margins on a total cash cost basis - plus capital - have not doubled.
With O'Brien at the helm, I am confident that the return on my investments in Newmont will continue to grow for years, as he seems to have just the right mindset and approach about the industry, global economics, his business, how to grow it and what needs to be done to sustain that growth. I believe that he is right in his thinking that now is a great time to allocate more resources for equities in the mining industry, as I also believe that gold prices will reach new highs in the upcoming years.
As bullish as O'Brien is on mining, many investors out there (self included) are just as bullish on the miners. As such, I will continue my hunt for value candidates and the next potential Newmont Mining in the space, as well as other proven industry leaders with solid histories of being "shareholder friendly". Other gold-mining equities and ETFs I'm looking at right now are Barrick Gold Corp. (NYSE:ABX), Market Vectors Gold Miners ETF (NYSEARCA:GDX), Goldcorp, Inc. (NYSE:GG), Royal Gold, Inc. (NASDAQ:RGLD), Franco Nev Corp (NYSE:FNV), and Vista Gold Corp. (NYSEMKT:VGZ).