We continue to feel the market is tired and in need of a little pullback, so looking for stocks that are in the same condition. We had some notable success with this strategy already, racking up two 20% gains in the space of 1.5 trading days.
Bio-Reference Laboratories (NASDAQ:BRLI)
What do they do? Bio-Reference Laboratories, Inc. provides clinical laboratory testing services for the detection, diagnosis, evaluation, monitoring, and treatment of diseases primarily in the greater New York metropolitan area.
Some metrics (Yahoo)
Market cap $545.5M on 28M shares
Revenue $558.6M
Cash $22M, with debt at $34M
Eps was $1.16 last year, it will be $1.39 this year, rising to $1.66 next year (their year ends in September)
Now, there is good news to warrant the rise in the stock price:
There is a considerable amount of controversy with Laurie Fredricksen venting some concerns and the streetsweeper as well. We have to say that we don't hold that latter website into much regard, and indeed, neither does Kinetic Investments, at least not with regard to their analysis of Bio-Reference.
Now, it's quite difficult to establish who is (more) right. But for the present purposes of this article, we don't have to. Let's take the best case scenario, and go with Kinetic Investments. For this year, they're on 13x expected earnings or so.
We agree with Kinetic that this is still quite cheap. However, the shares are rather massively overbought. We simply think that in the short run, this will trump the undervaluation. We don't think it's a bad company or that it's overvalued. We simply think the shares are due for a small pullback.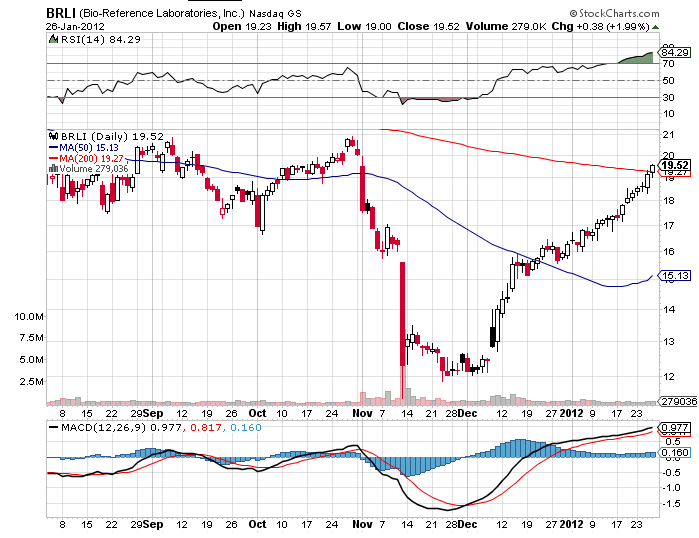 W.R. Grace & Co (NYSE:GRA)
What does it do? Well, it's a specialty chemist with a wide variety of products. This almost guarantees that developments will be gradual, as there are little in the way of spectacular discontinuities in the business model. What you put in (commodities) you get out (specialty chemicals) and there usually is a fair relation between the two. The main variability comes from pricing, which can be quite cyclical.
This doesn't mean it's not a good company or doesn't have a bright future (it can leverage its processes geographically, for instance), just that developments tend to be gradual so any sudden spike in the stock price is likely to be ironed out over time.
Basic matrics (Yahoo):
Market cap $3.83B on 73.8M shares
Reveue $3.1B
Cash $924M with $1B in debt
Eps was $2.63 in 2010, rising to $3.93 in 2011 and an expected $4.12 this year
That was a pretty big jump in profit last year, which pricing seems to be a significant factor. There is actually a helpful Motley Fool analysis about their margins, the conclusion of which is that they're increasing. Indeed. The curious thing is that the company is still in bankruptcy (for a decade, as it happens). But it is likely to come out of this pretty soon.
However, the shares have been on a tear, from a low of $30 in October to $52 now, with only one brief interlude in December. It is time for a second interlude, as we're now reaching the highs of late July. We don't really expect any dramatic sell-off, but a little pullback nevertheless.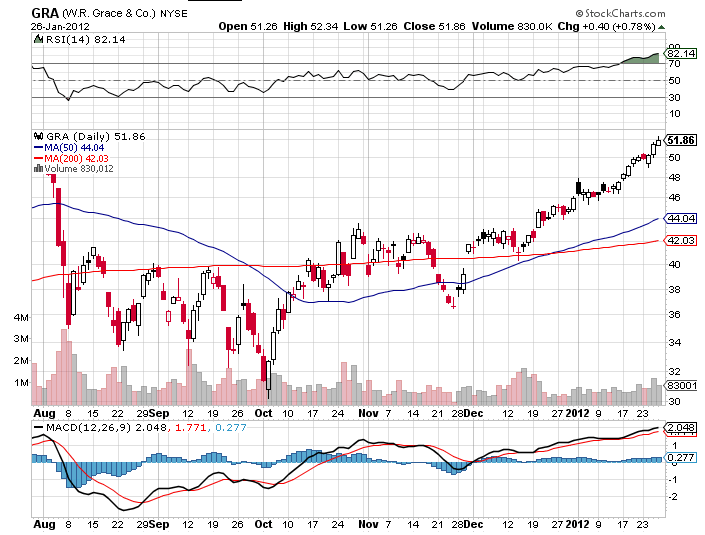 Disclosure: I have no positions in any stocks mentioned, but may initiate a short position in BRLI, GRA over the next 72 hours.