By Stephen D. Simpson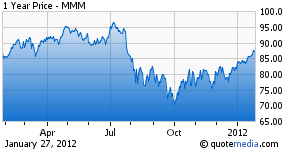 Shares of the multi-armed conglomerate 3M (NYSE:MMM) are up about 10% since I last discussed the company, but the story hasn't really changed all that much. Trouble in a few businesses masks an otherwise relatively solid story and Wall Street sell-analysts can barely muster tepid enthusiasm for the shares. Europe and assorted technology markets represent a risk to 2012 results, but fourth quarter results suggest that most of the risk here is to the upside.
3M Steps Over A Low Bar In Q4
To be fair, 3M's outperformance in the fourth quarter was against pretty weak expectations. Still, nearly 6% in constant currency revenue growth is nothing to sneeze at. Organic revenue growth of 3.3% (about one-third coming from volume) was not so spectacular, but did represent a sequential improvement - suggesting that 3M's performance may have bottomed in December.
Profitability wasn't bad either. Gross margin did slide about 60 basis points, but segment profit rose 8% and reported operating profit rose almost 5%. Operating margin did contract a bit (20 basis points) and the company did pull back a bit on R&D spending.
Tech Was Dreck
For the most part, 3M's operating units had solid topline results. The largest, industrial/transportation, saw organic revenue growth of 8%, while safety/security rose 9%, healthcare rose 5%, and consumer/office rose 3%.
The notable exception was display/graphics, where weakness in traffic safety and optical films (down 17%) surmounted progress with products like battery films. A quick look at Corning (NYSE:GLW) backs up the "tough market" thesis, but Corning seems to be faring better due at least in part to a broader array of business and the impact of newer products like Gorilla Glass.
Electro/communications was also soft (up 1%) on that same generalized weakness in technology - particularly consumer electronics. Here too, though, 3M is giving some fodder to the bears as comparables like TE Connectivity (NYSE:TEL) and Thomas & Betts (TNB) seem to be performing relatively better.
Contemplating The 2012 Growth Story
The good news for 3M is that its North American business grew over 7% this quarter and peer companies in the industrial business like DuPont (NYSE:DD) continue to take a fairly positive outlook on industrial demand. The bad news is that the U.S. is only about a third of the company's sales base. Likewise, while the company is doing just basically just as well as Johnson & Johnson (NYSE:JNJ) or Becton Dickinson (NYSE:BDX) in healthcare, 3M's high margins in this segment are likely going to be very hard to maintain.
Overall, though, 2012 should be a year of slow progress and decent mid single-digit growth. Consumer spending and job growth seem to be ticking up and it looks like many consumer technology markets bottomed out in the fourth quarter. Even if optical films and electro/comm don't bounce back forcefully, "less bad" should be good enough to allow 3M to beat fairly pessimistic expectations.
That said, 3M did make a curious move on the growth front. In buying Avery Dennison's (NYSE:AVY) consumer/office business, 3M bought a business that fits in well with its existing products but doesn't bring much of anything in the way of growth. The price isn't out of line (at least relative to a similar deal between Meadwestvaco (MWV) and ACCO Brands (NYSE:ABD), but that money could have gone to a share buyback or the acquisition of a business with better end-market growth prospects. Still, I'll give this one a pass; there may be more synergy potential than I see and it's a low-risk deal for the company.
Succession Issue Lingers
3M needs to do something about its CEO position. Current Chair and CEO George Buckley hits the mandatory retirement age next month, but there has been no public talk of what is to happen. Given the annual meeting is coming up, that would be a logical time to see an announcement.
3M's board has a difficult decision. Buckley has been a fine CEO over the last six years (if perhaps a little too oriented towards margin than growth), but 3M has its talented COO Inge Thulin waiting in the wings. The best solution may be to keep Buckley as Chair and promote Thulin to the CEO slot; if 3M doesn't give him the job, another large corporation likely will before too much longer.
The Bottom Line
The performance of 3M shares in the past month has moved it from nearly a no-brainer to a solid long-term hold. Undervalued by about 10-15%, 3M shares are fine for investors who desire a well-run dividend payer and/or want to offset some riskier holdings in their portfolio. It's also worth noting that a mid-to-high $90's price target gives the company fairly little credit for improving free cash flow conversion from here on - something that may prove conservative.
Disclosure: I am long MMM.