In September 2014, I wrote an article covering the German sports apparel giant Adidas (OTCQX:ADDYY). At the time, I concluded that it was time to buy the company's unloved and undervalued stock. Since the publication of this article, Adidas' shares are up 28.6% measured against constant exchange rates. Adidas' performance is in line with the performance of market leader Nike (NYSE:NKE), whose shares surged 29.7% in the same period. Considering the strong stock market performance combined with disappointing results for the full-year of 2014 (see this report), I wondered whether the company's stock is still an attractive investments for investors. In this article, I will analyze Adidas' recently announced turnaround strategy in order to evaluate the company's current valuation. I find that Adidas is still an attractive investment that could offer up to 90% in case investors believe the turnaround strategy will be successful.
History
Last year was a memorable year for Adidas and its investors and not in a positive way. In July, the company warned that its net income for the full-year 2014 was likely to be much lower than expected. At the time, Adidas expected net income to be around $709 million (see this press release). Actual net income eventually turned out to be even lower than expected in July. Based on Adidas' fourth quarter results, total net income was just $541 million, $168 million or 24% lower than expected. This large earnings miss was partly the result of losses from discontinued operations. These losses amounted $74 million. Still net income from continuing operations was $94 million lower than expected.
Since 2011, Adidas was not able to keep up with Nike in terms of both top and bottom line growth. Adidas was only able to grow revenue by 9.1% in the period 2011-2014 compared to revenue growth of 33% for Nike in the same period. Adidas' net income even decreased by 18% in the period 2011-2014 compared to net income growth of 26% for Nike. It seems clear that Adidas performed much worse than its closest peer and market leader Nike. As I concluded in this article, the fact that Nike outperformed Adidas in Western Europe, traditionally Adidas' best performing market in terms of revenue and market share, is particularly worrying for Adidas.
Turnaround
Considering the financial performance of Adidas over the past four years it may not come as a surprise that the company's shareholders demanded changes. Back in 2013, Adidas tried to regain momentum by announcing management changes in Western Europe and North America. Clearly, these changes were not sufficient to deliver good results in 2014. Next, Adidas internally announced that the company had started its search for a successor to CEO Herbert Hainer who will resign in 2017. The Wall Street Journal names investor pressure as the reason for the announcement.
Management changes are inevitable for Adidas. Although Adidas is in search for a new CEO, the current CEO has still a contract up until 2017. Therefore, it is more important to consider Adidas' strategy in the upcoming years. At an investors day in April of this year Adidas announced its turnaround strategy for the next five years (see this press release). This turnaround strategy should deliver high single digit revenue growth and double digit growth of net income. Adidas will focus its investments on three pillars: speed, cities and open source. Mr. Hainer stated:
Our new strategy is built on speed, focus and openness. As a result, we will accelerate our growth story and deliver superior return to our shareholders. I am very much looking forward to 'creating the new' together with the Adidas Group's more than 53,000 employees across the globe.
With its turnaround strategy, Adidas aims more on interaction with consumers and athletes than it did before. For example, Adidas will invest in its production and supply channel to create opportunities for consumers to customize Adidas' products. The company will also involve athletes, consumers and other stakeholders more in brand building activities. Further, Adidas will focus its marketing expenses on predefined key cities as 80% of the world's GDP is earned in cities. Finally, the company aims to increase its e-commerce business to $2.18 billion in 2020.
In my opinion, Adidas' turnaround strategy is just what the company needed. Unlike Nike and other fast growing competitors such as Under Armour (NYSE:UA), Adidas' image may have become a bit boring. Innovation and customization of its products will trigger involvement of consumers with the brand. I also fully support Adidas' marketing focus on cities as these areas pick up new trends more quickly than other areas. This fits perfectly together with Adidas' intention to market new products at a much faster pace than the company was used to.
Future
Looking at Adidas' first quarter earnings, the company is off to a good start with its turnaround strategy. The company managed to increase revenue by 9% on a currency neutral basis, in line with Adidas' projected high single digit revenue growth. Net income excluding goodwill impairments was up an impressive 22% as well. Adidas confirmed its full-year guidance. Net income from continuing operations excluding goodwill impairments will increase 7% to 10% compared to last year.
The performance in the first quarter and guidance for the rest of the year is a major boost for investors as Adidas finally returned to growth. As I mentioned above, I fully support Adidas' turnaround strategy. Therefore, I also believe high single digit revenue growth and double digit growth of net income is feasible. Based on the company's guidance for 2015 and growth rates for the period 2016-2020, I drafted Adidas' financial results for the years to come (see table below).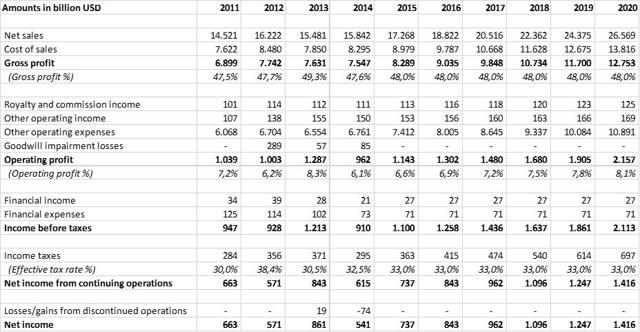 I did not take goodwill impairments into account, because I find that significant goodwill impairments are not likely in a scenario with strong growth. Further, I assumed financial income and expenses to be flat and the effective tax rate to be 33%. In case Adidas does realize its ambitious turnaround strategy and accompanying growth rates, revenue will increase from $15.8 billion in 2014 to $26.6 billion in 2020. Net income will almost triple from $541 million in 2014 to $1.4 billion in 2020.
In my opinion, it is quite likely that Adidas will execute its strategy and manage to lift net income to $1.4 billion in 2020. In that case, investors are looking at a significant upside potential. Let's assume a defensive normalized price to earnings ratio of 22 times earnings. I find this a defensive assumption as Nike currently trades at 25.7 times next year's earnings per share and Under Armour trades at 55.2 times next year's earnings per share. Considering the P/E ratio of 22 times earnings, Adidas' market capitalization will increase to $31.15 billion in 2020. The company's current market capitalization is just $16.36 billion. As a result, I find that Adidas' turnaround offers an upside potential of 90% by the end of 2020.
Conclusion
Although Adidas struggled to meet investor's expectations of the past four years, the future looks more bright due to the company's turnaround strategy. The focus on speed, cities and openness is likely to increase involvement of consumers and trigger demand for Adidas' products. In case Adidas manages to deliver the expected top and bottom line growth rates, revenue will increase to $26.5 billion and net income will increase to $1.4 billion in 2020. Based on a defensive (normalized) P/E ratio of 22 times earnings, Adidas' turnaround strategy offers 90% upside potential to investors by the end of 2020. Therefore, I find that Adidas still is an attractive investment for investors.
On a final note, all amounts mentioned in this articles are based on a fixed EUR/USD currency rate of 1.09.
Disclosure: The author is long ADDYY. The author wrote this article themselves, and it expresses their own opinions. The author is not receiving compensation for it (other than from Seeking Alpha). The author has no business relationship with any company whose stock is mentioned in this article.
Editor's Note: This article discusses one or more securities that do not trade on a major U.S. exchange. Please be aware of the risks associated with these stocks.