By Tom Roseen
With money market yields set virtually at zero, interest rates stuck at historical lows, and many market pundits portending the Federal Reserve will soon be taking the punchbowl away from investors by raising interest rates sometime this year, investors-in their never-ending search for yield-have been padding the coffers of flexible income portfolios. These "go-anywhere" bond funds give a manager a great amount of latitude to adjust duration, credit quality, and sector allocation as the market dictates. While over the last few years investors have hit the door running from actively managed equity funds, they have embraced actively managed bond funds.
There are two Lipper bond fund classifications in the fixed income go-anywhere arena. The first group- Flexible Income Funds-emphasizes income generation by investing at least 85% of the funds' assets in debt issues and preferred and convertible securities. While these funds can invest in common stocks and warrants, the total invested in these securities cannot exceed 15%. For 2014 investors injected a net $4.7 billion into flexible income funds, and with the wild swings we've seen in the markets so far this year, estimated net flows year to date (through the week ended May 27) have already climbed to $2.3 billion.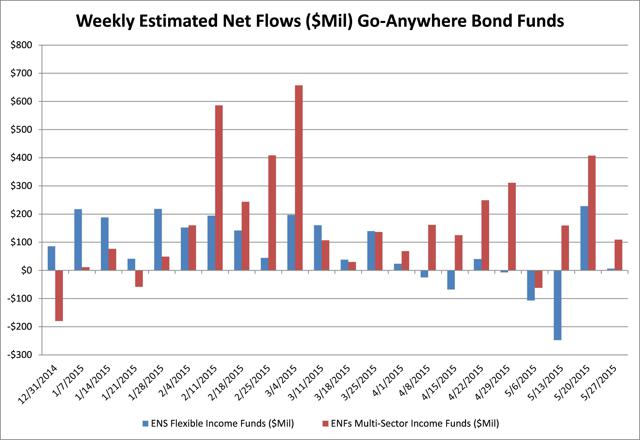 Source: Lipper, a Thomson Reuters company
The other go-anywhere classification is Multi-Sector Income Funds. This category of funds seeks current income by allocating assets among several different fixed income securities sectors, including U.S. government and foreign governments bonds; however, buyer beware! A significant portion of these funds' assets can be in securities rated below investment grade. This classification has seen net inflows in each of the last 13 years, with investors adding some $6.8 billion for 2014 and already a net $5.9 billion thus far for 2015.
It's worth noting that the mandates for both of these classifications are broad ranging and are generally much more aggressive than those of more traditional core or general bond fund types. They aren't intended to replace core bond holdings but to provide a little extra kick to an investment portfolio. That said, because of their flexible nature many of these funds have displayed better downside performance than funds in other classifications.