Oil prices took the markets by surprise in 2014 with their rapid decline which has continued into 2015. Falling oil prices affect the profitability of oil companies such as Chesapeake Energy (NYSE:CHK), Concho Resources (NYSE:CXO), Exxon Mobil (NYSE:XOM), BP (NYSE:BP), and PetroChina (NYSE:PTR). The price for Brent oil peaked at $115 a barrel in June, but has since fallen to below $50. Crude oil trades on the global market. Prices of crude oil streams produced globally tend to move together, although there are differences between light-weight, low-sulfur (light-sweet) grades and heavier, higher-sulfur (heavy-sour) crudes that are lower in quality.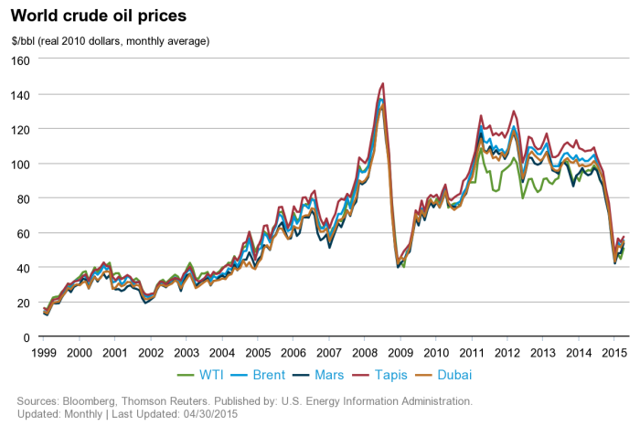 The cause of the oil price decline is the decreasing demand due to the recent slowdown in global economic growth and the U.S. being less reliant on oil due to fracking. The primary determinant of oil prices is demand, and a drop in demand generates heavy declines in price action. On the supply side, OPEC has announced that there will not be a cut in supply. The figure below shows that demand as a percent of supply was generally increasing until about September 2007 and has been generally decreasing since then. Notably, the weak demand since early 2014 is entirely the expression of a trend that has been in the works for more than seven years.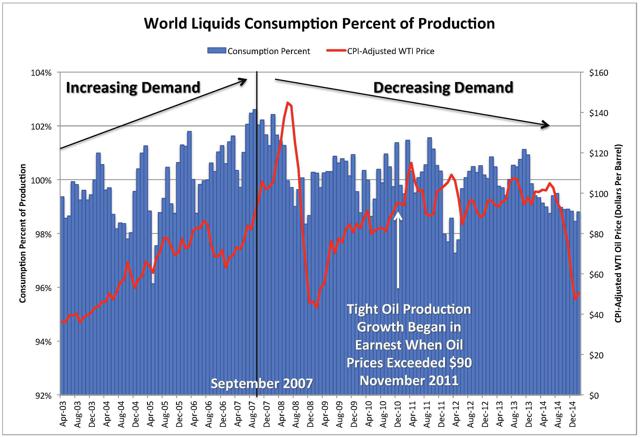 Source: U.S. Bureau of Labor Statistics, EIA and Labyrinth Consulting Services, Inc.
Only time will tell whether or not this is sustainable over the long term, as the oil price in most countries is below the cost of production. A low oil price will continue to suppress inflation globally and will benefit those countries that are net importers, including most of the major advanced economies as well as Asia. A low oil price is bad news for oil exporters, notably the Middle East, Venezuela and Russia.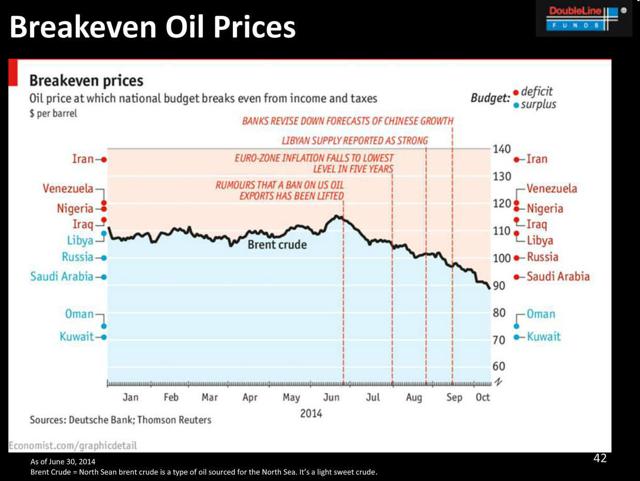 The macroeconomic impact of falling oil prices is a lower inflation and higher output.
This diagram shows that a fall in oil prices will shift Short Run Aggregate Supply (SRAS) to the right, causing lower inflation and higher real GDP.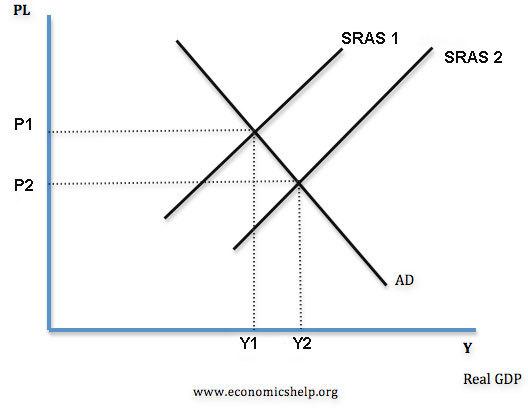 Moreover, some economists have pointed out that a 10% fall in oil prices leads to a 0.1% increase in GDP. Oil price and inflation are often seen as being connected via a cause and effect relationship. As oil prices move up or down, inflation follows in the same direction. The reason why this happens is that oil is a major input in the economy, and if input costs rise, the cost of end products will rise too. The direct relationship between oil and inflation was evident in the 1970s when the cost of oil ascended from a nominal price of $3 before the 1973 oil crisis to around $40 during the 1979 oil crisis. This caused the consumer price index (CPI), a key measure of inflation, to more than double from 41.20 in early 1972 to 86.30 by the end of 1980. The main results suggest that oil prices have permanent effects on inflation.
Several hypotheses have been offered that tend to support an inverse relationship between the exchange value of the dollar and crude oil prices. One of which is that because oil benchmarks are traditionally priced in U.S. dollars, a depreciation of the dollar decreases the effective price of oil outside the United States.
Despite these many possible explanations of falling oil prices, the actual correlation between oil prices and exchange rates has not been stable over time, and was close to zero for more than half of the last decade.
Long Crude Oil
Geopolitical and Economic Events:
The image below shows that geopolitical and economic issues, historically, bear weight on the price of WTI crude oil. Naturally, wars and upheavals in oil producing countries can cause temporary shortages that mask falling consumption. The effect is usually serious when the issue at hand involves a major oil producer, like Iraq, or a major consumer like China.
In the not too distant past, a small supply disruption would send oil prices up. In early 2014, violence in Libya blocked oil exports, contributing to a rise in oil prices. In Iraq, ISIS attacked parts of the country and oil prices went up on fears of supply outages. But since then, geopolitical events have had much less of an effect on the price of crude oil. Nevertheless, history has demonstrated that geopolitical events are some of the most powerful short-term factors of oil prices.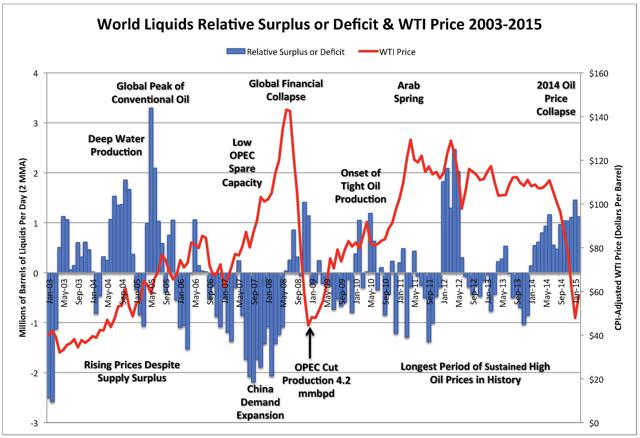 U.S. Energy Information Administration (EIA)
OPEC's capacity to adjust global oil prices was always limited. Even at its zenith, the cartel had trouble agreeing on production cutbacks. But by cutting production, OPEC's key producer Saudi Arabia maintained a fairly effective floor on oil prices for many years. OPEC/Saudi Arabia now appear to have a different strategy for regaining control of the oil market. Saudi Arabia's oil is among the cheapest to produce; consequently, by enabling oil prices to crash, they're hoping to impede supplies by putting producers with high costs out of business. The question is, how influenced U.S. drillers will be by sub-$60 WTI.
Overproduction has created a large stockpile of unsold oil that will continue to weigh on prices even as some of the high-cost producers are shut down. Oil prices crashed after the cartel's November meeting, demonstrating just how influential it is over short-term price swings. For now, OPEC has stood firm in its insistence not to cut production quotas. Whether that remains true through 2015 is unconfirmed.
Hedge Funds:
The speed at which oil price was falling indicated that there were additionally bigger hedge deals for some market participants of the oil industry than the supply gains of the actual oil pricing. Now, hedge funds and oil traders are beginning to turn bullish on oil. Investors have increased their net long positions on the West Texas Intermediate (WTI) crude by more than 9pc in the first few weeks of April.
Economic Growth:
Global growth in 2015 and 2016 will be driven by China, India, the United States and Asia Pacific countries. Current lower crude oil prices and growth from these countries will drive crude oil consumption in the long term. A combination of oversupply and weak demand has led to a more than 50% slide in oil prices. Weak demand for oil has added to concerns about the pace of global growth. More importantly for oil prices is how much will China's consumption increase in the coming years. The leaders of the world's second largest economy and the biggest importer of crude oil proceed to fight against the potential slowdown of the global economy. The People's Bank of China started pushing more money into the system and cutting the amount of money that lenders must hold against reserves. China will account for two thirds of OPEC's forecasted increase in demand and Beijing's major ambition to enhance growth could push oil back above $70.
In general, as interest rates are lowered, more people are able to borrow more money. The result is that consumers have more money to spend, causing the economy to grow and inflation to increase. And a period of modestly higher inflation would help reduce the private debt overhang which would help promote economic recovery, which in turn would raise revenues and help the fiscal situation. The opposite holds true for rising interest rates. As interest rates are increased, consumers tend to have less money to spend. With less spending, the economy slows and inflation decreases.
It may be common knowledge that rising energy prices affect interest rates and treasuries rally as the Fed is less hawkish than feared. Given that total global debt levels are now at an all-time high and growing, these have become more fragile to small technical moves in interest rates. It comes into view as trends in the oil price and interest rates are increasingly reciprocal. The recent rebound in the oil price occurred before the US 10-year treasury moved higher. Actually, it may seem from a technical point of view that the oil price action and interest rates are in a reciprocal relation, see the figure below.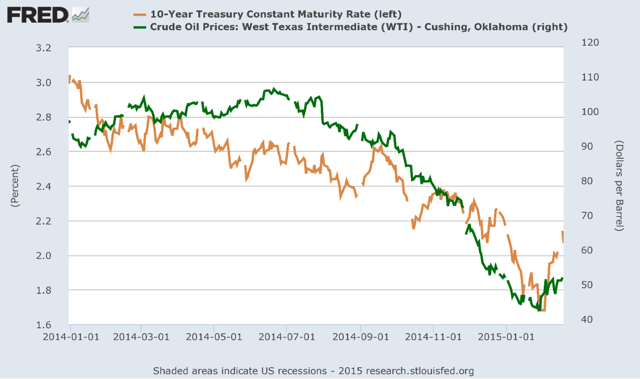 The arguments for more volatile and higher oil prices are not difficult: If the Fed tightens, then there is less liquidity and less credit available, and stock markets fall. Less liquidity means that GDP growth will be lower because credit growth, the hidden driver of GDP growth, declines and treasuries as well as commodities increase.
The debt leverage, total debt-to-GDP ratio, in the 1980s was much lower which made the economy more resilient to high interest rates. Moreover, the U.S. dollar was the world's dominant reserve currency without a relation to the euro and yuan, which enabled the U.S. economy to administer a trade deficit and continue to grow. The progress in oil pricing antedated the increase in interest rates. In addition, low interest rates and low oil prices reduce capital expenditure for costly oil, ease debt service, and stimulate the credit/debt expansion which helps prompt oil demand, which with time brings the oil price up.
Disclosure: The author has no positions in any stocks mentioned, and no plans to initiate any positions within the next 72 hours. The author wrote this article themselves, and it expresses their own opinions. The author is not receiving compensation for it (other than from Seeking Alpha). The author has no business relationship with any company whose stock is mentioned in this article.