By DailyAlts Staff
Shares of Master Limited Partnerships (MLPs) became extraordinarily popular in 2013 and 2014, as interest rates on bonds remained low and oil prices remained high. "MLPs" are structured as pass thru vehicles, similarly to Real Estate Investment Trusts (REITs), and thus their high yields provided an attractive alternative to low-yielding bonds - so long as energy prices remained high.
But when oil prices began cratering last summer, MLP shares fell as well. Below is a chart for the Alerian MLP ETF (NYSEARCA:AMLP), which tracks an index full of MLPs. The price steadily increased throughout 2013 and into 2014, but pulled back considerably beginning in early September 2014: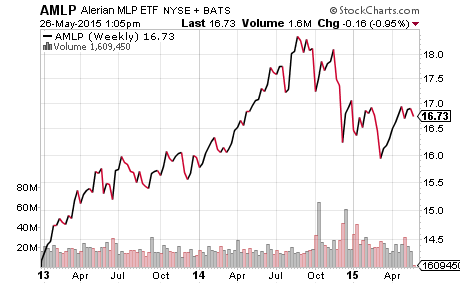 MLPs, predominantly operators in the midstream link of the "energy value chain," are supposed to have less sensitivity to energy prices than upstream and downstream companies. The upstream energy market includes exploration and production, and is highly sensitive; while the "downstream" includes refining and retailing. "Midstream" companies focus on getting oil and gas from place to place, often charging a toll that has little or nothing to do with energy prices, and thus, they're the least sensitive of all.
Below is a chart showing West Texas Intermediate Crude's price from its peak in July to its trough in February: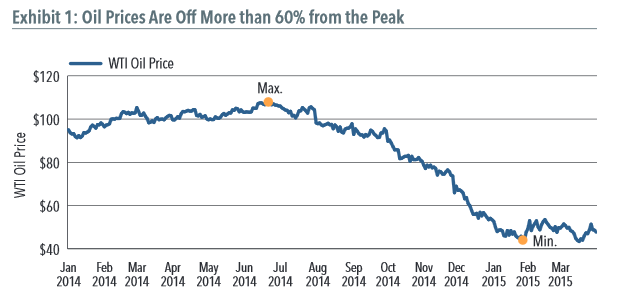 As expected, upstream and downstream energy stocks saw their prices fall 23% over this period, as measured by the S&P 500 Energy Index. The Alerian MLP ETF, by contrast, fell just 14.6%. Yes, MLPs are supposed to be less-sensitive to energy prices, but Nuveen Asset Management argues that MLPs haven't made steep enough losses in this downturn, and thus are due for more declines. This thesis is put forward in Nuveen's May 2015 white paper, MLPs and Oil Price Volatility: What We See, What We Expect.
First off, Nuveen makes a strong case for further price declines in oil with the following image: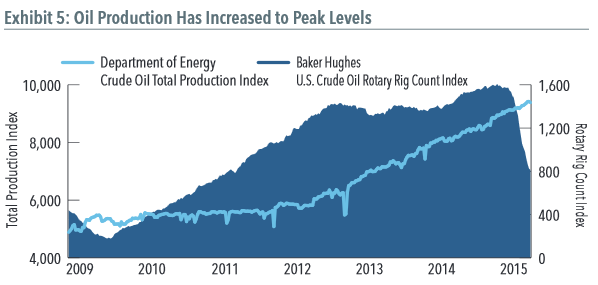 As you can see from the image above, the number of drillers online has plummeted along with crude's price per-barrel, but production has actually increased at the same time. How is that possible? It's because lower prices shook out only the least-efficient producers, while the most-efficient have continued to increase their efficiency. If the price-per-barrel should rise enough, the best of the offline drillers would come back online, likely knocking the price of oil back down.
Now look at how MLPs have performed in comparison to the S&P 500 Energy Index during previous sell-offs in oil: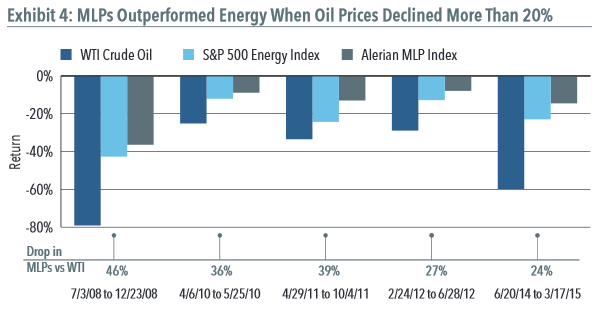 In the past, MLPs have lost between 27% and 46% as much as oil, but this time around, MLPs have experienced only 24% of oil's losses. Nuveen thinks this means MLPs have more losses to make.
However, geopolitical shocks could result in a "v-shaped" recovery for oil, in which case MLPs would likely never experience their "missing" losses. For this reason, Nuveen recommends maintaining exposure to MLPs, but advises against adding to current MLP positions until they either lose more ground relative to oil, or oil definitively breaks out of its bear market.