We're all kicking ourselves for not buying Ford (NYSE:F) when its shares were trading around $2 in late 2008 and early 2009. Since then, the company has made a pretty solid turnaround and can now say that it has been profitable for three consecutive years. The company even announced a 5 cent dividend on Dec. 8, 2011. Despite all of this good news, Ford shares have dropped 32% in the last year and investors are starting to worry about bearish activity continuing into the future.
Ford's bearish activity stems from its earnings outlook being worse for 2012 than it was for 2011, along with several downward revisions to earnings estimates over the past few months. Ford's earnings per share is expected to decrease to an adjusted $1.55 in 2012, down 15.8% from the expected $1.84 in 2011. A one year forward P/E ratio of 7.88 is incredibly low considering how much progress the company has made.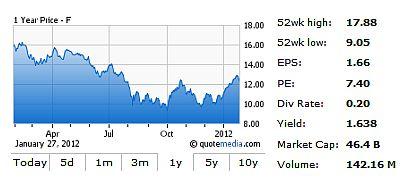 When it comes to Ford's future success, the name of the game will be margins. I know it's obvious that if a company sells something for more than it costs to make, they make more profit, but for Ford, it's especially important. The company is valued at under $50 billion, yet its revenue will eclipse $130 billion in 2012, so there is a lot of leverage when it comes to earnings. In its last two unprofitable years, 2007 and 2008, Ford sold its cars at gross margins of 11.4% and 6.9%, respectively. In the following two profitable years, Ford boosted its margins to 11.6% in 2009 and 18.5% in 2010. Ford has lost a lot of market share and revenue in its profitable years, but having a company that has a long term sustainable business model is much more important than being a "market leader", especially when America has a strong population of Ford buyers and Ford is a respected brand overseas.
After its 4.16% drop from missing earnings last Friday, I believe now is a good time to invest in Ford stock. The company makes much better cars than they made five years ago and is doing a much better job of focusing on prices as opposed to volume. Ford's new cars will continue to innovate and the company should maintain its long term profitability. Expect shares to trade around $15 to $16 dollars per share by the end of the year.
Disclosure: I have no positions in any stocks mentioned, and no plans to initiate any positions within the next 72 hours.