Following the feedback I received in my April article, located here, I am happy to announce that I have titled the portfolio, and the ongoing series the "MnM Portfolio" (short for "Minne 'n Monthly") as suggested by Mike Nadel. I like that the title does a good job of capturing my strategy and where some of the core holdings (and myself) are from, as well as acknowledges my preference to month-paying alternative investments, and also the frequency of the series. I enjoyed the feedback from everyone, and got a good laugh or two, so thanks to everyone who threw out ideas.
I titled this month's article "Healing the Portfolio with Healthcare" as I expanded my exposure to the healthcare space with a new purchase (which I am already happy with), and received my best-ever dividend increase from another healthcare-related stock (granted it's a distributor) held in the portfolio.
That being said, back to business. Here's what happened in May.
May 2015
As I always do, I have captured the activity for May in the rollforward summary below. I am sticking to my strategy of buying with the intention to hold, and that being said; I had what I hope will be one of the last sales for some time. I trimmed my overweight position in Sysco (NYSE:SYY), selling 1/3 of it, to be more of what I consider a full position, and reallocated the proceeds into Emerson (NYSE:EMR) and UnitedHealth Group (NYSE:UNH), which is new to the portfolio. The portfolio collected $172.51 in dividends during the month and overall the portfolio depreciated slightly from where it left off in April, largely the result of the sell-off in the market in the last week of the month.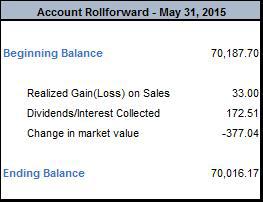 The portfolio was comprised of the following securities as of May 31, 2015: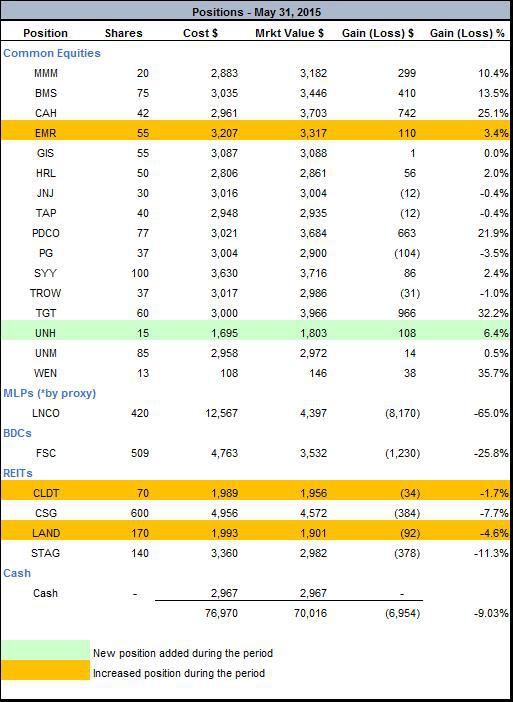 *note that Linn Co, LLC (LNCO) is a common stock, which holds units of Linn Energy, LLC (LINE), a master limited partnership. I consider it to be a proxy for a master limited partnership, that I am able to hold in my IRA. Note that holding LINE in the portfolio would trigger tax consequences via a schedule K-1.
The following sections go into greater detail of the events that have occurred since the end of April.
Sales
As I noted above, I sold off 50 shares of Sysco at a slight gain. The reasoning behind the sale was that while I intend to hold a full position in the company for many years, I feel that right now holding an oversized position in it subjected me to excess risk, particularly as the government is challenging their proposed merger with US Foods. I just watched as Comcast's (NASDAQ:CMCSA) bid for Time Warner (NYSE:TWX) fell apart, and feel that there is a risk that the same could happen to Sysco. I am hopeful that the merger ultimately does go through, but feel more comfortable holding the re-sized position of it as part of the portfolio.
That was the only sale I made in May. I'm still holding oversized positions in Linn Co., Chambers Street (NYSE:CSG) and Fifth Street Finance (FSC), and would like to trim them down, but feel that now is not the time to rebalance or replace these, as all are trading low, and are still paying (and hopefully soon growing) their dividends. I am beginning to feel better about FSC after their recent conference call, but I am more worried about Linn, which is still trading at severely depressed prices. I am holding out hope that I will see a better exit price later in the year, at which point I would feel more comfortable selling some of it.

Additions
This month I only added one new position, that being UnitedHealth Group. I've liked this company for a long time. I think that healthcare is a great space to be in, as I am confident that the industry will continue to grow as the population expands and people live longer. I did consider that the yield is only 1.35%; however, I am confident that there is a lot of room for growth in the coming years, in contrast to other securities in the portfolio which are struggling to grow, such as Procter & Gamble (NYSE:PG). I found a dip in May and got in at $113 a share. The position is already up over 6%, in less than a month, reinforcing my decision to buy.
Lastly, I continue to be a big fan of Gladstone Land (NASDAQ:LAND) and Chatham Lodging Trust (NYSE:CLDT) as long-term plays on farmland and hotel real estate. Following dips in the share prices I added a few more shares, bringing the positions costs' closer to $2,000 each.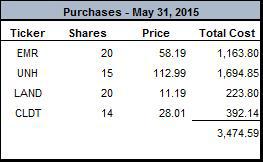 Dividends Collected
I collected $172.51 in dividends during the month, all of which was recurring. I have updated my forward-looking dividend summary for the acquisitions during the month.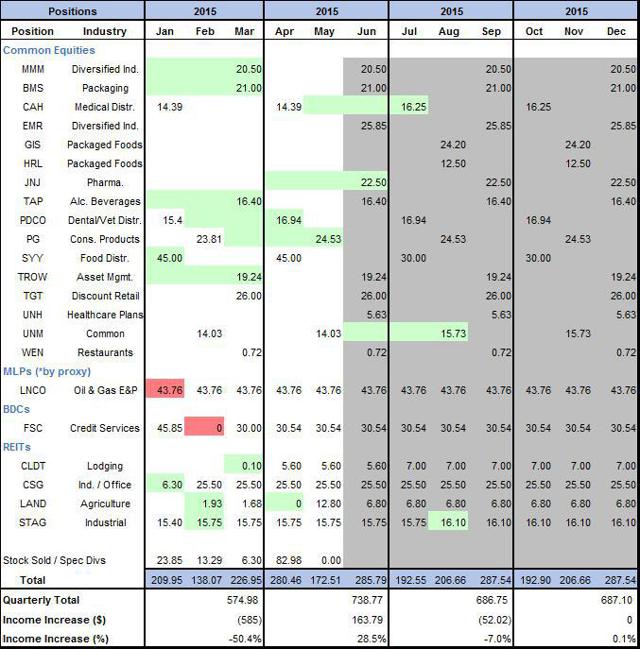 I am cognizant of the fact that I am getting closer and closer to being fully invested with the portfolio, which I intend on being at the end of the quarter (June). I know that there are a ton of people on Seeking Alpha who are advocating large cash positions right now, so rest assured that my Roth and other investment account are largely sitting in cash right now, in anticipation of further correction as we head towards a September rate increase by the Federal Reserve (my guess of when rates will begin to rise). I do not want to be fully out of the market, however, so I have left this portfolio invested.
Dividend Increases
This is probably my favorite part of the article, and the one thing I look forward to most with my securities. During the month I was pretty stoked to see Cardinal Health (NYSE:CAH) increase their dividend payment by 13%. This is probably the biggest increase I have received to date!
I think that this is a glowing example of just how quickly yields on cost can increase with high dividend growth rates. I bought Cardinal Health last summer, and at the time I lamented the "low" 1.8% dividend yield; however, I liked (and continue to like) their business enough to overcome what I saw as a sub-par yield. In looking back, 9 months later my forward yield on cost is already 2.2%! I look forward to future raises from Cardinal, and am happy to have it in the portfolio.
Not far behind Cardinal was Unum (UNM), which raised its dividend by 12% in May. Unum was a similar story to Cardinal, jumping from a sub 2% yield to a yield of 2.1%. Combined with share buybacks I continue to be excited with the stock and the prospects of the insurance industry.
I also received a small 2.2% increase from STAG Industrial (NYSE:STAG). No complaints here for the mid-year increase. STAG continues to execute well, and the raise is encouraging. This latest increase complements their increase from earlier this year, and I would not be surprised if they boost it again later this year.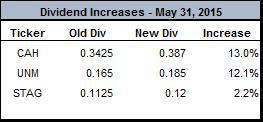 The additions to the portfolio in May actually dropped the overall yield of the portfolio from 3.74% to 3.71%, but I'm not concerned with the drop, I'm actually feeling better and better about where I have deployed my funds.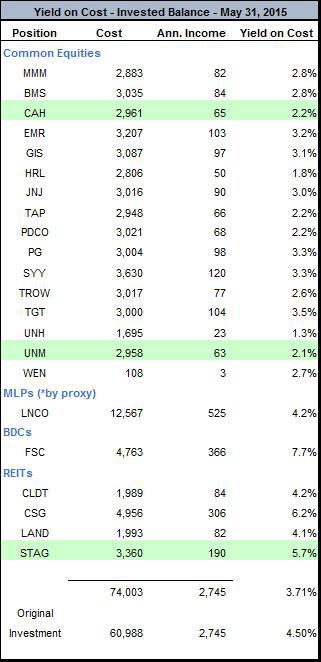 Summary
May was a good month for the portfolio. I continued to resize my positions, and added a core holding in UnitedHealth Group that I envision I will hold for a long, long time. I am slowly building my positions up in Gladstone Land and Chatham Lodging, adding on weakness.
It is fun to see dividend increases, and May was particularly strong from this perspective. The increases from Cardinal Health, Unum and STAG industrial were stellar, and all three are growing and executing well.
Lastly, as we move into June, I am looking to invest the remaining cash, and will be monitoring companies like Realty Income (NYSE:O) and LTC Properties (NYSE:LTC) on weakness, and Chubb (NYSE:CB) and Wells Fargo (NYSE:WFC) as potential adds to benefit from rising interest rates and to increase exposure to financials and insurance. As always, thanks for reading, and best of luck to everyone.
Disclosure: The author is long THE POSITIONS LISTED IN THE PORTFOLIO. The author wrote this article themselves, and it expresses their own opinions. The author is not receiving compensation for it (other than from Seeking Alpha). The author has no business relationship with any company whose stock is mentioned in this article.
Editor's Note: This article covers one or more microcap stocks. Please be aware of the risks associated with these stocks.