By Jennifer Coombs
Personal spending was unchanged in April due to lower demand for automobiles and utilities. Yet, personal income increased a better than expected 0.4% and the savings rate as a percentage of income increased by 40 basis points to 5.6%. In the end, this is one more data point that the Fed doves can use to advocate that the interest rate hike be pushed out further.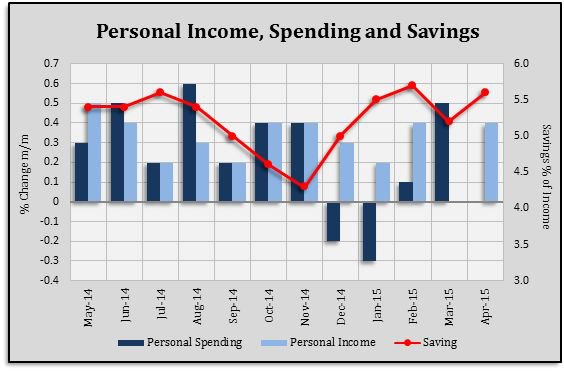 Construction spending is finally beginning to show some signs of life - and in a big way. In April, construction spending increased by 2.2% over the prior month which came in well ahead of the 0.7% consensus estimate and higher than the high-end forecast of 1.6%. Adding to this positive reading was an upward revision for March to +0.5% from an initial reading of -0.6%. This revision should be a positive boost to the next revision for the first-quarter gross domestic product (GDP).
Residential construction spending increased by 0.6% which strong gains in both single-family and multi-family homes. This gain is really no surprise, but supports the data that was noted in the April report on housing starts and permits. Private non-residential spending looking strong for the month, up 3.1% and was led by gains in the power and office sectors - which could also be a positive sign for job growth.
Public spending is also higher for highways and streets, as well as educational buildings. This gain for public spending came entirely from the state and local governments as federal construction spending declined for a second straight month. Ultimately, construction should give a well-needed boost to second-quarter growth, of which the consumer has yet to step up to the plate.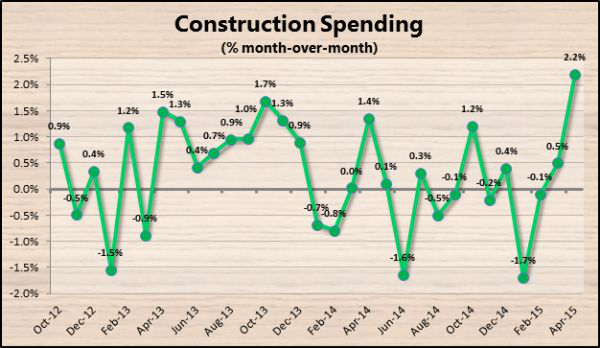 Additionally, the boost in construction spending was also a positive for the May manufacturing purchasing managers index (PMI) from the Institute for Supply Management (ISM), which came in at a headline reading of 52.5, which was roughly near the consensus forecast and about a point higher over last month. New orders have begun to show some strength, up 2.3 points to a reading of 55.8, which is the best reading so far in 2015. The contraction in export orders has been dragging down many other reports, however, the May ISM noted this reading at the breakeven point of 50.0.
Employment has moved back into expansionary territory to 51.7 from 48.3 in the prior month. Backlog orders are back over the breakeven level at a reading of 53.5, which is the first expansionary reading since February. Additionally, price data for May shows slightly lower costs for raw materials - prices are almost back to the breakeven level for the month. Despite the headline reading being better-than-expected, it's still quite soft. The manufacturing sector is stumbling so far in the second quarter, but the construction data gives this report some hope in the near future.