As those familiar with my articles know, I forecast the value and future distributions of various oil and gas trusts. This article presents a comparison of 13 trusts, given forecasts of their future performances.
Two Ways to Forecast Value
For the analysis in this article, I use two different methods to estimate the value of each trust.
Reserve Report Method
The first method calculates the NPV-10 for each trust by adjusting the reserve information presented in the trust's most recent reserve report. Typical adjustments include:
Production since the date of the reserve report (if any) is subtracted from published reserves
Oil and gas prices are updated to reflect current Henry Hub (HH) and West Texas Intermediate (WTI) prices and historical spreads
Costs, as provided by the reserve report, are prorated by remaining production
Trust administrative costs (and, for HGT only, XTO's administrative fee are subtracted)
Model Valuation Method
The second method applies a discounted cash flow analysis to my own bottom-up forecast of future distributions. This forecast is based upon a model that considers the unique cost, sales, and production data reported by each trust in periodic SEC filings. Generally speaking, for each trust:
Production is forecast based upon historical well depletion rates and expected future well completions and workovers; published reserves are ignored
Sales prices are forecast as NYMEX HH and WTI futures, adjusted for historical spreads
Costs are forecast individually based on prior costs, revenues, production, and inflation
Termination dates, terminal value, share subordination, and unique passive income streams are explicitly considered
Which method is better? If you ask my opinion, I'd tell you that my engineering-style model is better at estimating future cost and production trends, more accurately reflects the true costs that are passed to trust unitholders, identifies upcoming distribution changes with better granularity, and permits sensitivity testing. On the other hand, while the reserve report methodology is, indeed, a black box for investors and often omits key information, it can portend how Mr. Market will treat a trust.
Every oil and gas trust is unique
Inasmuch as the performance of each trust is based upon a unique set of wells, operated by a unique set of E&P companies, and subject to unique contracts and agreements, their past performance and, consequently, forecast future valuation will be different. Both methods that I use include dozens of assumptions baked into the forecast for each trust. A multitude of assumptions doesn't mean that the forecasts are infallible - indeed, quite the opposite - but it precludes being able to list every assumption here in a concise, meaningful way. If you have questions on specific assumptions or disagree with the valuations and want to have a thoughtful conversation about a trust, please comment.
May 2015 Valuations
The table below presents a comparison of 13 trusts based upon valuations using the two methods. The table is divided into five sections. In the first section, trusts are ranked according to the model's forecast internal rate of return (IRR). For comparison, the risk-adjusted rate of return that I use for Fair Value (FV) calculations is also shown here.
The second section presents four different valuations: Friday's closing market price and three net present value (NPV) estimates, two using 10% discount rates for the model and reserve methods and the third discounting the model's valuation at FV%.
The third section of the table presents the ratios of the market price to the three NPVs. I consider trusts with FV-to-market-price-ratios (column c) of less than 1.0 to be candidates for long positions, while reserve-report-NPV-10-ratios (column e) over 4.0 are one indicator that I use to identify short candidates. The fourth section compares 12-month forward and trailing yields and the fifth provides the oil/gas revenue mix, expenses, and other details.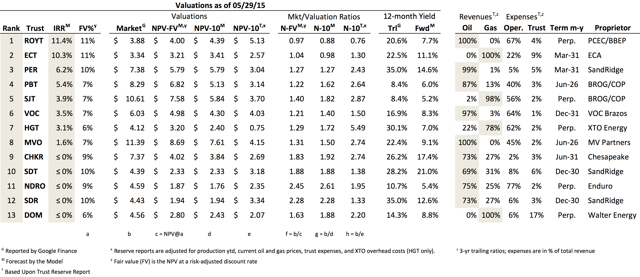 Fig 1. Trusts ranked by IRR. Source: Yahoo! Finance, Trusts' SEC filings, and author's analysis. Note the new footnotes! Columns with an "M" are derived from the model's forecast; those with a "T" from the trust reserve reports.
So what does this tell us? First and foremost, one trust, Pacific Coast Oil Trust (NYSE:ROYT), appears to be trading at a discount to its intrinsic value. ROYT's market to NPV ratios are all less than 1.0, suggesting that it could be a candidate for a long position. Note, however, then ROYT's forecast 21-month forward yield will be only 7.7%, a third of the trailing yield. With low oil prices, I would expect that ROYT's market price will have significant headwinds as long as prices stay at current levels.
Second, it appears that the post-oil-crash rebound in trust prices has been completed. Following the crash last December, trust IRRs were as high as 21.3%. Since then, many trusts including SandRidge Permian Trust (NYSE:PER), and VOC Energy Trust (NYSE:VOC) have rallied significantly, and now the best in class has an IRR of just 11.4%.
Third, overvalued, high risk trusts dominate the rankings. Five of the thirteen trusts have negative IRRs, which suggests that the sum total of their future distributions will be less than their market price at current oil and gas prices. One of these, Enduro Royalty Trust (NYSE:NDRO-OLD), has a forecast 12-month forward yield of only 5.4%.
Trust-specific comments
Predominantly Gas Trusts
Three trusts derive their income primarily from natural gas:
Perpetual Oil Trusts
Three trusts have income primarily from oil production and have no fixed termination date (so-called "perpetual" trusts):
California-based Pacific Coast Oil Trust - ROYT, with an IRR of 11.4%, is the very best of a bad lot this month. The trust has significant upside should oil prices rebound, but will suffer as long as they stay at current levels. As a perpetual trust, investors must be able to afford patience.
Permian Basin Royalty Trust (NYSE:PBT) is a stable oil trust operated by a COP subsidiary. At current prices, the numbers don't amaze, but aren't terrible. The model forecasts a mediocre 5.4% IRR.
Enduro Royalty Trust - NDRO has wells in Texas, Louisiana, and New Mexico operated by Enduro Resource Partners. Using either methodology, the model or the SEC reports, this trust trades at double the suggested value.
Terminal Oil Trusts
Six trusts are terminal oil trusts, including three operated by SandRidge (NYSE:SD) and two with Vess:
SandRidge Permian Trust - PER is an SD trust and my former top pick. But there are big problems in west Texas: the model's regression analyses suggest that the wells that SD added in the 2nd half of 2014 were either dry holes or cannibalized their production from existing wells. Hard to say what's really going on, but that's enough for me to take profits.
VOC Energy Trust - VOC gets a major downgrade. I suspect that costs will rise significantly next quarter and have adjusted the model accordingly. Long term, I still like VOC, which has big upside on rising oil prices. However, I'm using this lull to take profits.
MV Oil Trust (NYSE:MVO) has wells in Kansas and Colorado and was a Top Idea short in April. I hope those who saw that article were able to make the trade. Having declined 30%, MVO is now much more reasonably priced.
Chesapeake Granite Wash Trust (NYSE:CHKR) owns royalties to wells in western Oklahoma operated by Chesapeake Energy. It's widely known that the wells are very poor performers. The distribution has been propped up by hedges, but the future looks very bleak. A $9 short would have been a very lucrative play.
SandRidge Mississippian Trust I (NYSE:SDT) is an SD trust with wells in the Mississippian formation in Oklahoma and Kansas. At current oil prices, I expect the trust to be selling around $3 within a year. The only question is whether this death is slow or sudden.
SandRidge Mississippian Trust II (NYSE:SDR) is SDT's sister trust. Same proprietor. Same formation. Same terrible performance. Less-lucrative hedges.
Disclosure: The author is long ECT, VOC, ROYT. The author wrote this article themselves, and it expresses their own opinions. The author is not receiving compensation for it (other than from Seeking Alpha). The author has no business relationship with any company whose stock is mentioned in this article.
Additional disclosure: In Q2, I reduced a position in VOC, eliminated a position in PER, and maintained small positions in ECT and ROYT. I now have a small short position in PER ($10 put options) offsetting other long oil E&P positions. Q2 also saw transactions in MVO and WHZ, though I maintain no positions at this time.
Editor's Note: This article covers one or more microcap stocks. Please be aware of the risks associated with these stocks.