Stock Price Performance
As discussed in previous articles, 2014 was a difficult year for BDCs due to being removed from the S&P and Russell indices, continued interest rate fears, general declines in small caps, selling institutional shareholders and December tax-loss sellers. Over the last few quarters investors have been concerned with oil and energy exposure among portfolio investments impacting BDCs such as Apollo Investment (NASDAQ:AINV), Main Street Capital (NYSE:MAIN), PennantPark Investment (NASDAQ:PNNT) and Gladstone Capital (NASDAQ:GLAD). During Q1 2015, BDCs such as Fifth Street Finance (FSC), KCAP Financial (NASDAQ:KCAP), Medley Capital (NYSE:MCC), Prospect Capital (NASDAQ:PSEC) and TICC Capital (TICC) cut dividends mostly related to yield compression and higher management fees. The tables below show that BDCs had a difficult 2014 but most have started to rebound in 2015.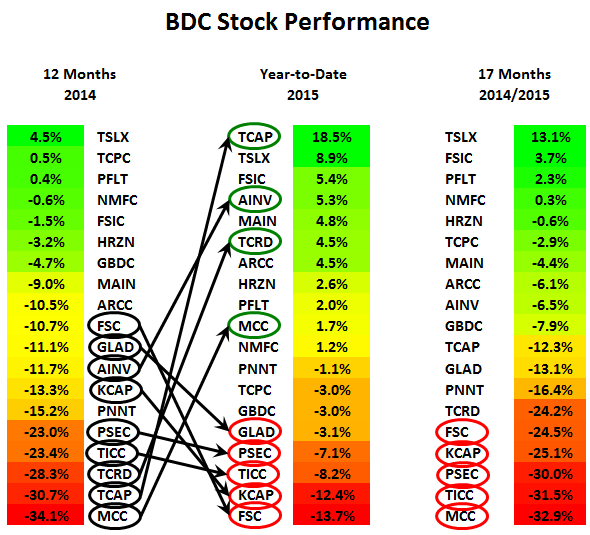 In 2015, investors seem to be increasingly focused on management and shareholder alignment through management fees that protect shareholder returns and the potential for portfolio credit issues with BDCs that were aggressively growing portfolios (especially PSEC, MCC and FSC) during the frothy lending periods in 2013 and 2014.
The following table includes the previously discussed stock performance with dividends paid/accrued to measure total returns for each BDC. I no longer recommend UBS 2X Leveraged Wells Fargo BDC ETN (NYSEARCA:BDCL) due to the continued bifurcation in BDC valuations that I will discuss later in the article but it still continues to return more than many higher yield BDCs such as PSEC, TICC and MCC.
Explanation of total returns: The 'Change in Stock Price' assumes you purchased the stock at the beginning of 2014 and sold as of June 1, 2015. Dividends do not assume reinvestment and are calculated using the amounts paid (or accrued) divided by the purchase price at the beginning of 2014.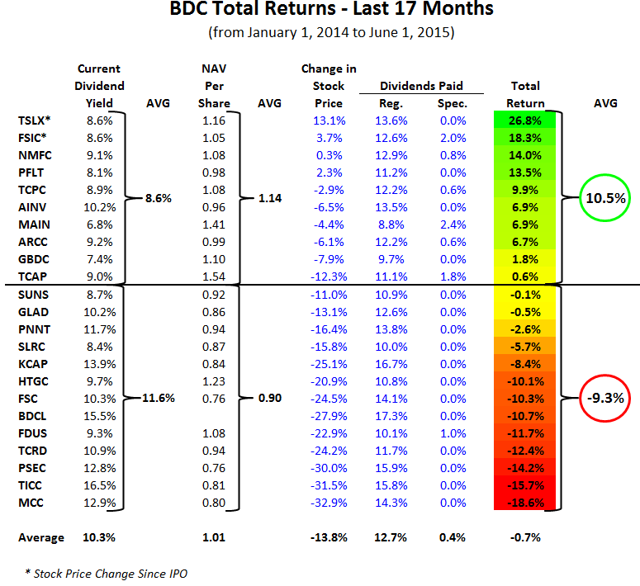 As discussed in "Higher-Priced BDCs Continue To Deliver Higher Returns", higher priced BDCs continue to perform better than the others. There are many reasons for this that might seem counterintuitive to investors. BDCs are priced based on many things and most first time investors make the mistake of only using a simple price-to-net asset value ("NAV") per share for buying/selling decisions. I have also noticed that many contributors on Seeking Alpha continue to suggest NAV based pricing that I believe is highly inaccurate and potentially irresponsible. At the end of 2013, BDCs such as FSC, GLAD, TICC, PSEC, KCAP, Solar Capital (NASDAQ:SLRC) and Full Circle Capital (FULL) all had much lower than average price-to-NAV multiples compared to other BDCs and they still do. Ultimately I believe that there is a possibility for credit rating downgrades for BDCs with higher risk profiles and capital constrained (mostly due to trading below NAV per share) that could potentially impact borrowing costs. Fitch Ratings recently noted that a "Lending Slowdown Is Reversing BDCs' Growth" due to "a reflection of both their constrained access to the equity markets and slower middle market M&A volume". Many of the issues that I have already discussed in this article were also included the article:
"The high growth has raised our concern regarding eventual deterioration in asset quality metrics."
"Equity price discounts have been driven by a combination of concerns about the sustainability of current dividend levels, energy exposures, asset quality, off-balance sheet leverage, external manager conflicts"
"the 2013 and 2014 vintage years being somewhat overheated, and will likely introduce asset quality issues for BDCs down the road"
The article does mention a few positives including that the slowdown in growth could be a positive for some BDCs as well as:
"One counterweight to the current conditions in our view is the relatively positive macroeconomic picture in the US that likely limits the risk of rapid deterioration of asset quality across the portfolio. The implementation of leveraged lending guidance on the banks and the uncertain future of GE Capital's sponsored finance business are two examples of potential market opportunities for BDCs."
Increasing Bifurcation of the BDC Market
As I have mentioned in many articles, I believe there will continue to be a widening bifurcation in the BDC sector. This means that there will be lower multiples paid for BDCs that continually underperform with lower NAV per share and dividend growth, most likely related to the quality of the portfolio combined with the management fee structure. The following chart uses the returns from the previous table so that investors can visualize the returns from each BDC over the last 17 months.

This has changed from previous return analysis in "BDC Total Returns Q1 2015: Part 3" with companies such as PSEC, FSC, GLAD, KCAP and SLRC moving toward even lower returns (and multiples) while others such as TPG Specialty Lending (NYSE:TSLX), FS Investment Corp (NYSE:FSIC), New Mountain Finance (NYSE:NMFC), PennantPark Floating Rate Capital (NASDAQ:PFLT), TCP Capital (NASDAQ:TCPC), Triangle Capital (NYSE:TCAP), AINV, PNNT and MAIN have provided higher returns.
Note to continued PSEC shareholders looking to breakeven: Recently PSEC shares have continued to dip and I believe there are a few reasons for this that will keep it at depressed prices for the remainder of 2015. Many of these reasons were discussed in "PSEC: Continued NAV Declines" including aggressive accounting policies driving overvalued assets and larger amounts of onetime income that is taken in the quarter rather than accrued over the life of the assets. Both of these drive higher fee income to management reducing returns to shareholders. Uncertainty around the 'rights offerings' should be a material concern, especially as recent SEC filings indicate that there is a potential for 'anchor investors' to receive 'upfront fees' in exchange for their commitment to purchase shares:
"In conjunction with the rights offerings, the Company may select an anchor investor or investors that will purchase shares of the applicable NewCo in a private placement. Anchor investors, if any, will pay the same subscription price as the public; however, anchor investors will receive an upfront fee for the applicable rights offering in exchange for their upfront commitment to purchase shares."
I find it hard to believe that these transactions will not dilute current shareholders that are on a 'wait and see' holding pattern. For more information about BDC pricing, total returns, operating expenses, dividend coverage, share issuances, oil/energy exposure, rising interest rates and general BDC market trends please see my "BDC Research Page" and for information on specific BDCs please visit my "All BDC Pages."
Personal note: I have updated my positions to reflect changes in my holdings, but please keep in mind that some of the positions are very small and mostly for research purposes.
Disclosure: The author is long AINV, ARCC, BKCC, FDUS, FSC, FSIC, GBDC, GLAD, HTGC, MAIN, MCC, NMFC, PFLT, PNNT, PSEC, TCAP, TCPC, TICC, TSLX.
The author wrote this article themselves, and it expresses their own opinions. The author is not receiving compensation for it (other than from Seeking Alpha). The author has no business relationship with any company whose stock is mentioned in this article.
Editor's Note: This article covers one or more stocks trading at less than $1 per share and/or with less than a $100 million market cap. Please be aware of the risks associated with these stocks.