In alternative energy, there is typically a trade-off. If you want to eliminate fossil fuels, then you need to pay more for clean energy. And if you want clean energy, you may have a field of hundreds of loud windmills staring you in the face -- quite an eyesore. The lengths of those propellers have been growing steadily over the last 20 years, with some of the largest reaching over 300 feet.
Until Now - Get Wind of This
A new wind turbine with no propellers is soon to be on the market. The turbine does have a long thin tower. But rather than supporting those massive propellers it just has a cone, which looks like a tall thin shoe horn or a wicket bat.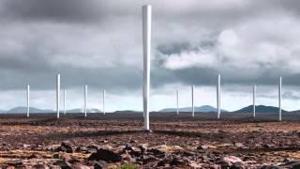 Source: YouTube/Vortex.
In fact, a group of them is much less visible than your typical windmill farm, and can actually look more like an art installation. Perhaps they'll make them in a deep burgundy, or polka dot? Coined by the manufacturer as the new paradigm of wind power, they generate energy without rotating blades. The aim of the Spain-based manufacturer, Vortex Bladeless, is to take advantage of the vortices produced when wind moves around an obstacle; hence the name.
You see, there is one problem that has kept many structural engineers awake at night. If you place an object directly in the path of wind, it will create an undulating vortex behind the barrier of the object. In other words, the changing air pressure provokes oscillation of the object. This effect has actually taken down chimneys, bridges and even buildings.
Yet there is also a benefit to this effect, and Vortex is hoping to monetize it through wind power. The Vortex thin turbine is made of carbon fiber and fiberglass. But unlike traditional turbines the motor is placed at the bottom, which helps maintain stability.
Does It Work?
The specific design of the turbine is such that the wind's vortex spins synchronously along the entire surface of the cone. A ring of magnets sit at the base of the cone in order to provide a boost to the rotations. That's helpful particularly in times when wind is less intense.
Is It Expensive?
According to Vortex's website, the design is less expensive to manufacture than traditional turbines. Additionally, the maintenance should be lower as there is no friction from mechanically moving parts, thus avoiding fatigue and wear. So there is no need for parts to be oiled, retooled, or replaced. From a technology standpoint, it requires no energy or training to use.
Vortex claims that according to conservative estimates, its design saves 53% in manufacturing costs, 51% in operating cost, and 80% in maintenance costs vs. conventional wind turbines. Furthermore, because Vortex turbines are much smaller than the traditional ones, buyers can use their space more efficiently. Vortex turbines come in two sizes to address the needs of different markets: the Vortex Gran 1MW and the Vortex mini 4kW.
Peace and Quiet
Perhaps one of the best features is that it is completely silent. Apparently, birds can fly around these turbines safely. Vortex is marketed as providing a "huge reduction of carbon foot print. Fewer supplies. No lubrication needed. Noiseless. Respectful of nature."
How to Get Involved
Vortex is taking the crowdfunding route, which makes it easy to get in on the action. The campaign launched on June 1. See here for more information.
Caveat Emptor
There is still much that we don't know about the efficiency of Vortex turbines. The company is still in beta mode. Up until now, dozens of wind funnel tests have been carried out, while field tests are currently sill being performed with scaled models.
Test results are, so far, hard to come by. Furthermore, similar models based on oscillary technology in the 1980s proved unsuccessful as many turbines broke down. We have yet to see if Vortex's technology both addresses and fixes those issues.
And as for birds, studies have shown that is not the blades of turbines that cause bird injuries or deaths. Rather, because wind turbines alter nature's wind patterns, birds flying near them become disoriented which leads to loss of direction and death. This could still be the case with Vortex and requires further investigation.
But all new technology carries some risks. While the current market (2014) for wind power installation is 366 GW (gigawatts), according to the GWEC (Global Wind Energy Council) the expected growth is over 666 GW by 2019. That's an impressive market.
If you prefer focusing more on well-known listed equities in the space, consider the Danish Vestas Wind Systems A/S (OTCPK:VWDRY) or the Spanish Gamesa Corporation Tecnlogica S.A. (OTCPK:GCTAY). For a diversified portfolio of listed wind power stocks, you could consider the First Trust ISE Global Wind Energy Index Fund (NYSEARCA:FAN).
Disclosure: The author has no positions in any stocks mentioned, and no plans to initiate any positions within the next 72 hours.
The author wrote this article themselves, and it expresses their own opinions. The author is not receiving compensation for it (other than from Seeking Alpha). The author has no business relationship with any company whose stock is mentioned in this article.
Editor's Note: This article discusses one or more securities that do not trade on a major U.S. exchange. Please be aware of the risks associated with these stocks.