On the expected lines, the Reserve Bank of India has cut policy rates by 25bps today. The rate cut was prompted by lower inflation, while industrial growth has failed to pick up in a meaningful way. Though the bank believes that, a conservative strategy would be to wait, especially for more certainty on food inflation that could result from below average rains, weak investment and the need to reduce supply constraints over the medium term to stay on the proposed disinflationary path (to 4% in early 2018), supports a front-loading of rate cut and then wait for data that clarify uncertainty. The next policy meeting will be held on August 4th.
The key takeaways from the policy statement are outlined below:
Assessment of global economic conditions
The central bank noted that the global recovery is still slow and getting increasingly differentiated across regions. The US economy shrank, while Japanese economic growth surprised on the upside. Helped by monetary easing, financial conditions in the euro area eased, though there was some moderation in PMIs, economic sentiment and consumer confidence in April. Emerging market economic growth remains challenging, with China continuing to decelerate in spite of monetary easing.
Indian economic environment
The GDP growth (at constant market prices) for FY15 (April-March) was estimated at 7.3%, slightly lower than the advance estimate of 7.3%. Gross value added (NYSE:GVA) at basic prices was estimated at 7.2% compared to advance estimates of 7.5%. The central bank believes that domestic economic activity remains moderate in Q1 of 2015-16. Reflecting the balance of risks and the downward revision to GVA estimates for 2014-15, the RBI reduced its projection for output growth for 2015-16 from 7.8% estimated in April to 7.6% with a downward bias to reflect the uncertainties surrounding these various risks.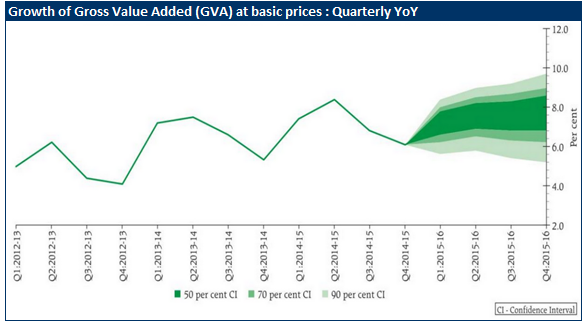 Source: Reserve Bank of India
Agricultural activity & risk of drought
Agricultural activity was adversely affected by unseasonal rains and hailstorms in North India during Mar'15, affecting on an estimated 9.4 million hectares of rabi crops. Consequently, the latest estimates of foodgrains production show contraction of more than 5% YoY. Successive estimates have been pointing to a worsening of the situation, with the damage to crops like pulses and oilseeds - where buffer food stocks are not available in the central government pool - posing an upside risk to food inflation. For the kharif season, the outlook is clouded by the first estimates of the India Meteorological Department (IMD), predicting that the southwest monsoon will be 7% below the long period average. This has been aggravated by the confirmation of the onset of El Nino by the Australian Bureau of Meteorology. The central bank noted that contingency plans for food management - including storage of adequate quantity of seeds and fertilizers for timely supply, crop insurance schemes, credit facilities, timely release of food stocks and the repair of disruptions in food supply chains, including through imports and de-hoarding, need to be in place to manage the impact of low production on inflation. RBI also pointed out that inflation control will also be helped by limiting the increase in agricultural support prices.
Industrial production is still weak
The central bank made the following views about industrial production:
Industrial production has been recovering, albeit unevenly.
The sustained weakness of consumption spending, especially in rural areas as indicated in the slowdown in sales of two-wheelers and tractors, continues to operate as a drag.
Corporate sales have contracted. The disappointing earnings performance could have been worse if not for the decline in input costs.
Capacity utilization has been falling in several industries, indicative of the slack in the economy.
While an upturn in capital goods production seems underway, clear evidence of a revival in investment demand will need to build on the tentative indications of unclogging of stalled investment projects, stabilizing of private new investment intentions and improving sales of commercial vehicles.
In April, output from core industries constituting 38 per cent of the index of industrial production declined across the board, barring coal production. The sustained revival of coal output augurs well for electricity generation and mining and quarrying, going forward. There is some optimism on gas pricing and availability. The resolution of power purchase processes has to be expedited and power distribution companies' financial stress has to be addressed on a priority basis.
Some public sector banks will need more capital to clean up their balance sheets and support lending as investment revives.
Services sector
Leading indicators of services sector activity are emitting mixed signals.
A pick-up in service tax collections, sales of trucks, railway freight, domestic air passenger and air freight traffic could augur well for transport and communication and trade.
On the other hand, the slowdown in tourist arrivals, railway traffic and international air passenger and freight traffic could affect hotels, restaurants and some constituents of transportation services adversely. The services PMI declined in April 2015, mainly on account of slowdown in new business orders. Community and personal services are likely to be held back by the ongoing fiscal consolidation.
Inflation remains benign helped by base effects & lower food prices; Inflation expectations are still high
Retail inflation in April decelerated for the second month in a row, supported by favorable base effects (of about -0.8%) that moderated the rise in the price index for the fourth successive month.
Food inflation softened to a contra-seasonal four-month low, with the impact of unseasonal rains yet to show up. Vegetables inflation continued to ease, along with that of other sub-groups such as cereals, oil, sugar and spices. On the other hand, protein items, especially milk and pulses, continued to impart upward inflationary pressures.
Fuel inflation rose for the fourth successive month to a twelve-month high, driven by prices of electricity and firewood.
Inflation excluding food and fuel rose marginally. House rent, education, medical and transport expenses were among the major drivers of inflation in this category. Rural wage growth, although still moderate, picked up.
RBI noted that the inflation expectations remain in high single digits, although they may adapt further to current low inflation. Yet, both input and output price pressures remain muted as reflected in the Reserve Bank's industrial outlook survey. Purchasing managers' indices also corroborate these developments.
Upside risks to inflation remain
The bank believes that there are three major upside risks to inflation:
Some forecasters, notably the IMD, predict a below-normal southwest monsoon. Astute food management is needed to mitigate possible inflationary effects.
Crude prices have been firming amidst considerable volatility, and geo-political risks are ever present.
Volatility in the external environment could impact inflation.
Outlook on inflation
Assuming reasonable food management, inflation is expected to be pulled down by base effects till August but to start rising thereafter to about 6% by January 2016 - slightly higher than the projections in April.
The central bank believes that the risks to its central point of 6% inflation are to the upside, due to
Pessimistic monsoon projections
possible inflationary effects of the increases in the service tax rate to 14 per cent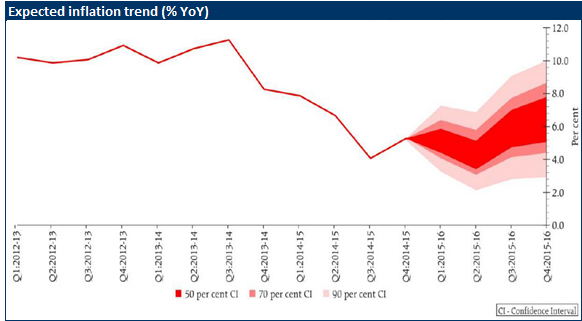 Source: Reserve Bank of India
Central bank points out that government action is important
The RBI also pointed out some of the measures that the government needs to take to help in reducing inflation and aiding economic growth:
Strong food policy and management will be important to help keep inflation and inflationary expectations contained over the near term.
Relieve supply constraints and aid disinflation over the medium term by means of public as well as private investment
Targeted infusion of bank capital into government owned commercial banks, especially those that implement concerted strategies to clean up stressed assets, is also warranted so that adequate credit flows to the productive sectors as investment picks up
Liquidity conditions have tightened in May
Liquidity conditions eased in April 2015 after the tightness in the second half of March 2015 on account of advance tax outflows and financial year-end behavior of banks. During May, rapid increases in currency in circulation and a build-up of government balances resulted in liquidity conditions tightening again.
Domestic demand will drive Indian economy
India's exports have been falling due to fall in global demand, while import volumes have started picking up. The RBI reckons that net exports are unlikely to contribute as much to growth going forward as they did in the past financial year. Hence growth will depend more on a strengthening of domestic final demand.
Forex reserves are ample
While portfolio and direct foreign investment flows were buoyant during 2014-15, with net foreign direct investment to India at US$ 36.6 billion and net portfolio inflows at US$ 41 billion, the year 2015-16 has begun with net portfolio outflows in the wake of a reduction in global portfolio allocations to India. Foreign exchange reserves are around US$ 350 billion, providing a strong second line of defense to good macroeconomic policies if external markets turn significantly volatile.
Front loading of rate cut looks appropriate
The Reserve Bank points out that, a conservative strategy would be to wait, especially for more certainty on both the monsoon out-turn as well as the effects of government responses if it turns out to be weak. But with still weak investment and the need to reduce supply constraints over the medium term to stay on the proposed disinflationary path (to 4% in early 2018), it believes that a more appropriate stance is to front-load a rate cut and then wait for data that clarify uncertainty. RBI has also asked banks to pass through the sequence of rate cuts into lending rates.
Policy Stance and Rationale
RBI notes that the case for a rate cut is justified by four factors:
banks have started passing through some of the past rate cuts into their lending rates,
headline inflation has evolved along the projected path, the impact of unseasonal rains has been moderate so far, administered food price increases remain muted,
timing of normalization of US monetary policy seems to have been pushed back
low domestic capacity utilization, still mixed indicators of recovery, and subdued investment and credit growth
Our View
With a 25bps rate cut, the RBI says that it has decided to front-load policy action. Future rate cuts will be data dependent - mainly on inflation. The key risk to inflation is the predicted below average monsoon. With the central bank's central inflation estimate of 6% by Jan'16, and a target real policy rate of 1.5% - 2%, we believe that the RBI might have reached the end of rate cut cycle for 2015, and has entered an extended pause.
Disclosure: The author has no positions in any stocks mentioned, and no plans to initiate any positions within the next 72 hours. The author wrote this article themselves, and it expresses their own opinions. The author is not receiving compensation for it (other than from Seeking Alpha). The author has no business relationship with any company whose stock is mentioned in this article.