The nascent Pro - Inflation trade I have been writing about is gaining further credibility with developments in Asia, Europe and the US -- and related asset prices are starting to move.
The Inflation train is just starting to move, and there is a long way to run on this theme. Investors should strongly consider investment allocation away from fixed income and yield plays, and towards pro-growth and pro- inflation assets, which I will discuss specific ideas in this article.
The best returns are from recognizing an incipient trend long before it becomes consensus, and while this is at least an intermediate term development, early adopters will be rewarded accordingly.
Asian Developments:
China continues to have a stimulative posture towards its economy, and in addition, last night India cut their benchmark interest rate for the third time this year.
Followers know I am a long cycle bull on India due to their new pro - growth government and key reforms they are working in -- India is already the fastest growing major economy in the world at 7.5% projected - but the real story for the Indian growth engine, is its potential long term effects on commodity pricing.
India is, the uber bullish version, another potential China in the making -- they have the need for hundreds of billions of dollars in investment in roads, rail lines, power grid infrastructure, technology corridors, pipelines...the list is endless and the plans are being drawn up. And these projects will have a huge forward impact on Commodity markets like Oil, Copper and even Agriculture.
I will specifically comment on all three of these assets classes below.
While there is formidable political opposition to a pro - growth agenda, I believe the present leadership has the credibility to move India forward, and they will become a dominant world growth story.
Europe Developments:
Today it was reported Eurozone consumer prices rose for the first time in six months during May , a significant victory for the European Central Bank in its campaign to avert a slide into deflation.
This is significant news -- and contributed to a large selloff in German (10 year) bunds this morning, as the deflation fears that have bid German bunds to a trough low of 0.07% before starting recently to move higher, begin to unwind. This move is further spilling over into US Treasuries, which are continuing yesterday's large move lower.
Note: Author holds a significant short hedge on US Treasuries via Options and Futures.
US Developments:
Followers know I am a bull on US Housing as noted in previous writings, due to pent up demand from accumulated consumer savings and household formation far outstripped new housing starts, along with very high rents today, making home ownership attractive.
Rising wages also give confidence for home ownership. Wal-Mart (NYSE:WMT) this morning announced a Second round of wage hikes for workers and managers. I believe this is the start of a trend.
Yesterday U.S. construction spending surged in April to the highest level in nearly 6-1/2 years as outlays increased broadly, pointing to some pockets of strength in the economy, giving further credibility to the housing, pro - growth and pro inflation thesis.
While not discussed here in depth today due to space, investors should consider direct exposure to US housing plays, along with Financials as lending increases and rate spreads improve. I have exposure to both US Housing and US Financials for these reasons.
Pro - Growth and Pro Inflation Investment Opportunities.
Energy Basket:
I note with Interest, even while Saudi Arabia is forecast to leave their production unchanged (producing flat out), a strong US dollar, and consensus analysts almost universally are calling for oil to fall back. This morning July Crude is challenging new relative highs around $61.00. See ETF chart below, (NYSEARCA:USO)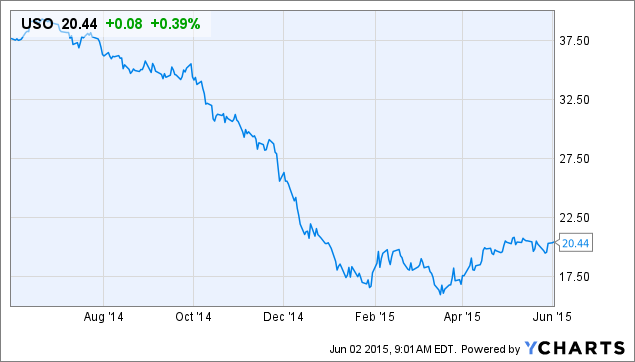 USO data by YCharts
I believe in this basket the best opportunities lie not in US shale plays, for reasons I've previously discussed, but in more conventional plays. I discuss 2 very out of favor, contrarian holdings here, embattled Brazil oil company Petrobas (NYSE:PBR) and offshore driller Seadrill (NYSE:SDRL). I am fully aware of the past history and challenges of these 2 companies; however I am looking at the long run, believe both companies will survive their current turmoil, and prosper once again as sentiment turns.
In both cases I am looking not at scandals, idled drillships and renegotiated contracts, I am simply looking at the assets, and being able to buy them at a tremendous discount to what I believe is their true, long term market values.
With , I am looking simply at the best single set of oil reserves outside of Saudi Arabia. These reserves haven't disappeared due to the corruption scandal enveloping PBR, which I believe will be resolved one way or another in time. First, China backstopped PBR with a large credit facility, and yesterday, PBR came to market with $2.5 Billion in 100 year bonds, and surprising most folks, were swamped with demand.
With , I am simply looking a prime beneficiary of 's resurgence, along with the single highest quality portfolio of the newest, most modern drillships in the industry. If offshore drilling returns to full health, which company will most benefit? In both cases I am buying what I believe are quality assets that are deeply unpopular due to temporary conditions.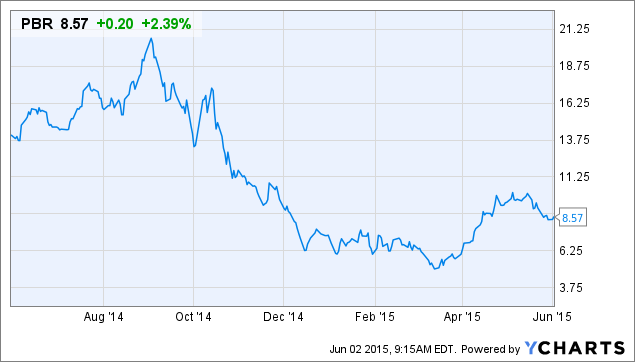 PBR data by YCharts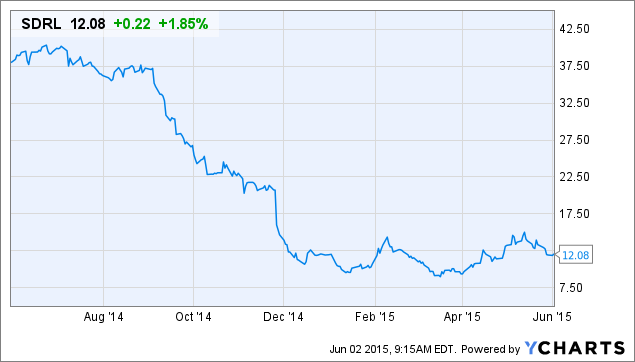 SDRL data by YCharts
Metals Basket -- Copper and other Industrial Metals.
As I've written before, Copper is forecast by the industry to return to a net deficit from its current surplus position within the next couple of years. Little is more out of favor these days than industrial metals, which has been perfectly logical in our slow growth, no inflation world.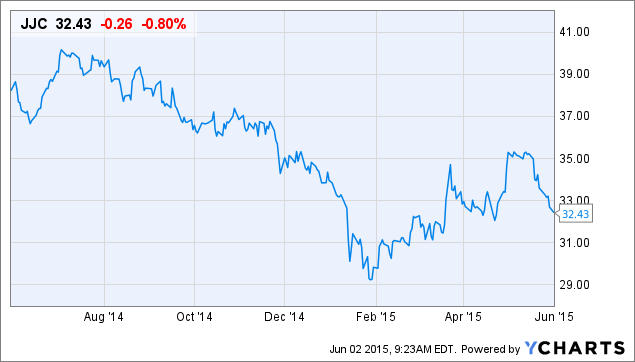 JJC data by YCharts
Once again, all I am attempting to do is buy high quality assets in anticipation of a change in this world view of no growth / inflation, before that idea approaches the mainstream.
I note Copper, shown below via its ETF (NYSEARCA:JJC) is hanging in pretty well considering the strong dollar and general newsflow towards commodities:
I present 2 names for this basket; Turquoise Hill Resources (TRQ) and HudBay Minerals (HBM).
TRQ holds a 50 % interest along with Rio Tinto (NYSE:RIO) in the gigantic Mongolian mineral play named Oyu Tolgoi. Simply put, this is one of the best new copper, gold and other mineral plays on the planet right now. TRQ has been out of favor due to a long running royalty dispute with the Mongolian Government, however this dispute appears to have recently been resolved. They are together working on expanding the mine further.
HBM is a well managed Canadian, diverse mid - sized miner, with heavy exposure to Zinc -- by far the strongest performing base metal during this period. They have attractive properties in several favorable locations.
Both companies, in my view, are clear targets for larger miners at current valuations.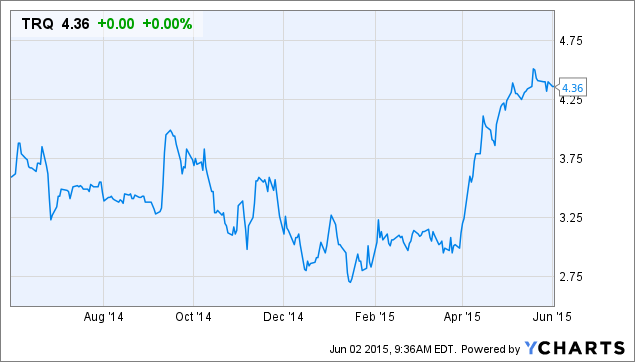 TRQ data by YCharts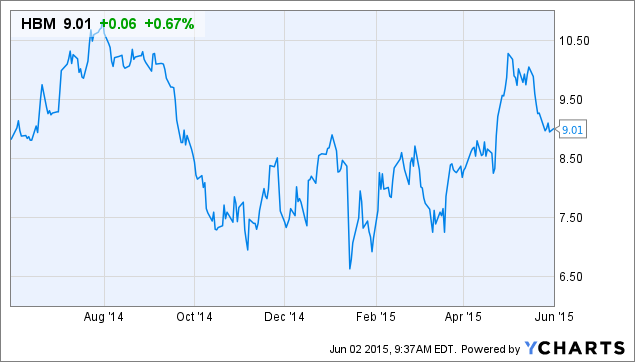 HBM data by YCharts
Agriculture Basket:
If any asset class is more out of favor than metals, it has to be Agricultural commodities after a prolonged bear market. What attracted me to take a good look, was sentiment news that Soybeans and Corn had the highest level of public (and trader) sentiment since 1991; among the lowest ever recorded.
Combined with this is news that the "smart money" Industry Hedgers were long a combined 170,000 contracts of Wheat, Corn and Soybeans -- among their largest positions ever. In commodities, the Hedgers are usually right, given a little time -- they are always opposite in positioning to the traders / speculators, by definition.
I will present 2 names here, CF Industries, (NYSE:CF) and Deere. (NYSE:DE)
CF produces chemicals for the agricultural industry. It is the leader in the field. DE is the premier manufacturer of farm equipment in the world. If Agriculture returns as a leading market sector, these are 2 well managed core holdings. Both have held up extremely well both fundamentally and technically during this period.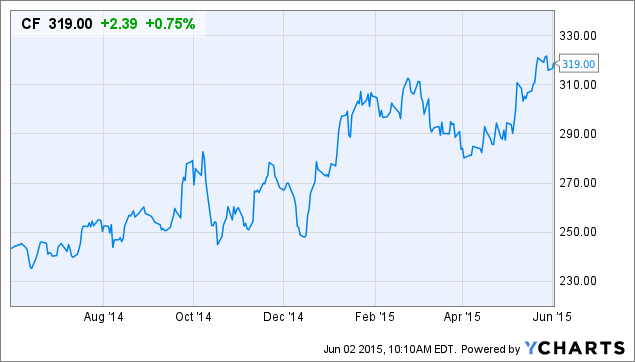 CF data by YCharts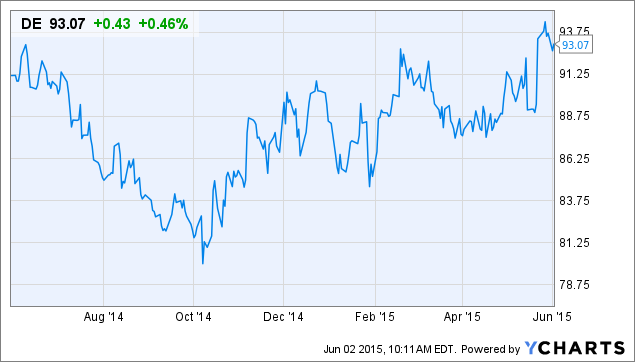 DE data by YCharts
Lastly; I will comment briefly on the primary risk factor for a bullish, pro-growth portfolio, and that is interest rates. I hold a substantial short hedge in US Treasuries via futures and options, as I see a spike in long term interest rates as the greatest current market risk, one that is not generally seen by the market.
It is possible that a disorderly rise in interest rates would induce a sharp correction in equity markets and all risk assets, however this is not (yet) my base case. I believe it would first take a very large move to put the bull market at risk, and I believe there is time for a "strong economy, stable market" period here.
However it is more than possible, that the overall S&P 500 index will struggle to make substantial headway during a period of rising long rates, as gains in pro growth / inflation assets are offset by losses in yield oriented plays. Vigilance in monitoring the market in corporate and junk debt is important during this period.
Summary. The Pro - Growth / Pro Inflation thesis continues to grow stronger, and I encourage investors to examine the many undervalued assets that would benefit from this trend.
Disclosure: The author is long DE, CF, PBR, SDRL, HBM, TRQ. The author wrote this article themselves, and it expresses their own opinions. The author is not receiving compensation for it (other than from Seeking Alpha). The author has no business relationship with any company whose stock is mentioned in this article.
Additional disclosure: Not investment advice. Do your own due diligence, and consult an adviser. Author is not an investment professional.