On May 27th, the Federal Reserve Board published the second annual results of its Survey of Household Economics and Decisionmaking (SHED). The Fed's Division of Consumer and Community Affairs implements the survey as a tool to "…capture a snapshot of the financial and economic well-being of U.S. households, as well as to monitor their recovery from the recent recession and identify any risks to their financial stability." I was most interested in getting the Fed's detailed assessment on housing from this report. The Fed's impressions of housing not only can impact monetary policy, but also they can shed some light on the potential scale for housing demand in the coming year or more. Based on the Fed's survey results, I concluded that 2015 will not provide any improvement on first-time buyer numbers although existing homeowners seem to be well-situated (in aggregate).
The 2014 survey included 5,896 respondents with an oversample of lower-income individuals (making less than $40,000) and then re-weighting to match the demographics from the 2014 March Current Population Survey. The survey covers overall economic well-being; housing and household living; economic fragility and emergency savings; savings and spending; banking, credit access, and credit usage; education and student loans; and retirement. For this piece, I highlight the Fed's findings on housing and household living with a comparison to the 2013 findings. At a later date, I hope to circle back to credit access and education and student loans as the data in those two sections have potentially important implications for housing as well.
Wherever possible I compare 2014's data to 2013's. I did not calculate the statistical significance of the differences in the survey responses from 2013 to 2014.
The 2014 survey does not provide as detailed a demographic breakdown of the survey respondents as the 2013 survey. For 2014, 80% of respondents either live alone or with immediate family members, 10% live with parents, and 5% live with a roommate. In 2013 this was broken out as 61% lived with immediate family, 22% lived alone, 9% lived with extended family, 5% with roommates, and 3% with adult children. It is not clear to me why living with immediate family and living alone are considered closely enough related for grouping, but I believe it is safe to assume that, like 2013, most survey respondents lived with someone else in 2014.
The rate of homeownership increased slightly from 2013 to 2014. For 2014, 61% of respondents owned their own home compared to 58% in 2013. Renters were 28% of respondents for 2014 and 32% for 2013. The remaining respondents neither own their home nor pay rent. When the respondents are filtered by head of household, the rate of homeownership increases. The increase in homeownership in the survey runs counter to the small decrease in the general population from 2013 to 2014 of 65.1% to 64.5%. The main point is that the respondents should sufficiently correspond to the different housing decisions, choices, and plans made in the general population.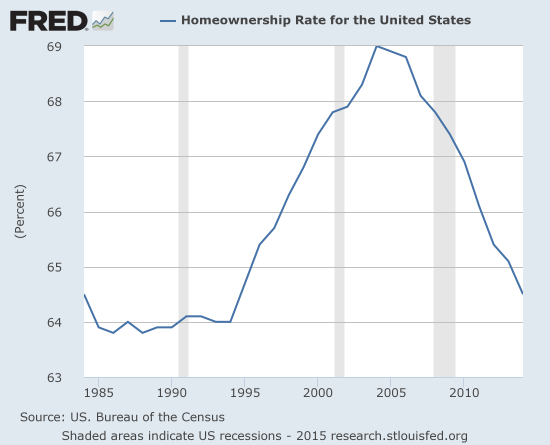 The annual changes have been small, but the rate of homeownership in the U.S. has almost returned to the pre-1995 steady-state
Source: US. Bureau of the Census, Homeownership Rate for the United States [USHOWN], retrieved from FRED, Federal Reserve Bank of St. Louis, May 31, 2015.
Despite the historic decline in the rate of homeownership, renters overwhelmingly prefer to own even if current circumstances prevent them from doing so. For 2014, 81% of renters prefer owning if they could afford it. This percentage was not reported for 2013. Nine percent of renters are actively looking to buy a home, down marginally from the 10% of renters home shopping in 2013. One-third of 2013's active home shoppers who were renting managed to purchase a home by the time of the 2014 survey. Only 3% of renters who did not report interest in buying a home ended up buying by 2014's survey. This breakdown implies that a stated intent to buy is a powerful precursor to an actual purchase within a year. I am assuming then that the small decline in share of renters looking to buy a home means 2015 will show no material improvement over 2014 for the share of homes purchased by first-time homebuyers. We will likely wait yet another year for this key segment of the housing market to participate more fully in the housing recovery.
Thirteen percent of renters aged between 18 and 29, part of the important millennial demographic, indicated they hope to buy a home. This percentage places them above the average 9% and signifies the importance of their success for the housing market.
The 2014 survey also examined the intentions of renters who were homeowners in the 2013 survey:
"…26 percent of renters who owned a home in 2013 say they are currently looking to buy. This suggests that a sizable fraction of respondents who transitioned recently from owning to renting view it as a temporary state. Renters who previously owned are also less likely to say that it is more convenient to rent (17 percent) or that they cannot afford the down payment on a house (22 percent) than are renters who did not previously own."
The survey did not break down these responses further by reasons for transitioning to renting. Hopefully the survey for 2015 looks at how many of these temporary renters managed to purchase homes. The rate of return to homeownership could be an important indicator of health in the housing market.
The survey also asked renters for reasons for renting rather than owning their homes. The survey allowed multiple responses. Affordability is more of an issue for renters as a reason for renting over owning in 2014 than in 2013. For 2014, 50% could not afford a down payment and 31% reported an inability to qualify for a mortgage. This is up from 45% and 29% respectively for 2013. Also in 2014, 27% of renters claim renting is cheaper than owning (23% in 2013), 25% find renting more convenient (24% in 2013), and 12% just plain prefer renting period (not reported in 2013). These responses help explain why there are slightly fewer renters shopping for a home in the 2014 survey than in the 2013 survey.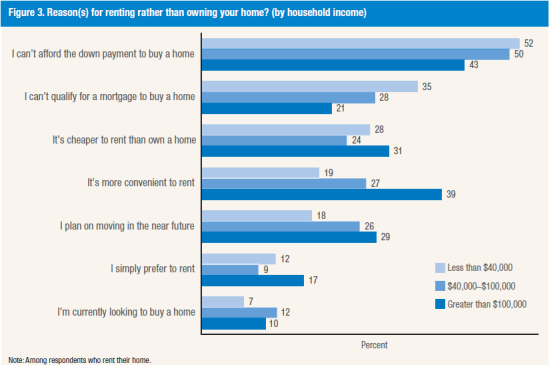 Financial reasons are the most common barriers to homeownership
Source: Report on the Economic Well-Being of U.S. Households in 2014 (May 2015), Board of Governors of the Federal Reserve System
Financial issues are also making it hard for renters to pay their rent, thus making it very unlikely they will become homeowners anytime soon. The 2013 survey noted: "Over 50 percent of renters indicated that they had to cut back on spending to some degree over the prior 12 months in order to pay their rent, with 17 percent indicating that they had to cut spending back by 'a lot.'" I could not find an update to these numbers in the 2014 survey. Given the other responses from renters, there is no reason to expect that these financial issues improved much, if at all, in 2014.
Overall SHED indicated an on-going strong desire among people to own a home. Homeowners cite strong financial and non-financial reasons for owning:
"When asked why they own rather than rent, 44 percent say that they own because it allows them to build equity with their payments, 41 percent say that they feel that it is cheaper to own than to rent, and 20 percent like the certainty it provides for their monthly payments. Altogether, 67 percent of respondents cite at least one of these three financially motivated reasons for owning.

However, many owners cite non-financial benefits as important considerations. Seventy-two percent of respondents say that they simply prefer to own, 43 percent say they own because there are fewer rules and they can customize their house, and 23 percent indicate that own because they do not like to move. Altogether, 83 percent of respondents cite at least one of these three nonfinancial motivations for owning."
Current homeowners seem to be relatively settled, but the population of people transitioning from ownership to renting and back to ownership will be a key cohort to track. The youngest adult demographic is clearly at the early stages of considering the possibilities of homeownership, but they are also one of the more important given renters in this age group are a bit more inclined than the average to shop for a home. Finally, the financial situations of many renters, the people who should be the homebuyers of the future, demonstrate that the housing recovery still has a ways to go.
Be careful out there!
Disclosure: The author has no positions in any stocks mentioned, and no plans to initiate any positions within the next 72 hours. The author wrote this article themselves, and it expresses their own opinions. The author is not receiving compensation for it (other than from Seeking Alpha). The author has no business relationship with any company whose stock is mentioned in this article.