As inflation expectations have risen in Germany, as well as across the entire currency bloc, interest rates increased, pushing the euro higher. The German currency is represented by CurrencyShares Euro Trust (NYSEARCA:FXE).
In May, the inflation figure came in at an annual pace of 0.7%, above the previous month's reading of 0.5%, while in line with estimates for 0.7%. While inflation has drastically declined the past few years, it has put together a solid rebound higher in recent months, seen below. Rising food and energy costs are responsible for the growth.
"According to preliminary estimates, energy prices are likely to fall 5.0 percent, compared to a 5.9 percent drop in April. Food cost is estimated to rise 1.4 percent after a 1.2 percent increase in April.

In addition, prices of services are expected to accelerate slightly to 1.5 percent from 1.4 percent in April," according to Trading Economics.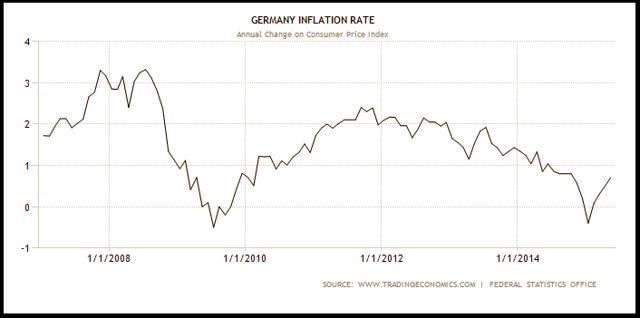 Moreover, analysts believe that European Central Bank stimulus measures are also improving sentiment around the economy. In June, the consumer confidence figure came in at 10.2, above the previous month's reading of 10.1, while also exceeding estimates for 10. A reading above zero signals optimism. Since the start of the year, when stimulus measures were announced, sentiment has risen significantly, seen below. Stimulus measures look to be both reflating the underlying economy, as well as aiding sentiment.
"The inflation data supports the fundamental argument that ECB QE [quantitative easing] has perhaps had more success in terms of engendering reflation than many had anticipated," according to Reuters.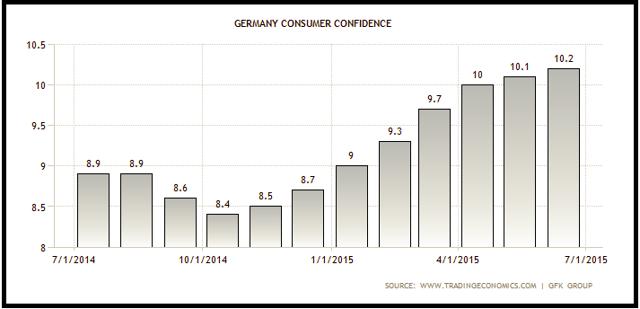 Finally, government bond yields have risen as both the economy and inflation measures improved. The German 10-year bund price fell close to 2% after the inflation announcement on Tuesday. Additionally, it has fallen nearly 5% this year as economic data improved. With investors' pricing in higher interest rate expectations, government bonds across the euro area could continue to sell off.
"This is an ongoing repositioning post the May rout. The yield moves are exacerbated by limited liquidity pointing to the fact that there may be additional investors that have yet to exit bullish positions," according to Reuters.
As the German economy improves, alongside its euro area peers, interest rate expectations will continue to rise. Most recently, the pace of inflation has put together a strong recovery. Moreover, consumer sentiment has risen as stimulus measures look to be having a tangible effect on the economy. As government bond yields across the euro area continue to rise, the euro should strengthen further.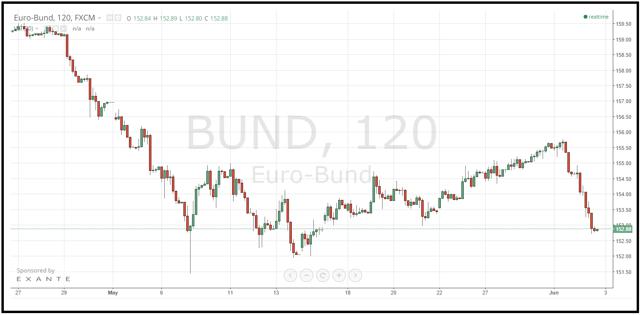 Data provided by Trading View
Disclosure: The author has no positions in any stocks mentioned, and no plans to initiate any positions within the next 72 hours.
The author wrote this article themselves, and it expresses their own opinions. The author is not receiving compensation for it (other than from Seeking Alpha). The author has no business relationship with any company whose stock is mentioned in this article.