I am writing this article today after dwelling for too long on what I believe is the next inevitable disaster. This is not new news nor is it something that only a seasoned Economist could pick up on. Recently, there has been a handful of research reports and statements that highlight the economy's narrowing distance from the edge. Research out of HSBC has likened the economy to an "ocean liner without lifeboats." Premature rate rises by the FED alone could trigger the next global crisis.
If it isn't already apparent, some assets are heavily mispriced. Equities are still hitting all time highs after a bull run that has lasted in some respects almost six years. The market valuation of liquid rates has garnered responses from the likes of Warren Buffett and Bill Gross. Quoting Gross, the German Bund is the "short of a lifetime." The combination of flat-lining rates with massive QE programs has had dire consequences in investment allocation, as seen in the investor flight for yield. Debt has soared and deleveraging has not occurred. We are now officially 40% 'more indebted' as an economy than we were in 2008.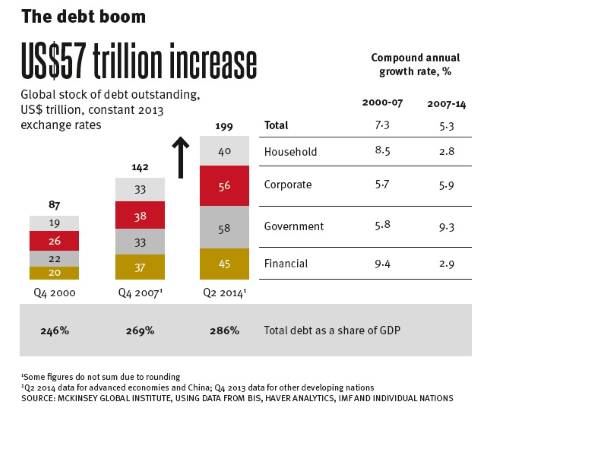 To be clear, there is no core issue with debt, or leverage for that matter, it's the lack of productivity improvements or internal investing being done. Vast piles of 'cheap' money are being thrown at share buybacks and mergers under the wise guidance of investors looking for pumped up EPS figures to better their own positions. This is just not the same as training a workforce or investing in business infrastructure. I would argue that share price valuation would do little to reflect this as compared to a massive buyback programme. I have heard investors say that they no longer trade on company fundamentals, for the most part I believe this is true. Fundamentals are still very much in play, but, market sentiment is dominating overall with economic data releases being the focus for trigger fingered traders.
I want to touch briefly on Oil - the black gold - it still amazes me with the attraction it has to retail investors on the back of its self fulfilling, and I must stress, temporary recovery. I understand that it is a crucial commodity with finite supply, but price simply does not recover that quickly when chronic oversupply continues with very minor shifts in inventory revisions. More liquids are being pumped out than ever, with no signs of slowing, rig counts and Cushing storage barrels aside. This is just another true example of mispriced assets, sentiment is at play here, and markets are rising on firm oil prices.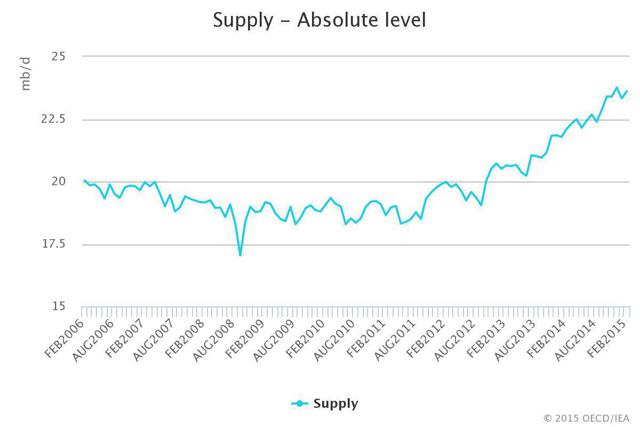 There is a large focus on data releases that capture shorter-term fluctuation such as inventory predictions, but it seems investors are yet to take a step back and look at the bigger picture.
Turning back to the wider economy, the most worrying aspect from my perspective as a quantitatively inclined individual is the disappearing liquidity. I liken it to a dehydrated sailor adrift in the sea, water everywhere, but nothing to drink. High frequency trading firms (HFTs) have now formed 1/3 of the UK trading volume and more alarmingly 3/4 of US volume. With front running, dark pools and all the tricks in the book, liquidity has all but vanished with bid/ask depth reducing on even the most liquid assets. Cast your mind back to the more recent flash crash of October 15th 2014, expect to see more of this as a symptom of this chronic liquidity issue. Expect sharp and violent moves in liquid markets as we approach the liquidity trap. (See the 10yr T-Note below)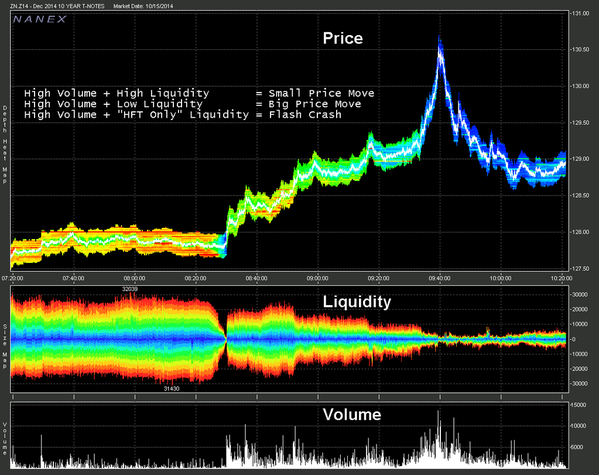 As liquidity tapers off and volume spikes, we see violent moves as measured in the market that is extremely unusual in such short time frames.
I am looking for in the coming months:
Heavy & sustained retraction in equities
Sharp moves in currency and rates including fall in US dollar and a fall in yields
Retraction in oil prices
Strong growth in Gold and volatility tracking ETFs
A change in market structure, more specifically, new HFT regulations
I see no reason for the equities market to remain at the current levels and for gold not to be seen as a haven. There is likely to be a ban on HFT front running, spoofing or similar de-stabilizing activities (from a liquidity perspective).
Events are not set in stone, so signs that the market storm could be approaching are as follows:
The most prominent sign of my market outlook beginning would be the sharp drop in global equity markets, with flash crashes in Bonds and FX market. Global news will be white washed with a bearish tone and a consensus on bubbles having 'popped'. Gold will begin to appreciate quite rapidly as investors seek a safe haven and volatility should be through the roof as investors attempt to ride out the drop.
There is a substantial chance that these events could be mitigated with strong market structure reforms (as opposed to further monetary reforms). If interest rates were to be pushed higher via structural reforms to lower excess savings, such as increasing retirement age, there could be a more positive outcome. The FED holds the keys to success with it being most likely to next raise rates; however, it must avoid failing like the ECB did in 2011.
In terms of preparation for the portrayed events, I would simply consider what your current (and to be) future exposure is to the various asset classes. I am not going to run through how to construct a diverse portfolio, but I will touch on some additional ideas outside of the typical advice and what I mentioned earlier.
Potential investment opportunity:
Dividend Funds
Foul Weather Funds
Infrastructure Investment Funds
I would avoid:
Bond Funds
Money Market Funds
Large-Cap Funds
Quickly covering off some of the more questionable points: In not wanting to completely cease equity market exposure, Dividend Funds could be a suggestion due to lower volatility as compared to the typical growth fund. I recommend avoiding majority of bonds as these I believe will be at the core of the next recession. Finally, Infrastructure Investment Funds, the AIIB (Asian Infrastructure Investment Bank) is putting aside colossal sums of money to fund the new 'silk road', this will be a long-term growth area.
Again, I must stress these are my predictions and formulated opinions. It is your duty to further research and examine your exposure. Simulate these events, the more severe the better - are you comfortable with the potential outcome?
However you manage your investments moving forward, just remember one quote:
"The market can stay irrational longer than you can stay solvent" - John Maynard Keynes
I wish all investors the best in the turbulent times ahead, stay vigilant as market structure changes.
Disclosure: I/we have no positions in any stocks mentioned, and no plans to initiate any positions within the next 72 hours.
I wrote this article myself, and it expresses my own opinions. I am not receiving compensation for it (other than from Seeking Alpha). I have no business relationship with any company whose stock is mentioned in this article.