The U.S. Economy
The U.S. housing market appears to have regained its stride after the cold winter according to recent data on new and existing homes sales. Existing home sales accelerated back above a 5 million unit seasonally adjusted annual sales pace in March and clocked-in at 5.04 million units during April. In January, existing homes were changing hands at a 4.82 million yearly rate.
The seasonally adjusted annual rate of new home sales has also been choppy in recent months although the upward trend that developed last summer remains intact. Buyers purchased new homes at a 517,000 unit yearly pace in April. This represents a nearly 30% increase in the sales tempo as compared to July of 2014.
An often cited factor impeding more robust sales during recent years is a limited inventory of available homes for sale. With respect to existing homes, the inventory figure is climbing. The total inventory of existing homes for sale was 2.21 million in April representing an increase of almost 20% since the end of last year. This data is not seasonally adjusted and more sellers tend to list their homes during the warmest months so inventories experience an annual cycle that tends to peak in the summer. The most recent inventory peak of 2.35 million units in July 2014 was 5% higher than the 2013 peak, and given the robust rise over the past four months, inventories may be on pace to surpass last year's high.
The ongoing drop in homes with mortgages that are in a negative equity position is a likely driver of more houses coming to market. Data from CoreLogic showed that 10.8% of mortgaged residential properties were underwater during the fourth quarter of 2014. This compares to 13.4% of residences where borrowers owed more than the house was worth at the end of 2013.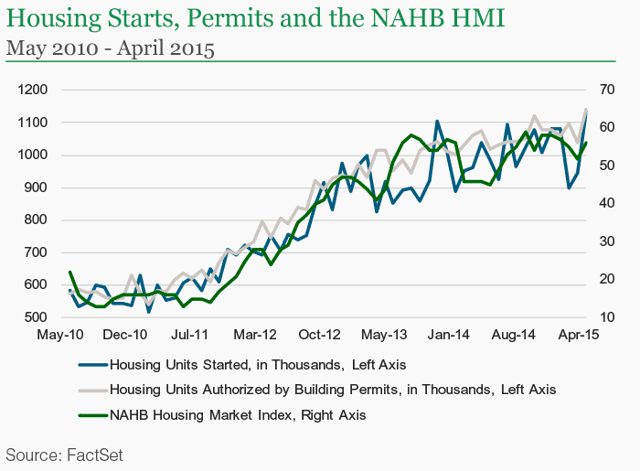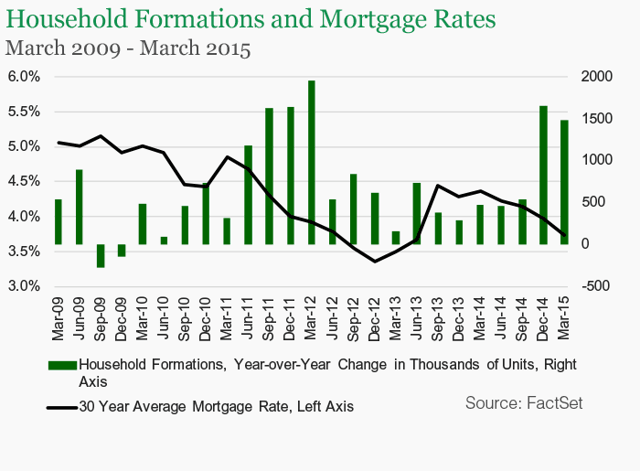 Prospective buyers interested in a new home could have a wider selection to choose from in the months ahead as well. Building permits and housing starts both rocketed higher during April and achieved new post recession highs. This coincides with continued solid readings on the National Association of Home Builders' Housing Market Index. That index stood at 56 in April, a ten point increase versus the same time last year. A component of the index that gauges survey respondents' expectations for single-family home sales over the next six months rose to 64 in April. This aspect of the index has been oscillating around the 60 level since mid-2013 and reached its highest point of the post housing crisis environment in August of that year at 68.
Other factors that could help support housing market activity include rising household formations and still historically low mortgage rates. The year-over-year change in household formations has jumped considerably over the past couple of quarters. Borrowing costs also remain attractive with the 30 year average mortgage rate dipping back into the 3-4% range last year and hovering there through May. We suspect that there remains a healthy appetite for homeownership in the U.S., and while the first time home buyer population has been largely absent during this housing market recovery, the solid macroeconomic picture and tighter labor market suggest that this cohort may increasingly seek to become homeowners. According to the Census Bureau, 34.6% of individuals younger than 35 owned homes during the first quarter which is down from a peak of 43.6% during the second quarter of 2004.
The most recent housing data was certainly positive for the U.S. economy. This comes on the back of solid labor data and further advancement in the employment cost index. Conversely, data points regarding retail sales, manufacturing, and net exports have been weaker of late. In our opinion, all of this supports the view that economic growth in the U.S. is neither ready to fall markedly nor ready to take off.
Global Economy
Much attention was affixed to the United Kingdom during May as investors anxiously awaited results of this year's general election. David Cameron and his Conservative party emerged the winners despite polling data suggesting that opponent Ed Miliband's Labour party had the edge prior to voting. Investors' reaction to the result was generally positive and permeated currency markets as the British pound strengthened relative to the U.S. dollar, an important development given that the U.K. runs both a current account and budget deficit. That being said, uncertainty still exists in the market as Cameron has committed to holding a referendum on the U.K.'s European Union (EU) membership by the end of 2017. While the Conservative win is a sign that the population desires to follow through and vote on EU membership, current popular opinion appears to favor remaining part of the union.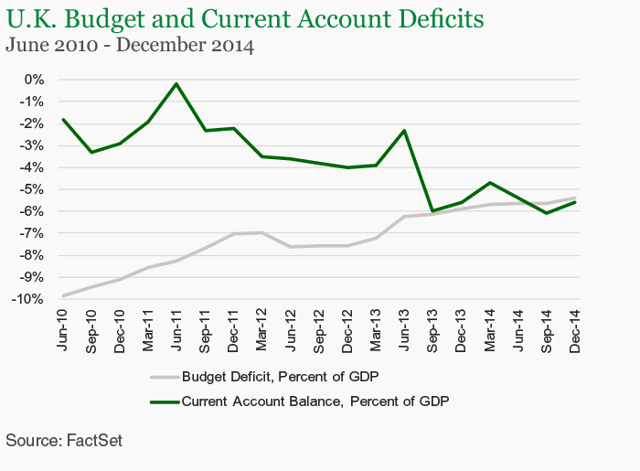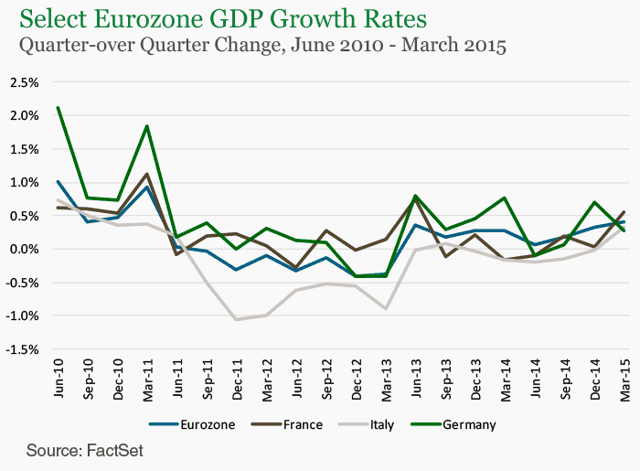 In Europe more broadly, recent GDP growth news served as a progress report for the region's economy. Eurozone growth improved modestly during the first quarter, rising 0.40%. This follows a 0.33% advance from October through December last year and was the third consecutive quarter of accelerating, albeit meager, growth. France and Italy were relative bright spots as GDP rose 0.55% and 0.33% quarter-over-quarter, respectively. This was the first positive quarterly growth reading in Italy since the third quarter of 2013. Germany, in contrast, stood out for being weaker. Real GDP slowed to 0.27% from 0.70% the prior quarter. Lower oil prices and a weaker euro were cited as drivers of the measured pick-up across Europe during recent months, however, it's likely that the impact of quantitative easing is also beginning to be felt. Close examination of quarterly GDP reports during the back half of 2015 should help clarify the degree to which significant monetary ease is reviving the European economy.
Our Perspective
Uncertainty surrounding global economic growth and shifting expectations regarding the direction of central bank policies, U.S. monetary policy in particular, remain key near-term drivers of financial market activity. Factors such as these increase the likelihood of volatility. As the broad U.S. stock market has quickly recovered from several recent shallow drops, valuations remain elevated as compared to recent years. That being said, we see little evidence of excesses in the market or economy that would need to be unwound. Regarding investor sentiment, there remain signs of complacency in the market that we are monitoring closely. In this environment discernment and flexibility are critical.
In portfolios geared toward investors that need capital growth, our focus is on fundamentally strong businesses that are not heavily reliant upon macroeconomic growth to drive sales and earnings. More specifically, we see value in businesses that we believe have control of their destiny and are taking share in large established markets or are creating new markets on their own. The goal is to identify companies trading at attractive valuations relative to their growth potential. In our view, reinvestment rate risk remains the key challenge facing long-term investors that need capital growth. Investing in companies with good fundamentals and tailwinds at their back should help investors combat this risk.
For fixed income investors and investors with a shorter time horizon or current income needs, we continue to focus on opportunities we are seeing in investment-grade corporate bonds. A selective approach to the below investment-grade corporate space is helping us find value there as well, however opportunities are becoming more scarce as investors reach for yield.
With regard to government debt, we continue to favor Agencies over Treasuries. In addition, we do not believe current yields in longer-term bonds are at levels to fully compensate for the risk that is present in today's interest rate environment and, as a result, our portfolios have a generally shorter duration than the benchmark. In our view, short-term and income-oriented investors should also explore equities that display stable fundamentals and are trading at attractive valuations. We believe companies that generate strong, stable cash flows and pay an attractive dividend could be compelling options for these types of investors in the current environment.
Source: FactSet. Analysis: Manning & Napier Advisors, LLC (Manning & Napier).