In previous articles, I argued that Sweden's stock market is significantly overvalued with a P/E ratio of 22.2, which is higher than the European P/E ratio of 16.5. However, I also argued that Norway's stock market is significantly undervalued at a ratio of 13, which is lower than the European ratio and also the Nordic P/E ratio of 20. In this regard, I propose that a significant pairs trading opportunity exists between the two markets by taking a long position on the iShares MSCI Norway Capped ETF (BATS:ENOR) and a short position on the iShares MSCI Sweden Index Fund (NYSEARCA:EWD).
When we look at the respective ETFs for Norway and Sweden's cumulative return since January 2012, we see that the two indices moved together up until the beginning of 2014, returning between 30-40 percent. However, returns have since deviated significantly with Norway showing a near 0 percent cumulative return since the beginning of 2012.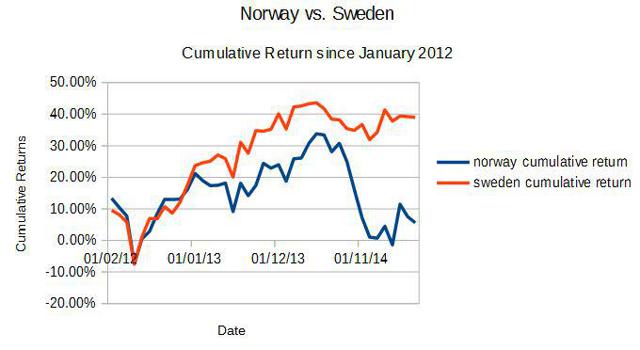 Source: Author's Calculations
Moreover, we see that while the 3-month standard deviation of both indices has moved more or less in tandem since January 2012, the volatility in Sweden's index has dropped to near zero, whereas Norway's standard deviation remains within historical norms. In this regard, this could be a possible signal that Sweden's stock market could be due for a change in volatility to the downside. With Norway's standard deviation decreasing, Norway's stock market could conversely be bottoming out.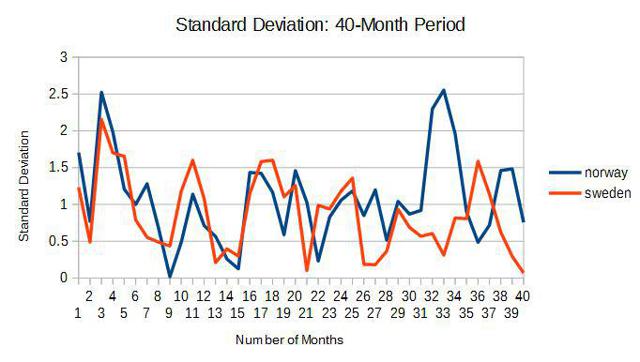 Source: Author's Calculations
I had previously pointed out that further euro weakness against the Swedish krona could harm Swedish exports to Europe. Moreover, concern of a property bubble in Sweden fuelled by lower interest rates could threaten growth still and a downturn in the same could lead to Sweden's stock market index going lower. Additionally, lower than expected growth could lead to further stimulus by the Riksbank, and difficulty in controlling inflation targets could exacerbate growth concerns further, which would translate to lower stock market returns. On the other hand, while Norway has hit a few speedbumps owing to the effects of lower oil prices, this could be a perfect buying opportunity. I had previously argued that Norwegian oil companies such as Statoil (STO) and Seadrill (NYSE:SDRL) trade at attractive valuations and have shown impressive returns of above 10 percent for 2015. The Norwegian banking system is also looking highly attractive, with banks in Norway being the best capitalized in Europe and financial services firm DNB (NASDAQ:DNBF) being up by over 22 percent this year.
To conclude, a long Norway/short Sweden pairs trade is looking attractive at this point in time, and I propose this could be achieved by taking a long/short position on the aforementioned ETFs. Alternatively, one could take a long position in oil and financial services firms in Norway while remaining short on the broader Swedish market.
Disclosure: The author has no positions in any stocks mentioned, and no plans to initiate any positions within the next 72 hours. The author wrote this article themselves, and it expresses their own opinions. The author is not receiving compensation for it (other than from Seeking Alpha). The author has no business relationship with any company whose stock is mentioned in this article.