The E-Mini S&P 500 slumped Friday on GDP coming in at 2.8 % when analysts' were expecting 3.00%. The rebuilding of business inventories added $56.0 billion contributing 1.94% to the GDP growth. Gross Domestic Product refers to the market value of all the final goods and services within a specified period of time. It is viewed as a reflection of the country's standard of living.
The FOMC last Wednesday adopted measures toward increased transparency by publishing the individual policymakers' forecasts for the federal funds rate. Federal Reserve Chairman Ben Bernanke suggested further that the US central bank may consider additional monetary easing. The central bank also announced that interest rates would remain near zero until late 2014. Regarding further stimulus, many economists feel that the Fed may intervene at a later date perhaps more in the area of mortgage debt instruments.
"Operation Twist" will continue so long as the Federal Reserve regards it effective. US Consumer Confidence was up to 75 in January from 69.9 in December! On Monday, we look for Personal Income to come in about 0.4% and Consumer Spending about 0.1% or unchanged. Thomson Reuters reported that out of 152 S&P 500 companies reporting earnings, 59% exceeded estimates. Ford Motor Co. (NYSE:F) posted fourth quarterly earnings under forecasters expectations. Procter & Gamble Co (NYSE:PG). and Chevron Corp. (NYSE:CVX) were also disappointing.
We look forward to the Euro Summit in Brussels on Monday for a deal to perhaps evade a Greek default. Negotiations with private creditors still have not reached an accord. The agreement may be close, but many think that the actual deal may occur on Monday at the summit in Brussels. The troika of foreign lenders would then submit a report of the progress in Greece, then perhaps the $130 billion euro bailout may be dispersed.
The European Union ((NYSEARCA:EU)), International Monetary Fund ((NYSE:IMF)) and the European Central Bank (ECB) are in Athens discussing a supplementary budget to reach the financial goals for 2012 in Greece. There is talk of a potential default as inevitable, that if not now, then later. With this thought in mind, some leaders want to prevent any contagion by constructing a 'firewall' around Greece. The domino effect of a default would still be difficult to contain. The banking systems are interwoven to a certain degree and most countries carry the debt instruments of many other countries.
A potential unorganized default would still create uncertainty and fear in the marketplace! Germany is trying to persuade Greece to allow the management of its budget policy to fall into the European institutions. The fiscal policies may need to be monitored by outside resources to keep the fiscal goals on target. US Treasury Secretary Timothy Geithner suggests to the euro leaders that they must increase the bailout money in order to create a 'firewall'!
Fitch's credit rating agency downgraded five euro nations Friday as Italy, Spain, Belgium, Slovenia and Cypress saying that they lacked flexible financing in the debt crisis. This leaves Germany with the only AAA credit rating. Previously, Standard & Poor's credit rating agency had downgraded nine nations including France and the European Financial Stability Fund (EFSF) itself.
Japan purchased $3.7 billion euros of EFSF bonds last week. Norway may be hesitant now to invest in the funds debt instruments and China may be re-evaluating its foreign investment money. Italy is considering a sale program to include state-owned utilities and property assets. Spain may also construct such a program with hotels, airport concessions, and lottery businesses.
The US Dollar has been pummeled this week on the euro hopes boosting the euro to $1.3237 today. It is thought that the weaker euro may lend to better export demand in the eurozone as goods become cheaper. Italy and Spain do seem to profit from increased exports on their smaller products. Germany, on the other hand does not with the big ticket items. The G-20 meets in Mexico on February 25th and 26th! The sentiment of the G-20 is toward building global financial stability by raising further contributions to increase the IMF's support monies as rescue aid. Mexico, Brazil and China may be advocating further support while the US wants to see more from the euro Zone in terms of stability and containment before any commitments. After the G-20 meeting, on March 1st and 2nd, the EU leaders may meet to discuss the European Stability Mechanism (ESM) which is deemed the permanent fund to manage the debt crisis.
Iran had confirmed that it was enriching uranium inside a mountain! The sanctions that the European Union wishes to impose on Iran oil shipments has caused the threats from the oil producing country to possibly block the Strait of Hormuz. Since, the EU met Monday to decide on the six month grace period. Iran, on the other hand has come out with their own sanctions to cease with their oil shipments to the eurozone. They have also invited UN nuclear inspectors to talks! China and India have offered to increase their Iran oil orders to compensate for the euro orders. Iranian President Mahmoud Ahmadinejad may have reduced tensions with the UN invitation, but the situation is still vulnerable.
On the stock side: JP Morgan Chase and Co. (NYSE:JPM) was down 0.59 % to $37.27. Citigroup Inc. (NYSE:C) was up 1.65 % to $30.88. Bank of America (NYSE:BAC) was up 0.07 % to $7.30. Alcoa Inc. (NYSE:AA) was up 0.77 % to $10.44. Boeing Co. (NYSE:BA) was down 0.71 % to $74.78. Caterpillar Inc. (NYSE:CAT) was down 0.03 % to $111.28. General Electric Co. (NYSE:GE) was down 0.10 % to $19.05. Halliburton Co. (NYSE:HAL) was up 3.02 % to $37.25. Hewlett Packard Co. (NYSE:HPQ) was down 0.14 % to $27.95. SPDR Select Sector Fund - Financial (NYSEARCA:XLF) was up 0.50 % to $14.15.
E-Mini S&P 500 Chart.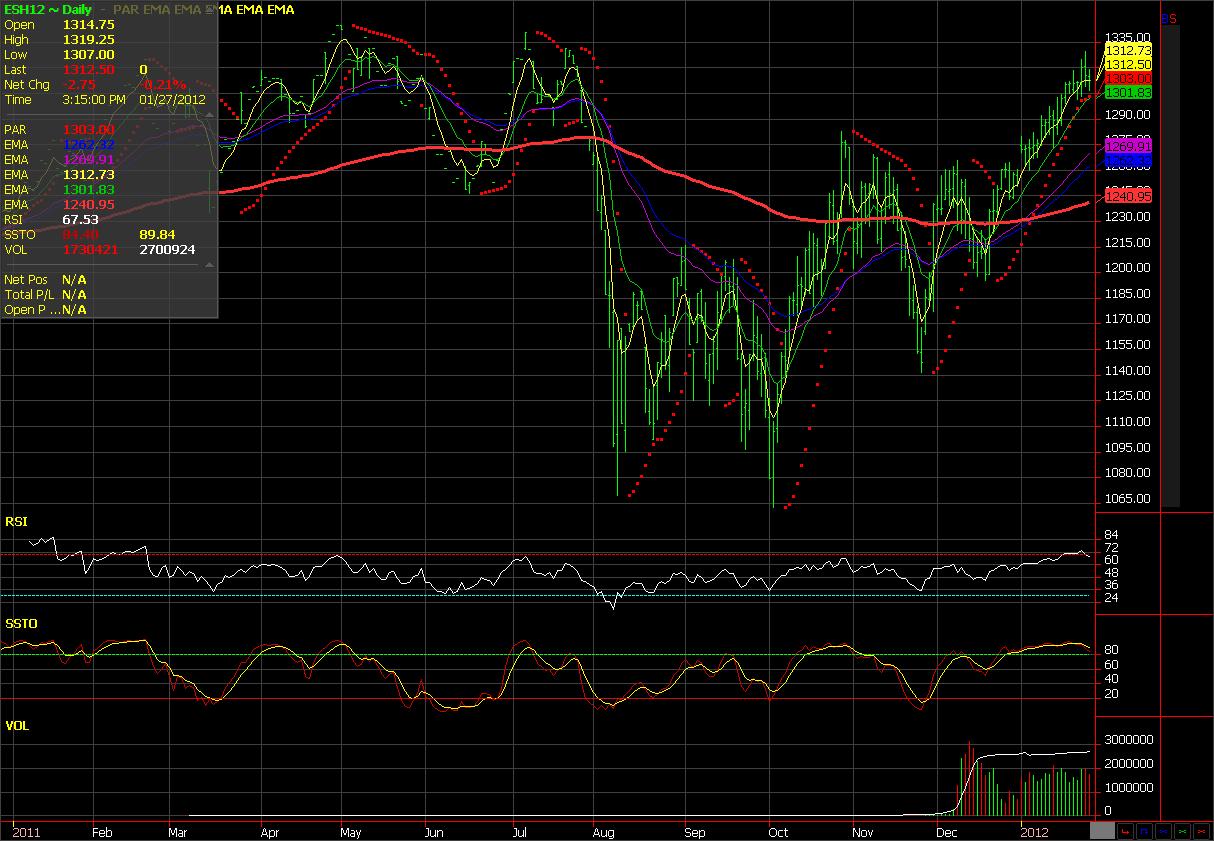 Monday, what to expect! We maintain a bullish bias unless the E-Mini S&P 500 penetrates $1303.00! Monday, we anticipate an inside to lower day to an outside day! Today's range was $1319.25 - $1307.00. The market settled at $1312.50. Our comfort zone or point of control for this market is $1313.00. Our anticipated range for Monday's trading is $1317.50 - $1303.50.
Disclosure: I have no positions in any stocks mentioned, and no plans to initiate any positions within the next 72 hours.