Containerships are cargo carriers that are characterized by transporting their cargo in truck-sized intermodal containers with capacity measured in twenty-foot equivalent units or TEUs. Approximately 90% of freight worldwide is transported by containerships.
Some of the containership companies traded in the U.S. market include Seaspan Corporation (NYSE:SSW), Costamare Inc. (NYSE:CMRE), Diana Containerships Inc. (NASDAQ:DCIX), Danaos Corporation (NYSE:DAC), Box Ships Inc (NYSE:TEU), Ship Finance International Limited (NYSE:SFL), and Navios Maritime Partners L.P. (NYSE:NMM).
Almost two months ago I wrote a detailed article focusing on the tug of war going on in the containership sector entitled Container Shipping Market Macro Update. Here are some brief highlights and you can refer back to the article for more in depth analysis on these issues.
Pros
Declining oil prices, currently trading around multi-year lows, are giving a boost to household budgets, which, in turn, will benefit global trade and thus containership demand.
Consumer confidence figures which are around 10-year highs in the USA and eurozone as well as recovering in Japan.
The falling Japanese yen is inspiring greater exports of finished goods out of Japan.
The strengthening dollar should bode well for U.S. consumption of overseas products going forward.
Emerging economies, which the IMF expects will grow at 4.3% in 2015 and increase to 4.7% in 2016, should also provide some support for increasing demand in the containership sector.
Clarksons reported that "This year world seaborne trade is projected to represent 1.5 tonnes of cargo for each person on the planet, up from 1.0t in 2000."
Clarksons further notes the presence of a multiplier effect showing that "over the last 5 years the growth in world seaborne trade has clocked in on average at 1.13 times more than the growth in the world economy."
Oversupply of vessels has plagued the market over the past few years. But this trend may be coming to an end (recent developments have called this point into question which is the point of this article).
A thinning order book in the small and medium containership sizes and rapid demolition should tighten supply (this still looks to be happening and we will address this later on in the article).
Contributing to the tightening supply is slow steaming, which looks to be here to stay.
Cons
China has been responsible for 35% of world containership demand growth over the past dozen years.
Recently, China experienced its heaviest downturn in exports in several years.
Contributing to this decrease in Chinese exports are weakening currencies in two of its major export markets, the eurozone and Japan.
As a consequence of all this, the Shanghai Containerized Freight Index has suffered.
This could be a precursor to a drop in worldwide global containership rates if this trend continues.
I concluded that "there are many positive factors that appear to be lending support to the containership market: solid GDP growth forecasts, increasing consumer confidence, stimulative growth measures in developed economies with lots of purchasing power, a thinning orderbook, slow steaming, and containership supply and demand trending toward equilibrium.
However, one negative factor weighs heavily on my mind. That is the fact that Chinese exports have been a large driver of containership demand. That demand relies on foreign consumption. Two major economies are losing purchasing power, and China is in the midst of a historic transition. This has created a bit of a tug of war, and it remains to be seen which side will win. Watching all these factors going forward should provide a bit of insight as to who will emerge victorious from this historic battle."
So that is a brief breakdown of the tug of war that I noticed going on in the containership market. But since that time a major development in the orderbook has forced me to take the supply side correction off the "pro" commentary and place it in the undecided section with the potential to move it over to the "con" category.
I felt it was important to begin examining this issue and keep readers abreast of these developments since a disequilibrium can result in decreased rates.
The potential problem comes in the form of a large number of 8,000 TEU vessels and bigger being ordered in greater numbers which could create an oversupply problem going forward.
It is worth noting that not all companies deal in these large containerships. Danaos, Diana Containerships, and Boxships all have fleets with the vast majority (and in some cases all) under the 8,000 TEU class. Since not all ports are accessible by these large containerships an oversupply problem won't be as pronounced for these companies. In fact, it appears that supply is actually tightening for these smaller ships with very little ordering going on for the 6,500 TEU and under classes.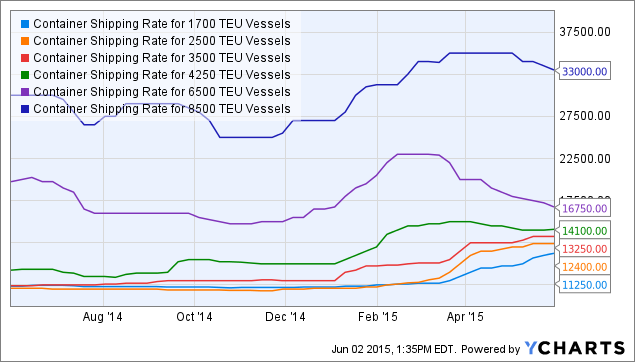 As a result rates have remained stable for vessels under 6,500 TEU as volatility has started to manifest in the larger classes.
Also worth noting is that Navios Maritime Partners has all their containerships (which are all above the 6,500 TEU class) contracted for several years. Two are set to expire in 2018, five in 2023, and one in 2027, so their lucrative rates are locked in for quite a while. They also have an option for another vessel with an expiration in 2027 as well.
Now, on to the latest developments.
Clarksons recently reported that "substantial boxship deliveries continue to drive robust supply growth (the 8,000+ TEU fleet has expanded by 6.6% in the year to date) whilst 'cascading' opportunities appear to have become more difficult to find."
So why are the big boxships gaining favor? Well it might not be so much that they are gaining favor but are being utilized as a tool in a sector seeing increasing competition and as a result driving down rates.
Once again Clarksons notes that "lower bunker prices in 2015 have no doubt provided shippers with additional leverage to drive down rates. Furthermore, with increasing numbers of 'mega' boxships deployed, the perceived need to maintain higher utilization levels on these vessels seems to have increased competition. Additionally, there's a structural trend too; the lower units costs derived from operating, larger, more efficient vessels seems likely to be leading to a long-term downward trend in spot rate levels."
If a picture is worth a thousand words then the following graph should sum this situation up nicely.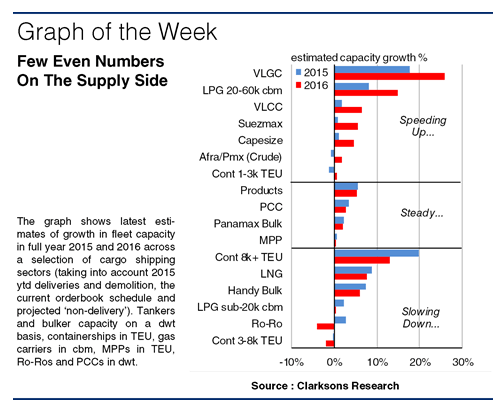 Source: Clarksons
Notice the 1-3k TEU class has remained under control as well as the 3-8k TEU class. In fact, the 1-3k TEU class will see a decline in 2015 and the 3-8k TEU class will see a decline in 2016. But the 8k+ TEU class has seen some significant activity with 20% projected growth in fleet capacity for 2015 and 13% in 2016. In fact, BIMCO reports that 79% of the newly introduced capacity are ships with a capacity larger than 8,500 TEU.
Even more astounding is the fact that orders for certain classes have recently surpassed the amount on the water.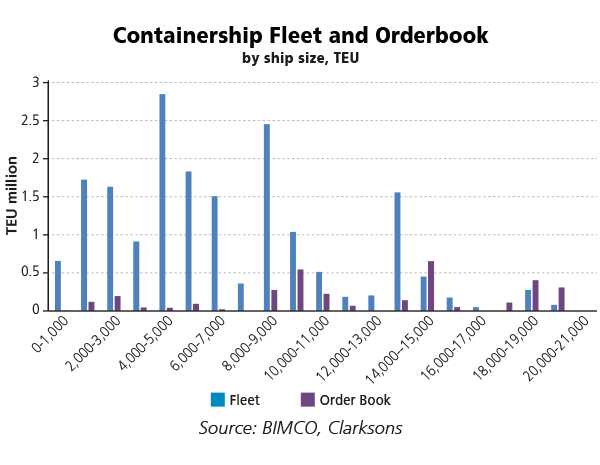 Looking at the orderbook by TEU class we can see that the 14,000-15,000 TEU class has a significantly higher amount of vessels on order than on the water. The same holds true for the 18,000-19,000 TEU class as well as the 20,000-21,000 TEU class. Conversely, look at the scant orders for smaller vessels vs. the amount on the water.
The profitability of these ships depends on two very important factors. First, that rates remain at attractive levels. Second, full utilization of their cargo capacity. With so many large vessels being introduced into the market and increasing TEU capacity it looks like rates could suffer as well as utilization if tonnage for these vessels isn't kept under control.
Recently World Maritime News conducted an interview with Mr. Peter Sand, Chief Analyst at the Baltic and International Maritime Council (BIMCO) and asked about the factors that would contribute to rate stability and a recovery for the larger classes. Mr. Sand stated that "the key to this is likely to be the supply side, as this is where owners and operators can improve the fundamental market conditions. Making sure slow-steaming in all forms continue, limiting orderings and taking less efficient tonnage out of the market."
Right now it looks as if slow steaming is here to stay and demolitions have remained at attractive levels. The final piece of the puzzle is limiting orders and that could be where suppliers might find themselves in trouble if they don't pay attention to past mistakes like those recently committed in the drybulk sector.
Conclusion
Going forward it looks like we are going to have to keep our eye on the supply side story for the larger containerships. I sincerely hope that companies get the memo that more ships of a certain class don't translate into more profits if an oversupply creates disequilibrium in the market. In fact, as we have seen in the drybulk sector, it can have the opposite effect resulting in significant losses. So if you find yourself invested in one of the companies that utilizes large containerships it would be wise to check in frequently to see how the orderbook is progressing which could have a major impact on rates going forward.
I welcome all questions/comments and invite you to follow me on Seeking Alpha as I continue to cover all aspects of maritime trade. Thank you for reading.
Disclosure: The author has no positions in any stocks mentioned, and no plans to initiate any positions within the next 72 hours.
The author wrote this article themselves, and it expresses their own opinions. The author is not receiving compensation for it (other than from Seeking Alpha). The author has no business relationship with any company whose stock is mentioned in this article.
Editor's Note: This article covers one or more stocks trading at less than $1 per share and/or with less than a $100 million market cap. Please be aware of the risks associated with these stocks.