A letter was recently issued by British Petroleum (NYSE:BP), Royal Dutch Shell (NYSE:RDS.A) (NYSE:RDS.B), Statoil (STO), Eni (NYSE:E), Total (NYSE:TOT), and BG Group (OTCQX:BRGYY) and it was issued to the Executive Secretary of UNFCCC. For those who don't know, UNFCCC stands for United Nations Framework Convention on Climate Change. Below are three images that collectively contain the letter. And I ask questions, provide analysis, and encourage readers to respond with their own thoughts and opinions.
Is this letter from many of the largest oil companies a head scratcher? Why do you think it was written? I personally feel it is indeed a head scratcher. Most of the large oil and gas companies are reeling right now. Their development projects are barely breaking even, so it does not make much sense to stimulate carbon pricing. Somebody has to pay for such carbon pricing and I don't believe any of the regional economies can handle it just yet.
Is there an unwritten agenda, or hidden agenda, behind sending this letter? What benefit does the submission of this letter provide for the oil companies? Well, one benefit is that oil and gas consumers will view it positively, at least until they eventually hear about the costs. Governments will view it positively as well, but I wouldn't bank on any helpful reductions to regulations or speedy permit approvals. The letter itself calls for more regulations, not less.
What will be the long-term impact of this letter? Frankly, little will probably come from it, and maybe that is precisely why it was written. Governments are trying to stimulate economies right now, not tax them. Note that the letter was addressed to a United Nations committee, which has no authority to collect carbon fees or taxes. Only if individual governments act could there be change, and I suspect that there will be little action. Even if the letter were written directly to governments, vs. indirectly, I still believe it would have little impact.
Note the response from Exxon Mobil (NYSE:XOM) VP Robert Franklin: "While we have had discussions with European majors, and we wish them well, we don't believe we need to join this scheme." It sounds to me like Robert is aware of where this can lead. Such letters can snowball into growing taxes that eventually cripple the ability of oil and gas companies to generate profits. Keep in mind that Robert was hired to serve Exxon Mobil shareholders, not the public.
Chevron (NYSE:CVX) had been approached to join this letter initiative but had no enthusiasm for the proposal. Their position was that a domestic U.S. agreement on carbon pricing was still "light years" away. I'm not sure I buy Chevron's excuse here for not contributing. I say this because the point of the letter is to address, if not accelerate, the carbon pricing timeline. It doesn't make sense to complain that carbon pricing is too far away to bother with. The response doesn't add up, especially since Chevron operates in far more countries than just the U.S.
Finally, I should mention that Exxon Mobil's Chief Executive Rex Tillerson indicated that if a carbon tax was imposed it should be revenue-neutral as most economies around the world are unable to shoulder the cost burden of a carbon tax. Without a carbon tax, and with oil companies barely breaking even right now, how exactly do you readers see the carbon pricing function? Said another way, if oil and gas companies do not have the profits to pay for such carbon taxes, and if consumers shouldn't be saddled with those cost, then how can the costs get paid? Answer: They can't.
How, when, and by how much might carbon pricing impact the price of oil (NYSEARCA:USO) and gas (NYSEARCA:UNG) in the United States? I welcome your response to this question, especially as it pertains to natural gas. In my opinion these types of letters could eventually lead to policies that cause cost increases of about 10% for oil/gas and 25% for coal. Those are my estimates anyway. A key question is whether this letter could be used to spur Congress into continuing the 30% tax credits for solar installations. My guess is that it could indeed help. I wouldn't be surprised to see the reduction from 30% down to 20% instead of 10% after 2016.
As the letter seems to imply, are the oil and gas companies really supporting the installation of solar panel systems by companies such as Solarcity (SCTY) and Vivint Solar (NYSE:VSLR)? Yes, it appears that they are. The letter flat out mentions renewables, so I'm not sure how anybody could argue against it. It looks to me like the oil and gas majors are betting that their support of carbon pricing will hurt coal more than it helps solar, which in turn will create a net benefit for oil and gas companies. Risky bet, though -- don't you think?
Again, I look forward to all of your comments. Don't let my article comments influence you. Try to focus on the questions, not my proposed answers/comments, and let's see where this discussion takes us.
Here is the letter broken down into three parts: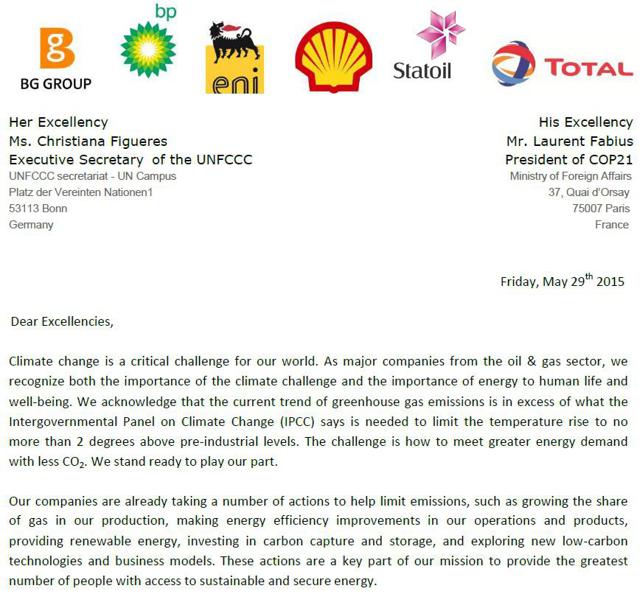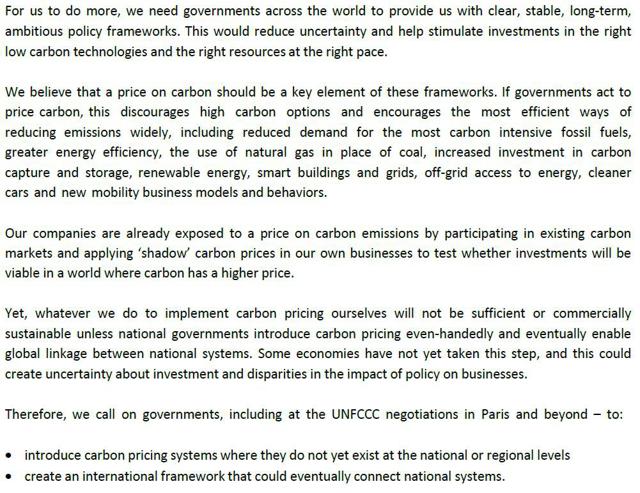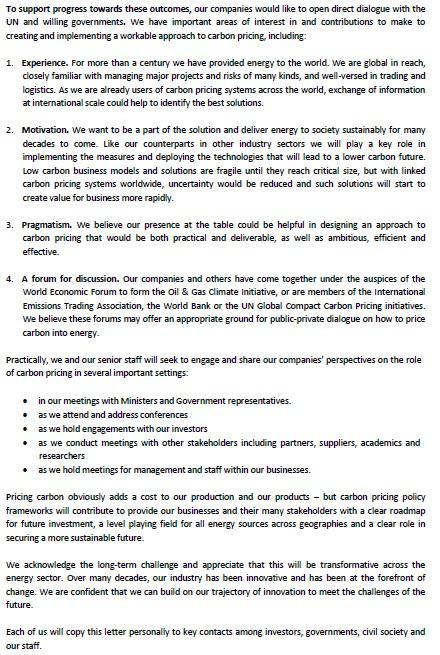 Disclosure: The author is short SCTY. The author wrote this article themselves, and it expresses their own opinions. The author is not receiving compensation for it (other than from Seeking Alpha). The author has no business relationship with any company whose stock is mentioned in this article.
Additional disclosure: I have a small short position on SCTY and a small long position on UNG.