Fed's chairman, Ben Bernanke, recently announced that the Fed's intention is to keep the interest rates close to zero until late 2014. Bernanke also publicly announced the mini-poll among the Federal Market Open Committee members. According to Fed's mini-poll, 11 out of 17 members believe that short-term interest rates will be at or below 1%. Naturally, the stocks ended the week with significant gains. In fact, several stocks made it to new highs.
When we look at the sectors, commodity stocks were the best performers, followed by conglomerates and industrial companies. The optimism over the Fed's expansionary monetary policy and the expectation of cheaply available funds until late 2014, combined with the "January Effect," has pushed some stocks to overbought levels.
A stock is usually considered overbought when the relative strength index reaches above 70. That does not mean that these stocks are expensive stocks. I would rather consider them as momentum stocks, supported by short-term catalysts. Nevertheless, overbought stocks signals a red flag for contrarian investors. The following is a brief analysis of 7 stocks in the overbought territory. Let's see, what is driving these stocks, and whether they are still worth to consider after making significant gains recently.
Apple (NASDAQ:AAPL)
Apple, the most widely followed stock Jim Cramer says he has ever seen, reported a blowout quarter. Apple's last quarter EPS of $13.87 was $3.79 higher than the consensus estimates. Its revenue of $46.33 billion was almost 75% higher than same period revenues in the previous year. That was unexpectedly great news for the Apple shareholders, particularly given Apple's earnings miss in the previous quarter.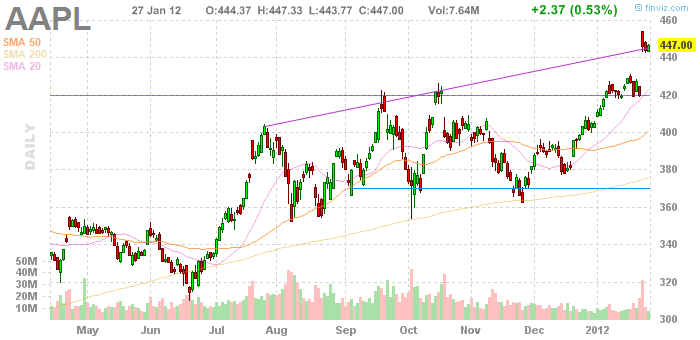 Apple is now sitting on almost $100 billion of cash and equivalents. Some claim that a fat dividend check is on its way, whereas others think that Apple might consider acquiring other companies. What will be the next move for Apple management is of interest to almost every investor. After all, Apple became the world's largest company, claiming Exxon's throne, after the earnings-boosted rally. I have been bullish on Apple, since 2011 June, when the stock was trading near the bottom of its valuation, at a price of $320. At that time, my fair value estimate for Apple was around $430. As of this week, Apple has surpassed my previous target. However, it also significantly boosted its earnings numbers. Based on my FED+ valuation, my new target for Apple is $750. I think Apple is very likely to reach a market cap of $1 trillion within the next few years. Therefore, I rate it as a buy, even though the stock is in the overbought territory.
Bank of America (NYSE:BAC)
Bank of America was the loser stock of 2011. Its complicated balance sheet was just one of the many reasons investors were dumping their BAC shares. I was pretty bearish on Bank of America until the Warren Buffett deal. Since the Oracle of Omaha invested near $5 billion in preferred stock, I changed my stance on the company. After all, the investment Guru has an excellent record of profits.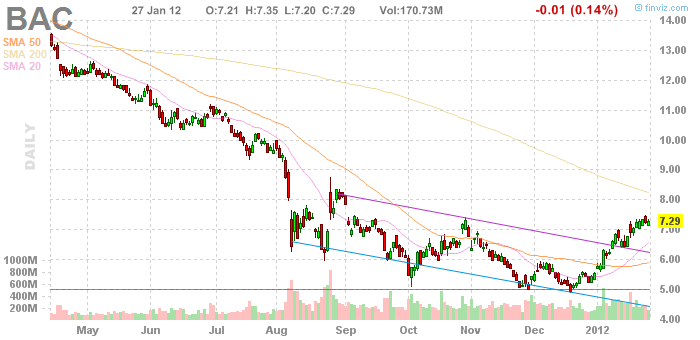 Even though the stock is in the overbought territory, Bank of America is still trading well-below its 52-week high. Looking at the graph above, one can see that the stock has multiple-bottomed, where $5 is a strong support level. At a price of $7.3, Bank of America is trading at 40% above its support level. It returned more than 30% in the last 4 weeks. It is quite hard to see where the stock is heading next, but one thing for sure is that Bank of America is too big to fail. Besides, banks are among the top beneficiaries of the near-zero short-term interest rates. After all, lower cost of borrowing means higher profitability for them. Estimating a fair value for a bank such as Bank of America is almost impossible, but it can be a great speculative play for this year. I would wait for a pullback, though.
Netflix (NASDAQ:NFLX)
Netflix was not just a loser stock; it was the disaster of 2011. Between July and December, Netflix stock literally fell off the cliff, losing almost 80% of its market cap. I was hoping that its earnings report would attract investors, and the stock will be stabilized near the $120-$130 range. However, its earnings report was disappointing, and investors were throwing out its stock like a trash. Netflix lost another 40% following its 2011 Q3 earnings report.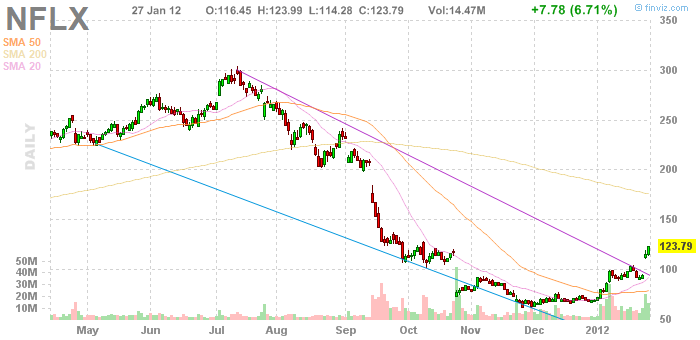 Whitney Tilson was among contrarian investors who decided to go long Netflix, while the stock was trading below $100. He turned out to be right, as Netflix is trading near $120s now. Apparently, it pays to be a contrarian investor. The 4th quarter earnings report was well above analyst estimates. Both earnings and revenues significantly outperformed the consensus estimates. With a short float of 17%, Netflix is among the most-shorted stocks in the market. A good earnings report, combined with a short-squeeze, pushed Netflix to its current levels. I think Netflix is on its way to double this year, and any price below my fair value estimate of $170 offers a fair entry level.
E. I. du Pont de Nemours and Company (DD)
DuPont is one of the oldest companies in the U.S. history. The diversified chemicals giant, which was founded in 1802 as a gunpowder mill, became a global science and technology company worldwide. It operates in several segments, but is known best for its products in agriculture and nutrition. DuPont is also famous for the "DuPont Analysis" which breaks the return on equity into three parts measured by profit margin, asset turnover, and equity multiplier.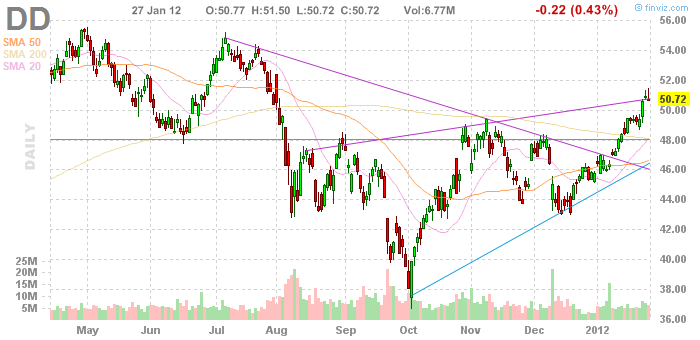 DuPont was subject to a massive sell-off in the 3rd quarter. Between July and October, it lost almost 45% of its market cap. The double-dip recession rumors drove the stock all the way down to $38. Since then, DuPont is experiencing a strong recovery, and it is trading close to its 52-week highs. Based on a conservative EPS growth estimate of 10%, my FED+ fair value estimate for DuPont is $57 - $70 range. Thus, DuPont still has at least 14% upside potential. (Full analysis, here)
Freeport-McMoRan Copper & Gold (NYSE:FCX)
Freeport-McMoRan explores, mines and produces mineral resources, primarily copper and gold. The company holds interests in various properties around the globe. According to finviz, the company's consolidated recoverable proven and probable reserves totaled 120.5 billion pounds of copper, 35.5 million ounces of gold, 3.39 billion pounds of molybdenum, 325.0 million ounces of silver, and 0.75 billion pounds of cobalt.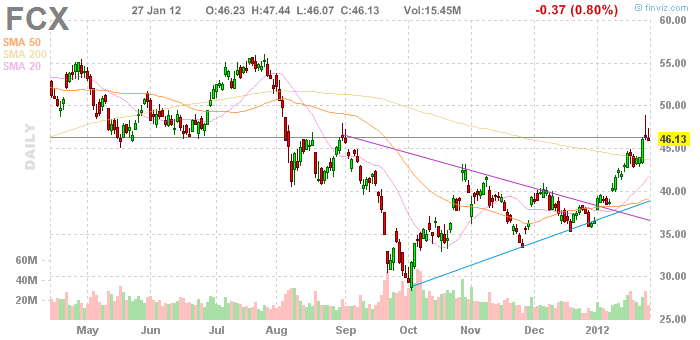 Since its dip of $30 in early October, Freeport-McMoran is experiencing a strong recovery. The stock is up by almost 60% from its 52-week low. Nevertheless, it is still trading at attractive ratios. Its trailing and forward P/E ratios of 9.75 and 8.27 are well-below industry averages. The company pays a yield of above 2% with a low payout ratio of 30%. FCX is a great stock to play recovery in copper prices. However, I would rather wait for the stock to get out of the overbought territory.
Gilead Sciences (NASDAQ:GILD)
Established in 1987, Foster City, California-headquartered Gilead is among the best performing bio-tech companies. In the last 5 years, Gilead was able to boost its earnings and sales at annualized rates of 31.1%, and 31.4%. The company is highly profitable. In the last four quarters, it generated a net profit of $2.77 billion from a sales revenue of $8.18.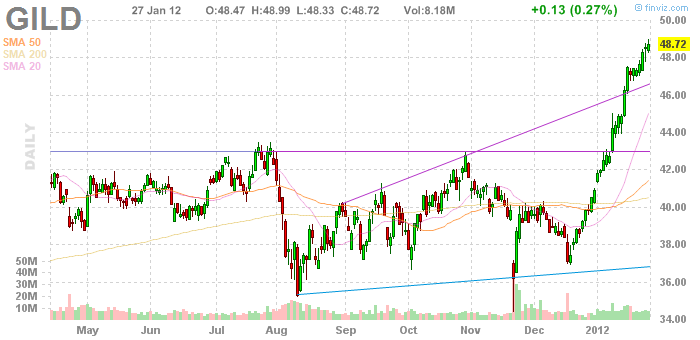 The stock has performed really well in this year, returning significant profits to its shareholders. Gilead is still in a strong upward momentum. Since early December, it is up by almost 25%. Based on a conservative EPS growth estimate of 14%, my FED+ fair value estimate for Gilead is $64 - $71. Thus, the stock has still a lot of upside potential. Nevertheless, I would rather wait for a pull back, since it is in the extremely overbought territory with a relative strength index of 85.
Annaly Capital (NYSE:NLY)
With a market cap of $16.4 billion, Annaly Capital is the leading mortgage-REIT in the market. Its business model is based on running a portfolio of mortgage-backed securities, financed by short term borrowing. The company exploits the difference between short-term and long-term interest rates with appropriate leverage level. The spread between the short-term interest rates and the long-term interest rates creates the backbone of Annaly's business model.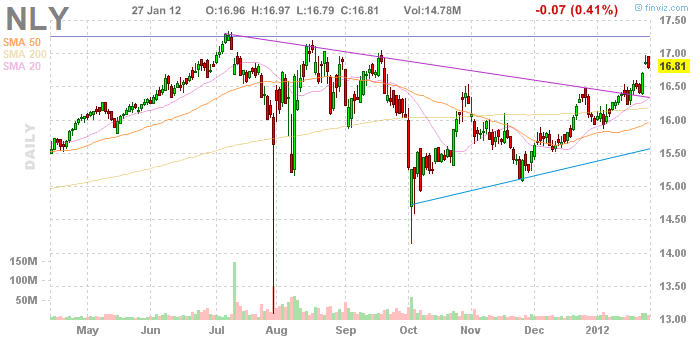 While Annaly has been a great stock to pick for the long-run, it did not perform well in the last year. If it was not for the double-digit yield, the one-year return would have been in the negative territory. Investing in mREITs have their own risks, but I also have my own safety criteria. Annaly is a good buy, as long as its yield stays above 10%, and its P/E ratio stays below 10%. Currently, Annaly stock is priced at a trailing P/E ratio of 8.8, and forward P/E ratio of 7.4. Therefore, it fits perfectly within my safety criteria. Low interest rates will also boost Annaly's profitability through lower borrowing costs. That is why, Annaly is a great buy for strong income in 2012. (Full analysis, here)
Disclosure: I am long (AAPL).