While SolarCity (SCTY) is the largest rooftop solar company by far, its operations are still limited to its domestic market of the United States. Given how underpenetrated the U.S. rooftop solar market is, SolarCity could continue to grow at a rapid rate by remaining exclusive to the U.S. market. Despite the fact that the U.S. market still has huge untapped potential, talk of international expansion has started to appear. This is no surprise given the slated ITC step down at the end of 2016, which should dramatically cut down on rooftop solar opportunities in the U.S.
CEO Lyndon Rive revealed his ambitions to go international in a year or two in the latest quarterly conference call. Although SolarCity still has enormous growth potential in the United States, expanding internationally should allow the company to bring its growth to a new level. While most analysts expect SolarCity's approximately doubling growth rate to be sustainable for one more year at the most, international expansion should be able to extend this growth figure by a few years.
Even if SolarCity were to limit itself to the U.S. market for a few more years, it is still likely that the company will sustain its current growth rate for much longer than most expect. In case SolarCity's growth starts faltering in the U.S., the international markets provide a nice backup plan. Growth is not only important for SolarCity in terms of revenue growth, but also in that it provides a vital selling point for SolarCity to investors. The international markets should open up a whole new world for SolarCity in terms of growth, further reinforcing the company's bull case.
Duplicable Model
SolarCity's mantra from day one has been scale, which has worked wonders for the company. Not only is SolarCity's business model incredibly scalable, but it also benefits enormously from economies of scale. So far, SolarCity does not even seem to be close to reaching diseconomies of scale, which is clearly evident in its continual market share consolidation. Such scalability has allowed SolarCity to develop a highly duplicable model, which should prove to be a huge positive for the company's international ambitions.
As the international markets will understandably offer many unique challenges, having a highly duplicable model will be vital for making the international transition easier. SolarCity should be able to easily duplicate its model on the international scene given how simple the company has made it to scale up its operations. SolarCity has even made it easy to duplicate its installer workforce(which is one of the more complex aspects of SolarCity's business model) by implementing a highly organized infrastructure of junior installers, lead installers, etc.
Other aspects of SolarCity's business, i.e. manufacturing, sales, G&A, etc, should also experience minimal difficulties adapting to other regions around the world. There is nothing truly stopping SolarCity from replicating its success on the international stage except for language barriers, and even this should be overcome relatively quickly. At SolarCity's current cost-structure of $0.13/kWh, there is an addressable market of approximately $60B in the U.S. alone. The international markets should easily have an addressable market that is many times larger than this figure.
Underestimating Growth Opportunities
With the addition of the international markets, SolarCity's already staggering growth potential gets even larger. Even the most optimistic analysts seem to be underestimating SolarCity's growth potential in light of how large the rooftop solar market is. For instance, Credit Suisse (NYSE:CS) only sees SolarCity growing 84% in 2015, 44% in 2016, and then 15% every year thereafter(in terms of MW installations). Note that Credit Suisse is comparatively bullish on SolarCity, putting a $99 price target on the company.
Even if SolarCity were to stay exclusive to the United States market for the foreseeable future, there is little reason to assume such a steep growth rate drop off after 2015, as many are clearly assuming. For approximately the past half-decade, SolarCity has been doubling on an annual basis in terms of MW installed. This growth has only marginally slowed down in recent years, with the company targeting 83%-99% growth in 2015. Given that SolarCity's growth rate has only slowed by a few percentage points per annum over the past few years, there is little reason to assume that the company's 2016 growth rate will suddenly drop two-fold.
While a steep drop post-2016 is understandable given the slated ITC step down, there will be no other fundamental changes to the rooftop solar market. The vast majority of analysts' estimates for SolarCity's growth post-2016 seem way too pessimistic in light of rooftop solar's massive addressable market. Credit Suisse's 15% growth rate prediction post-2016, which again should be noted as relatively optimistic among analysts, seems way too low. If SolarCity can reach its $2.50/watt goal by 2017, the company's addressable market will more or less stay the same as the one it currently enjoys.
Given that SolarCity's brand presence will be much larger by then, there is little reason to think that the company's growth rate will drop by nearly an order of magnitude. As the company will be expanding internationally by this time, such a low growth rate will only be more unlikely. A growth rate closer to the one SolarCity currently enjoys as opposed to the low two-digit percentages seems much more likely in the years following 2016. There seems to be constant underestimation of SolarCity's growth potential, and overestimation of the obstacles facing SolarCity. The broadening of SolarCity's market due to its inevitable international expansion should only further extend SolarCity's amazing growth rate.
Given SolarCity's sustained growth momentum thus far, there is little reason to think that growth will suddenly slow in 2016. Even in a 10% ITC world post-2016, SolarCity's growth should still not be as limited as many are assuming. Here is a graph depicting SolarCity's growth over the past few years.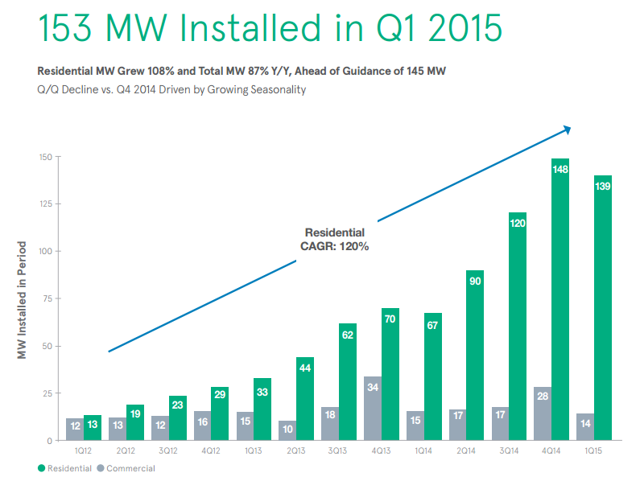 Source: SolarCity
Considerable Challenges Ahead
While SolarCity is doing all the right things to maintain growth, there are still some major challenges standing in the company's way. The most obvious challenge is producing cost-effective modules from SolarCity's massive factory. This factory represents a double-edged sword for SolarCity in that it will give the company an invaluable advantage should it prove to be successful, or completely ruin the company's growth prospects should it fail. While there is a lot of middle ground between complete success and failure, the risk that the factory poses in not insignificant by any means.
In addition, competition is expected to ramp up in a huge way from 2015 and onward. While SolarCity had grown relatively unrestrained for the past few years given the scarcity of true competition, energy companies are increasingly looking towards the rooftop solar industry. Even predominantly fossil fuel power companies like NRG Energy (NYSE:NRG) are entering the arena. Finally, the utilities are pushing back much more fiercely than expected. While there have been hopes that utilities would increasingly look to work with rooftop solar company as time passed, the reality is playing out in the complete opposite manner.
While these are all extremely credible threats to SolarCity's continued growth and dominance, the company is more than capable of managing these obstacles. In the case of SolarCity's manufacturing ambitions, the company has enough talent to at least ensure that nothing catastrophic occurs along the way. In addition, SolarCity is more than capable of handling increased competition and utility pushback. In terms of increasing competition, SolarCity already has a strong enough foothold on the rooftop solar industry that a ramp up in competition should not dramatically effect the company for at least a few years. On top of this, the utilities are proving to be more of a nuisance than anything else. In the majority of cases, SolarCity has been successful at fighting back against the utilities.
Conclusion
SolarCity's international ambitions should open up a massive new market for the company. The international markets should compensate for any potential slowdowns in SolarCity's growth rate over the next few years. With a net retained value of $2.7B and a near doubling growth rate that does not seem to be slowing down anytime soon, SolarCity's valuation of $5.86B has much more room to grow. Given SolarCity's complete dominance in the rooftop solar market, the company has the potential to become one of the future's leading energy companies.
Disclosure: The author is long SCTY. The author wrote this article themselves, and it expresses their own opinions. The author is not receiving compensation for it (other than from Seeking Alpha). The author has no business relationship with any company whose stock is mentioned in this article.