Back on November 18, 2011, I wrote an article titled: Bank of America (NYSE:BAC): How Low Can You Go? Well I'm going out on a limb and ready to say we found out on December 19, 2011 that its low point was hit and the answer is 4.92. Since then the bank has become profitable - if only by a penny a share and unless this whole EU banking problem tanks, the world should begin to see a new and steady return of upward trading prices. Let's look at the weekly trading and the 20, 50 and 100 week moving averages over the last 2 1/2 years on this graph provided by Barchart. I think the technical numbers show support.
Click to enlarge images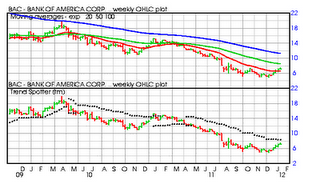 Bank of America Corporation, through its subsidiaries, provides banking and financial services to individuals, small- and middle-market businesses, corporations, and governments primarily in the United States and internationally. The company's Deposits segment offers savings accounts, money market savings accounts, CDs and IRAs, and noninterest- and interest-bearing checking accounts, as well as investment accounts and products. Its Card Services segment issues credit and debit cards in the United States providing a range of lending products, including co-branded and affinity products. The company's Consumer Real Estate segment provides a line of consumer real estate products and services, such as fixed and adjustable-rate first-lien mortgage loans for home purchase and refinancing needs, home equity lines of credit, and home equity loans.

Its Global Commercial Banking segment provides various lending-related products and services, integrated working capital management, and treasury solutions to business banking and middle-market companies, commercial real estate firms, and governments. The company's Global Banking & Markets segment provides financial products, advisory services, financing, securities clearing, settlement, and custody services to institutional investor clients; debt and equity underwriting and distribution; merger-related and other advisory services; and risk management products.

Its Global Wealth & Investment Management segment provides brokerage, banking, and retirement products; wealth structuring, investment management, and asset management services; and institutional and personal retirement solutions. Bank of America Corporation serves customers through a network of approximately 5,700 banking centers and 17,500 ATMs. The company was formerly known as NationsBank Corporation and changed its name to Bank of America Corporation in September 1998. Bank of America Corporation was founded in 1874 and is based in Charlotte, North Carolina.(Yahoo Finance profile)
Factors to consider
Barchart technical indicators:
80% Barchart technical buy signal
Trend Spotter buy signal
Above its 20, 50 and 100 day moving averages
13 new highs and up 31.93% in just the last month
Relative Strength Index 68.53%
Barchart computes a technical support level at 7.11
Recently traded at 7.24 with a 50 day moving average of 5.92

Fundamental factors:
24 Wall Street brokerage firms have assigned 29 analysts to monitor the bank's numbers
Although analysts predict revenue will still decrease by .70% this year they predict an increase of 3.60% next year
Earnings estimates are an increase of 7,200% this year (looks big but coming off a loss), an additional increase of 53.40% next year and wind up with an annual increase of 15.50% over the next 5 years
These consensus numbers result in 5 strong buy, 8 buy, 15 hold and 1 under perform recommendations to their clients
Analysts predict that if their projection of increases in revenue, earnings and P/E are met then investors at this point could see an annual total return of 23% - 27% over the next 5 years
The bank is still in a cost cutting mode and rebalancing its revenue business plan
The year will be profitable but only by about a penny. I think now is the turning point

General investor interest:
I still read the opinions of the readers of Motley Fool to gauge the individual investor. Their opinions are very mixed, some have been burned and others have had faith and held on through it all.
I note that the investors who have made money have been short sellers
10,931 readers have voted 88% that the stock will beat the market
The more savvy All Stars voted a similar 87% for the same result
About 92% of the articles about the bank's prospects have been positive
Although Jim Cramer has not changed his negative call, Pat Dorsey, David Tepper and Tobin Smith are all positive

The market always has the final say so please review the price rise over the last 6 months of the major competition. Wells Fargo (NYSE:WFC) leads the pack with a 23% increase followed by Bank of America up 15%, Citigroup (NYSE:C) up 11 and JP Morgan (NYSE:JPM) up 7%: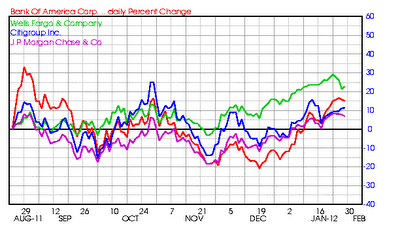 Summary: Bank of America has lost a pile of money for investors, stock holders, customers and taxpayers. I think it has reached the bottom - with a caution about EU banks - and should be up from here. Follow closely the 20, 50 and 100 day moving averages and the 14 day turtle channel to monitor the progress: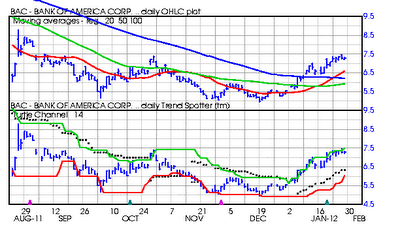 Disclosure: I am long WFC.