The Australian dollar is weakening as economic activity slows, alongside falling capital investment. The Australian currency is represented by CurrencyShares Australian Dollar Trust (NYSE:FXA).
In the first quarter, the economic growth figure came in at an annual pace of 2.3%, down from the previous quarter's reading of 2.5%, while exceeding estimates for 2.1%. After peaking at over 5% in 2007, economic growth has nearly halved, seen below. The headline number exceeded estimates, but some of the internal aspects of the report were disappointing.
"It's a mixed result, with a good headline masking some disappointing details. Mining exports are still strong and are compensating for the fall in mining investment but in the non-mining economy the activity was weaker, and that will be a disappointment for the Rerserve Bank of Australia," according to Bloomberg.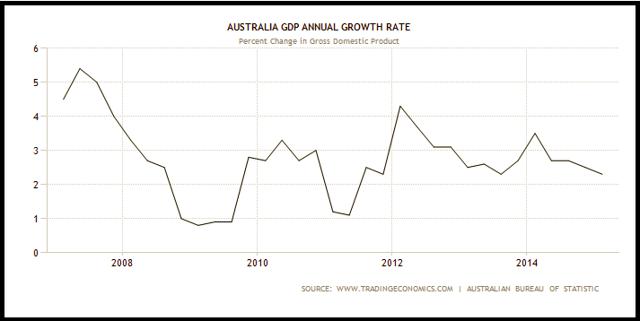 Moreover, capital expenditure continues to weaken in the country. In the first quarter, the fixed capital formation figure came in at a quarterly pace of -1.2% contraction, down from the previous quarter's reading of 0.3%. Since 2012, total capital formation has contracted by nearly 10%, seen below. As the price of commodities remains weak, capital formation should continue to decline.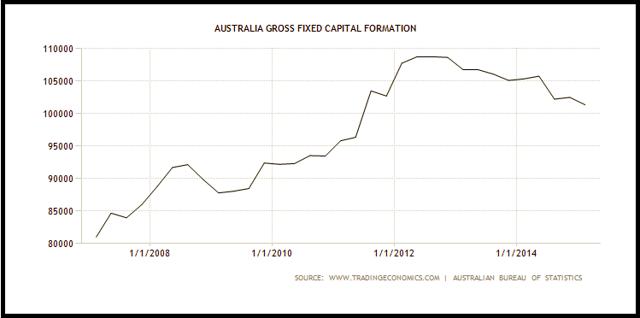 Additionally, falling commodity prices have also weighed on inflation measures. In the first quarter, the GDP deflator figure came in at a quarterly pace of 0%, slightly above the previous quarter's reading for -0.2%. Since 2011, the price measure has trended sideways, seen below. While policymakers have drastically cut short term lending rates in the hopes of spurring inflation growth, few effects have resulted.
The Australian economy is drastically slowing in growth. Declining lending rates have failed to spur increases in both business and consumer spending. Additionally, weakness in China, a major trading partner, led to weakening export revenue for Australia. While Australia's economy struggles to find a bottom for its economic decline, its currency should weaken in coming months.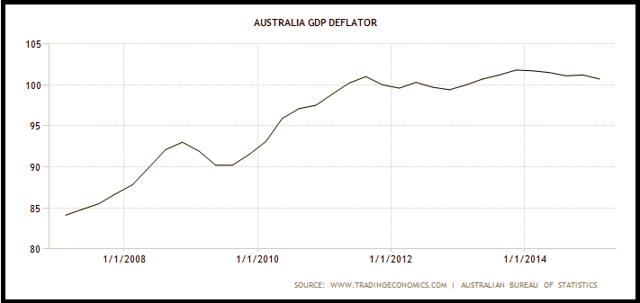 Disclosure: The author has no positions in any stocks mentioned, and no plans to initiate any positions within the next 72 hours.
The author wrote this article themselves, and it expresses their own opinions. The author is not receiving compensation for it (other than from Seeking Alpha). The author has no business relationship with any company whose stock is mentioned in this article.