The economic data for Australia the past two days worked out exactly opposite what I had expected. Despite a 2.9% drop in the terms of trade, Australia still managed to print a decent GDP for the first quarter of 0.9% seasonally adjusted growth quarter-over-quarter. This amounted to 2.3% year-over-year growth. I had expected Australia to show a weaker first quarter similar to the poor showing in other advanced economies. The Australian dollar (NYSEARCA:FXA) soared in response, and I took profits on a small part of my currency trades.
Those closed trades were timely because the data on international trade in goods and services, a measure of Australia's trade balance, completely plunged in April. According to the Australian Bureau of Statistics, the balance of goods and services dropped to -$3,888B (Australian dollars) as exports dropped 5.7% and imports jumped 3.9% over March. While I was focused on iron ore, it was coal, coke and briquettes that led the decline in exports thanks to severe weather temporarily shutting down ports. This category of non-rural goods fell 22% from March to April while metal ores and minerals fell 13% over this time. The good news here is May is set up for a rebound in exports with the bad weather past and iron ore's price in full swing off the April bottom. Machinery and industrial equipment led imports with a 69% increase from March to April.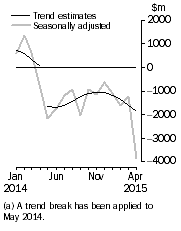 Australia's trade balance takes a steep dive in April
Source: Australian Bureau of Statistics
Retail sales data for April likely further hurt the Australian dollar. After a 0.7% seasonally adjusted monthly rise in February and a 0.2% rise in March, retail sales were flat in April month-over-month.
Finally, the odds of a rate cut in July are bouncing around along with this week's economic events. After the Reserve Bank of Australia (NYSE:RBA) decision, the odds of a rate cut in July actually increased from 5% to 13%. I interpreted the decision on monetary policy as very neutral and non-informative on the likely path forward for rates. The odds of a July rate cut dropped back to 8% after the data on GDP.
So given the current turn of events, I am bracing for the Australian to print new lows against the U.S. dollar. If the breakdown does occur, I will revert back to a bearish bias against the currency.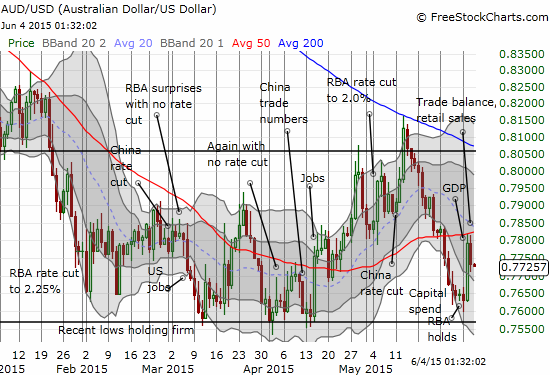 A retest of recent lows appears around the corner for the Australian dollar trading against the U.S. dollar
Source: FreeStockCharts.com
Be careful out there!
Disclosure: The author has no positions in any stocks mentioned, and no plans to initiate any positions within the next 72 hours. The author wrote this article themselves, and it expresses their own opinions. The author is not receiving compensation for it (other than from Seeking Alpha). The author has no business relationship with any company whose stock is mentioned in this article.
Additional disclosure: In forex, I am net long the Australian dollar