Although employment in Germany weakened slightly in recent months, consumer confidence and spending remain elevated, benefiting the euro. The German currency is represented by CurrencyShares Euro Trust (NYSEARCA:FXE).
In the first quarter, the employment figure came in at an annual pace of 0.66%, below the previous quarter's reading of 0.87%. Over the last few years, however, employment in Germany has rebounded from contraction, to current levels, seen below. Strength in Germany's industrial sector continues to support the labor market.
"Job creation should advance at a healthy pace, being able to absorb the elevated level of immigration and reduce unemployment further in the coming months. The order situation of the German industry remains robust even if it is not thriving," according to Bloomberg.

Data provided by the OECD
Moreover, even as employment slightly leveled off in recent months, consumer confidence continues to expand. In June, the consumer confidence figure came in at 10.2, above the previous month's reading of 10.1, while also exceeding estimates for 10. A reading above zero signals optimism.
Since bottoming in 2009 at 2, consumer sentiment has steadily risen to current levels, seen below. Within the sentiment report, the willingness to spend index is approaching record levels, signaling consumers continue to support economic activity.
"The willingness to buy sub-index gained 4.3 points to 62.6 points, GfK said, adding that while it remains slightly under its historic peak value of 64.4 points in October 2006, its trend is still upward, helped by the good labor market, good income growth and low inflation," according to MarketWatch.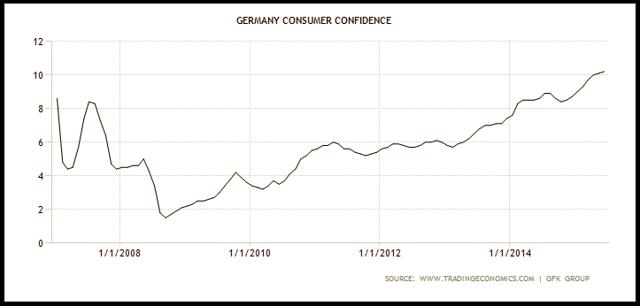 Finally, as was stated earlier, consumers in Germany continue to spend with conviction. In April, the retail sales figure came in at an annual pace of 2.28%, above the previous month's reading of 2.06%. Since bottoming at -0.26% contraction in the summer of 2013, retail spending has drastically improved, seen below. Consumer spending is so robust, currently, that it could withstand rising energy prices, according to analysts.
"Consumption growth may slow a little with the oil price recovering a bit in recent months. However, the robust labor market, very low inflation and little incentive to save from very low interest rates should support continued household spending rises," reports Reuters.
Although employment slightly declined in Germany during the previous quarter, its economy continues to expand. Consumer confidence is high as the industrial sector strengthens, while low interest rates are supporting household spending.
The household spending measure is approaching record levels, which accounts for a large part of overall economic activity, improving investor sentiment around the euro in coming months.

Data provided by the OECD
Disclosure: The author has no positions in any stocks mentioned, and no plans to initiate any positions within the next 72 hours.
The author wrote this article themselves, and it expresses their own opinions. The author is not receiving compensation for it (other than from Seeking Alpha). The author has no business relationship with any company whose stock is mentioned in this article.