We took a look at 75 stocks/ETF's and their historical performances during February since 1997. Included in this analysis are the top 40 companies by market cap, the Dow 30, and any companies we foresaw having a strong February. Of those studied, fifteen stocks maintained more than 70% positive Februarys, while eight stocks failed to maintain more than 40% positive Februarys. The stocks that will be talked about more in-depth are: BP (NYSE:BP), Caterpillar (NYSE:CAT), HSBC Holdings (HBC), Intel (NASDAQ:INTC), JM Smucker Co. (NYSE:SJM), Kraft (KFT), McDonalds (NYSE:MCD), Procter & Gamble (NYSE:PG), TAL International Group (NYSE:TAL) and Wal-Mart (NYSE:WMT).
This chart shows the six companies that maintained 80%+ positive Februarys since 1997, giving the maximum gains and losses seen over this period as well as the average of all Februarys for each company since 1997.
*See the end of the article for a complete breakdown of each company's performance in February.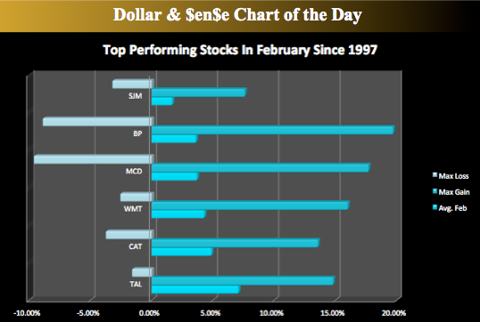 TAL is the best performing stock in February since going public in 2006, with five out of six Februaries positive, for an average gain of 7.1%.
CAT is the next best performing stock, falling only two out of the past fifteen Februarys with its largest loss being less than 4% and gains upwards of 14%.
WMT, MCD, BP, and SJM follow closely behind with average gains between 2-5% during February. WMT and SJM have not seen any February worse than -4% since 1997.
This final chart depicts the four worst performing stocks during February since 1997, giving the maximum gains and losses as well as the average gains seen during this period. Each of these companies saw negative Februarys greater than two-thirds of the time since 1997.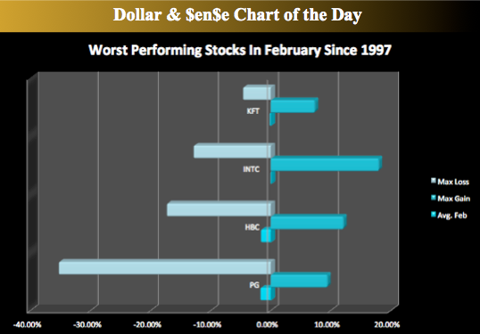 The worst performing stock is PG, seeing only five positive Februarys since 1997, and has been positive in February only once over the past seven years. Its greatest loss came back in 2000, when its stock fell more than 35% during February.
The next worst performing stock is HBC, seeing four positive Februarys since 2000, and averaging close to 2% losses each February.
How can we trade this information?
CAT's largest drop in February has been less than 4%, which would bring the price of CAT to 106.65. We would like to enter the Feb18, 105/100 Bull Put Spread, which gives us room for CAT to drop up to 5.5%.
On the bearish side, we would like to sell the PG Feb18 $65/$67.50 Bear Call Spread. PG has been positive only once in the past seven years during February. It broke below its 50 Day SMA, and will continue dropping from here.
Disclosure: I am long (CAT). I am short PG.