I was recently reading an article by SA author Brad Thomas in which he stated:
There are more Shopping Center REITs than any other sector and I have frequently argued that the retail sub-sector is ripe for consolidation. We are beginning to see that unfold as evidenced by the recent announcement with Blackstone purchasing Excel Trust. Given the fact that many of the Shopping Center REITs are similarly modeled, it becomes difficult for a specific REIT to provide a unique operating platform.
I couldn't agree more. What separates one shopping center from another? Financial condition and management savvy. Buying the right buildings in the right places with the right capital structure. Yeah, I know, this is the same for any sector and any REIT. This being the case, is there a differentiating operating platform within the shopping center REIT space? Yes, and the majority of the REITs in the shopping center space that have accomplished it are the heavyweights that have multiple financing options, operating scale and flexibility. These REITs are widely known, but are there opportunities available that are smaller and offer investors more value?
While exploring this, I ran across a shopping center REIT headquartered in Michigan.
Ramco-Gershenson Properties Trust (NRPT) is a fully integrated, self-administered REIT based in Farmington Hills, Michigan. The company's primary business is the ownership and management of large, multi-anchored shopping centers primarily in a dozen of the largest metropolitan markets in the United States. At March 31, 2015, the company owned interests in and managed a portfolio of 79 shopping centers and one office building with approximately 16.7 million square feet of gross leasable area. Twelve of the 79 shopping centers are held through joint ventures including two institutional joint ventures: Ramco/Lion Venture L.P. and Ramco 450 Venture LLC. At March 31, 2015, the company's core operating portfolio was 95.1% leased.
Properties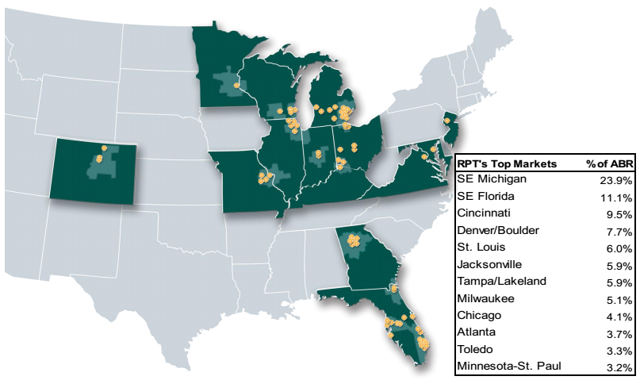 Source: Company presentation
The mid-western flavor to this REIT's properties helps differentiate it from many of the more coastal players. This also means that if this REIT is added to a portfolio containing other shopping center REITs, investors are not magnifying their exposure to the coastal economies or major metro areas, a benefit to the portfolio.
The company has stated that it is intent on diversifying its portfolio so that no one state represents over 25% of annualized base rents. To this end, RPT has been actively repositioning its portfolio, where two-thirds of their largest centers have been recently acquired ($322 million in acquisitions in 2014). Over the last five years, the company has acquired 31 centers for approximately $1.2 billion while selling 22 shopping centers for approximately $176 million. These new centers are approximately 2x the size of the sold properties, have five anchors rather than three and have a 50% higher rent per sq. ft. (of course, they also are valued at 6.5%-7.5% cap rate vs. 8.5% on the sold properties).
The REIT also has an active development/redevelopment pipeline that they target $50 million-$75 million/yr with expected (stabilized) returns of 10%.
Tenants

Source: Company presentation
A decent tenant list with very manageable exposure to the top ten tenants.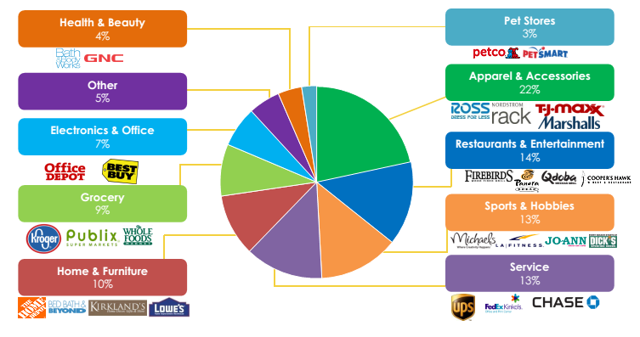 Source: Company presentation
The tenant mix is also healthy for the REIT, with no significantly overweighted sector.
Lease Profile
Ramco has a decent lease ladder, and the 2016-2017 maturities should help drive NOI by rolling at favorable rates (renewal increases were over 7% in the most recent quarter).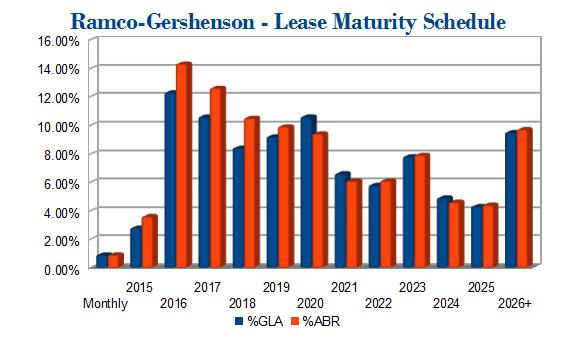 Ramco's lease maturity schedule is well distributed, with less than 10% renewing, on average, over the next ten years. The next two years have higher than average renewals, which should help the REIT drive NOI with higher rent rolls.
Debt Profile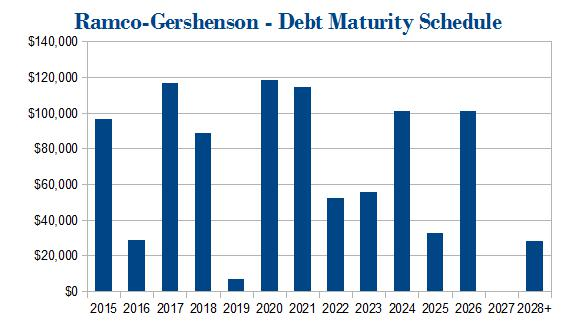 Ramco's debt distribution is well laddered and manageable. The average debt term is 6.3 years and 97% is fixed rate, creating a known interest cost, which will be less exposed to increasing short rates.
As well, the type of debt used, and the amount within the capital structure, is balanced and moderate: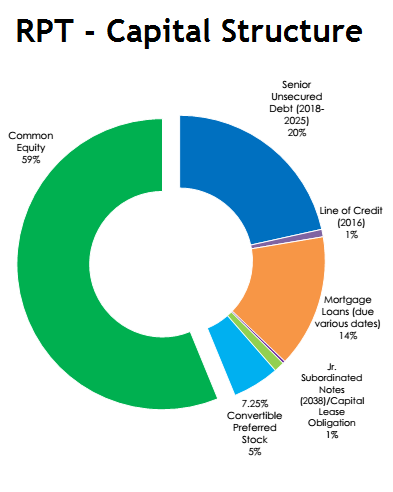 Source: Company presentation
With a better understanding of the business, a look at valuation versus shopping center peers.

The numbers paint a mixed picture of this REIT.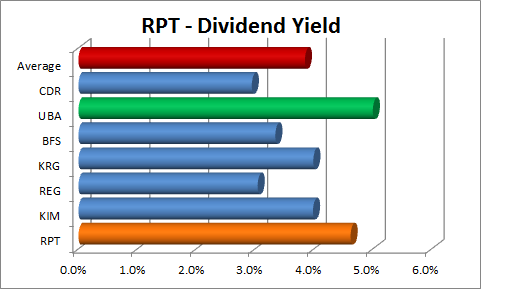 Ramco does offer the second-highest dividend yield in the group, which is a definite positive.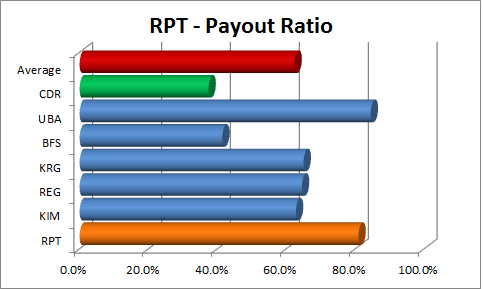 But is also has one of the highest payout ratios in the group, which limits flexibility and means the dividend will most likely only increase as much as NOI increases without the "wiggle room" to supplement soft periods.
This lack of flexibility can result in: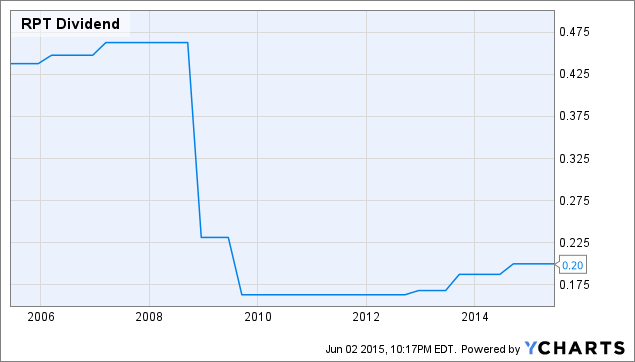 RPT Dividend data by YCharts
I guess this can be seen as differentiating; they cut their dividend more than most. But they have been clawing their way back: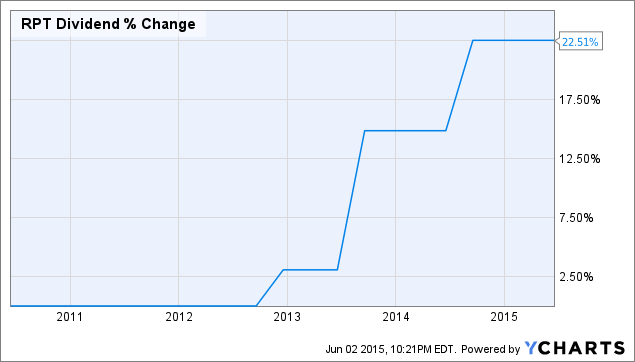 RPT Dividend data by YCharts
Looking at dividend growth rates:
| | |
| --- | --- |
| 1-yr Dividend Growth | 7.77% |
| 3-yr Dividend Growth | 6.44% |
| 5-yr Dividend Growth | 1.78% |
All in all, the trajectory is favorable, but the payout ratio is still a concern.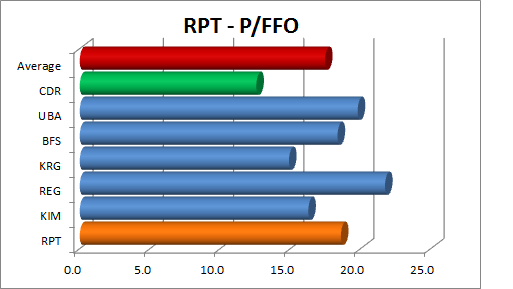 Ramco is not cheap on a P/FFO basis. I would prefer to see a smaller shopping center REIT trade at a lower multiple, where RPT trades above the average multiple of the peer group.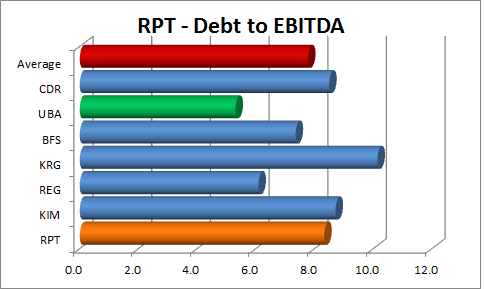 Debt to EBITDA is also somewhat high, although it is within the range of investment grade. You might notice these numbers do not always tie out to the presentations, as I do not use net debt (I don't subtract out cash because it might not be there, but the debt will) nor do I adjust EBITDA.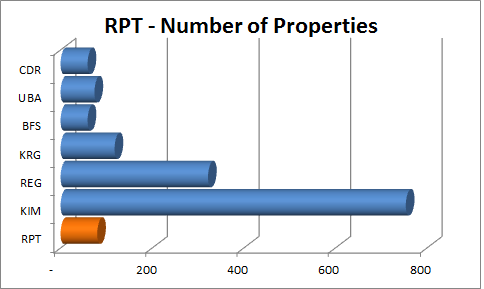 All of these factors have resulted in the following total return performance:
Year-to-date: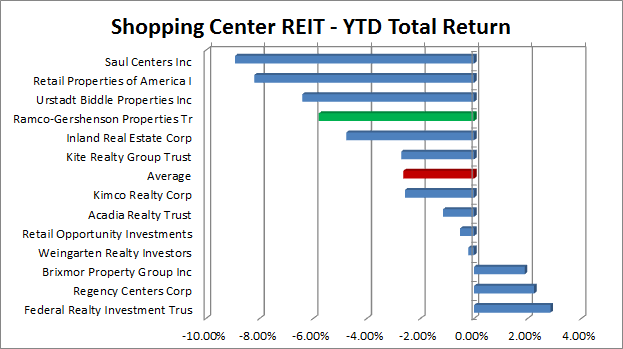 One year: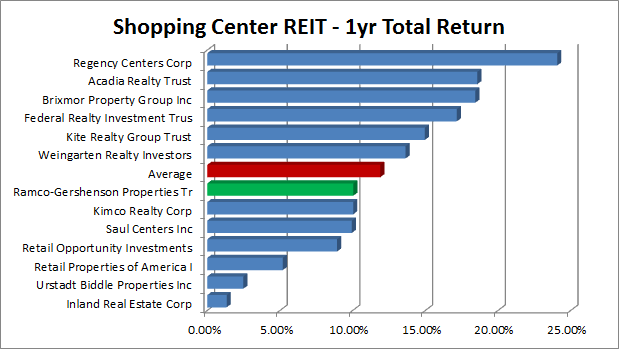 Forward Guidance:
On the most recent earnings call (transcript here), RPT gave the following forward guidance:
We are affirming our guidance for 2015 operating FFO of $1.27 to $1.33 per diluted share and our guidance for same-center NOI growth of 2.5% to 3.5%. And keeping with our initial guidance for the year, we still anticipate total land sales gains of $4 million to $5 million with the remainder most likely occurring in the fourth quarter.
Bottom Line:
Differentiated model? No, but Ramco has been upgrading the size, quality and development opportunities (additional land with new purchases) at their centers. The decimation of the dividend during the financial crisis is a concern as it is indicative of poor planning and stretched financial goals. That said, the growth rate of the dividend since the crisis has been strong and admirable, but the continuation of this trend will depend on development/redevelopment, increased occupancy and the resultant NOI growth (estimated mid-single digits). While I believe that this REIT bears watching to see if the dividend growth is sustainable and the payout ratio falls to sector levels, I am hesitant to buy into the yield before the repositioning is further on and proved. Time is an investor's friend, and this REIT isn't going away, so keep your eyes on it.
REITs mentioned in this report:
Kimco Realty (NYSE:KIM), Regency Centers (NYSE:REG), Kite Realty (NYSE:KRG), Saul Centers (NYSE:BFS), Urstadt Biddle (NYSE:UBA) and Cedar Realty (NYSE:CDR).
Helpful Links:
Company website
Disclosure: The author has no positions in any stocks mentioned, and no plans to initiate any positions within the next 72 hours.
The author wrote this article themselves, and it expresses their own opinions. The author is not receiving compensation for it (other than from Seeking Alpha). The author has no business relationship with any company whose stock is mentioned in this article.
Additional disclosure: This article is for informational purposes only, it is not a recommendation to buy or sell any security and is strictly the opinion of Rubicon Associates LLC. Every investor is strongly encouraged to do their own research prior to investing.