Last week Statistics Canada reported that Canadian Q1 GDP declined 0.6% vs. a prior estimate of a 0.3% rise. This decrease is notable as it exceeded all 22 economist forecasts in a Bloomberg News survey with a median estimate of a 0.3 percent expansion. In addition, the drop was the most significant since the 2009 recession and was the first decline since 2011. This has caused the Canadian dollar to weaken further as represented by CurrencyShares Canadian Dollar Trust (NYSEARCA:FXC).
More specifically, economic activity decreased in almost every category. Of note was a 9.7% annualized fall in business gross fixed capital formation and a 0.4% annualized decrease in consumer spending which was the slowest since the start of 2009. In addition, exports fell 1.1 percent, the second straight quarterly decline and imports dropped 1.5 percent. Bank of Montreal chief economist Doug Porter stated that BMO's overall 2015 projection have been chopped down to 1.5% GDP growth which would be the slowest growth for Canada - outside of recession - in at least the past three decades. As for CIBC, their forecast has come in even more bearish, predicting that the Canadian economy will only grow 1.4% this year.
This data seemed to validate Bank of Canada governor Stephen Poloz's comment earlier this year that Canada's first-quarter numbers would look "atrocious". Statistics Canada indicated that this poor reading was linked to collapsing energy prices and a plunge in business investment. Bank of Canada held its borrowing rate at 0.75%, stating that consumer demand "is holding up well" and that the current stimulus was enough to prevent a downturn.
Nevertheless, some commentators have suggested that in light of this fresh round of sluggish data, interest rates are looking flexible again. Will the weakness in the Canadian economy persist? Several key indicators will be considered.
Canada's Economy Remains Grossly Unbalanced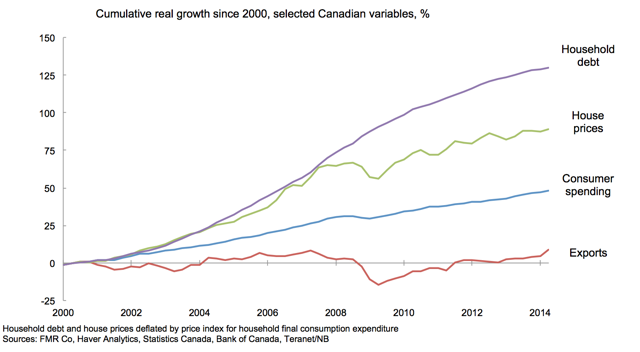 Over the last 15 years, Canada's economy has relied almost exclusively on debt-fueled consumer spending and housing investment to drive growth.
Canada Is Overly Reliant on Energy Exports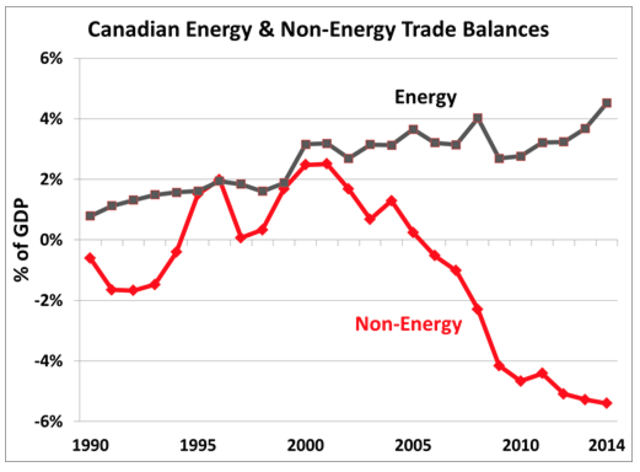 Source: Macleans Magazine
Many forget that at the dawn of the new millennium Canada had a diversified portfolio of export products. Beyond exports of natural resources, Canada was able to generate trade surpluses in even hi-tech products in the automotive, telecommunications and aerospace sectors. This all changed as the economy was re-orientated towards the natural resource sector with an emphasis on petroleum products. The impact of this re-orientation is apparent when one considers the fact that since roughly 2002 Canadian stocks have moved similarly to emerging markets.

Source: Capital Group
This export orientation makes Canada and its dollar overly sensitive to global demand for petroleum and thus vulnerable to price fluctuation.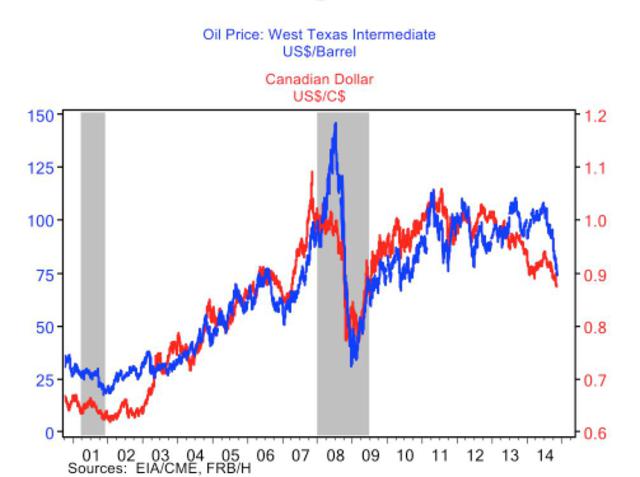 When oil prices dove in the fourth quarter of 2014, the outlook for the Canadian economy changed dramatically with the dollar taking a major dive.
Canada's Youth Employment Is Stagnant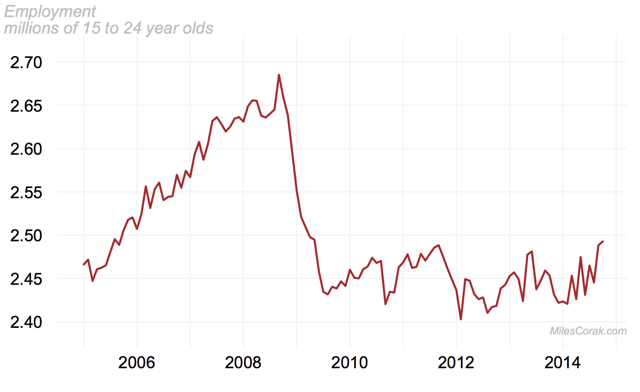 Like much of the developed world, Canada's youth employment levels have remained stagnant. High paying jobs are exceedingly difficult to come by despite exceptionally high levels of education and many must make do with low-paying and low-skilled jobs stunting future earnings growth. Furthermore, in a recent study it was found that precarious employment is increasing in Canada's largest city which is putting financial strain on households. For many workers unstable employment means less access to career training, less career advancement and ultimately less earning potential. These effects create shortages in cash flow which can lead to crippling debt levels.
Canada's Productivity is Declining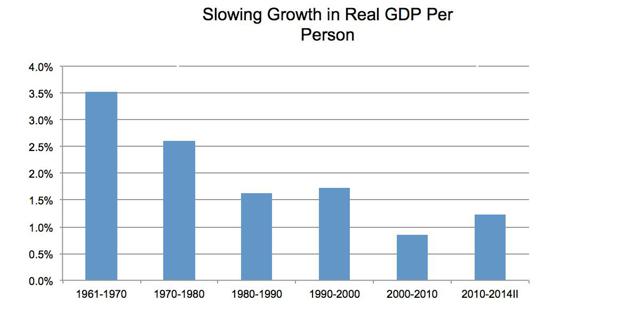 Source: Macleans Magazine
Although from quarter to quarter Canada has seen some movement in productivity growth, the long-term trend lower is intact. Canada's productivity is much lower than that of its developed nation peers and thus over time purchasing power is bound to deteriorate.
Canada's Unprecedented Housing Bubble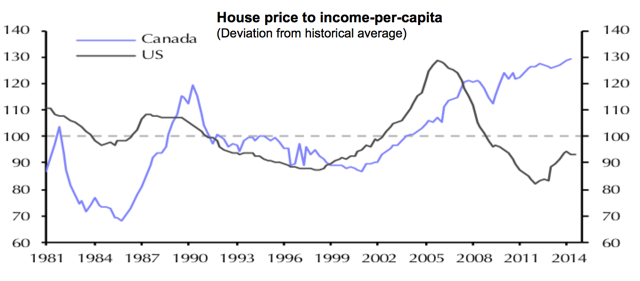 Source: Macleans Magazine
House prices for Canada relative to income per capita have far overshot their long-term historical average, mirroring the degree that occurred at the peak of America's housing bubble. According to The Economist property is more than 25% overvalued in Canada. In addition, the effects of a default for a family would be magnified by the fact that in Canada, unlike in some U.S. states, mortgages are typically "full-recourse". This means that the borrower continues to be responsible for repaying the loan even in the case of foreclosure as lenders can take legal action to recoup their money.
Household/Consumer Debt Has Reached Unprecedented Levels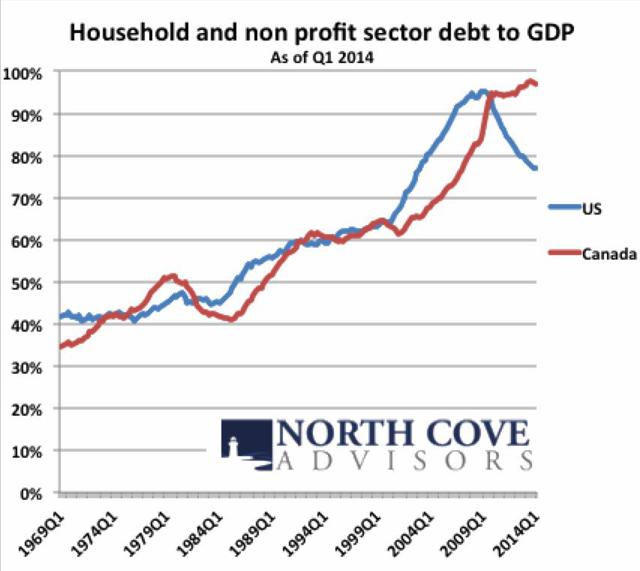 Since the recession developed nations have been increasingly relying on household borrowing for consumption to fuel growth rather than income growth. Canada is no exception as years of low interest rates have pushed household debt burdens to new heights. As of the end of March, Canadian households' combined debts totaled more than $1.8 trillion which is equivalent to more than $50,000 for every man, woman and child in the country. David Parkinson, Barrie McKenna and David Berman explain that:
"this total is more than five times the amount in 1990, and is up more than 50 per cent since the end of 2007. The ratio of household credit-market debt to disposable income - the most common benchmark for consumers' capacity for shouldering their debts - stands at a record 163.4 per cent, nearly double the rate of 1990 and up nearly 20 percentage points from the 2008 onset of the financial crisis."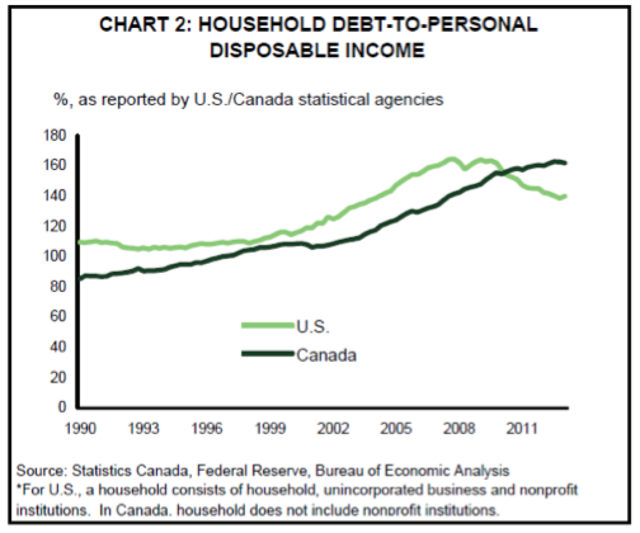 As crucial as debt is to the system of modern commerce, this type of excess debt has the potential to hurt long-term Canadian growth in two ways. The first way is that most of this debt has not gone towards financing new productive assets like factories, machines or new services. Instead, this reshuffling of claims on existing assets has simply sucked resources from the rest of the economy. Secondly, and perhaps more importantly, excessive debt has made the Canadian economy less robust. The increase in fixed payments has made households more sensitive to any downturn and thus in the event of a shock, spending would be cut more rapidly and significantly while painful defaults would be more common. In addition, in the event of a shock, increases in short term debt that may need to be rolled over would put the solvency of banks in jeopardy.
Possible Conclusions
Although most chief bank executives in Canada don't see any looming crisis in consumer debt as consumer debt delinquencies remain low and mortgage holders look healthy with only 0.29 per cent of residential mortgages in arrears at the start of 2015, the factors explored above suggest caution. Fundamentals remain far from robust and thus the Canadian economy finds itself vulnerable and without a clear growth engine. If incomes were to drop or rates were to rise many would be unable to make their mortgage payments leading to a potentially severe downturn. A potential rate hike seems unlikely yet incomes could drop in the medium to long term in light of continued weakness in oil prices and the inability of other sectors to pick up the slack. If global growth remains weak, expect the probability of this scenario to increase. At minimum, expect continued weakness in both the Canadian Banks and the Canadian dollar (which tends to track changes in global GDP estimates).
Disclosure: The author has no positions in any stocks mentioned, and no plans to initiate any positions within the next 72 hours. The author wrote this article themselves, and it expresses their own opinions. The author is not receiving compensation for it (other than from Seeking Alpha). The author has no business relationship with any company whose stock is mentioned in this article.